---
Alumni Flyer: Donna Miller
Alumni Flyer: Donna Miller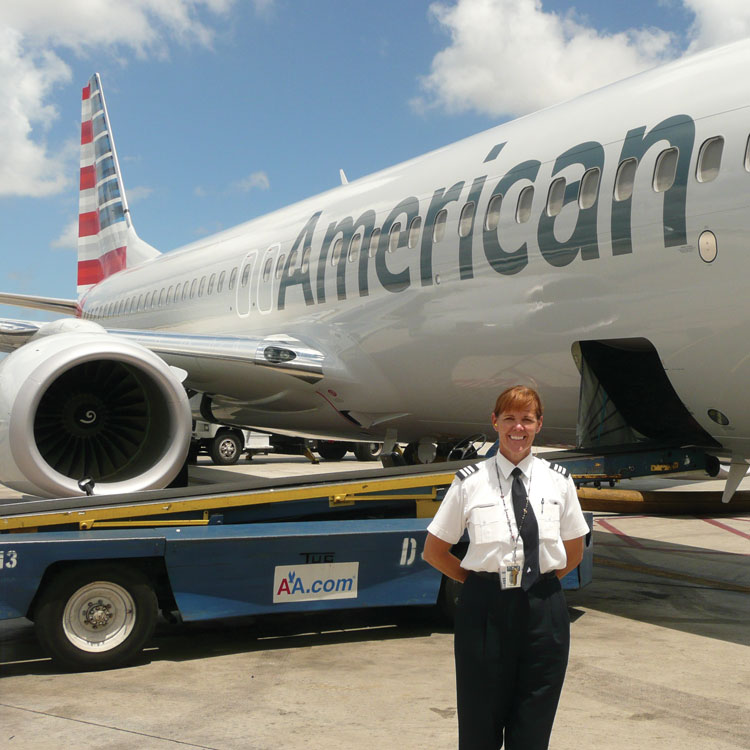 Business Administration and Economics: Class of 1983
Reverse Engineering the Path to Pilot
by Krista Deangelis
Donna Miller graduated with a degree in business and economics and worked for a computer company in Germany. "I didn't take the typical career path at all," said Miller, whose parents, sister, and cousin also attended Westminster. " I'd like to say I wish I'd gotten my aviation degree here, but having a solid business degree was great, and the experience of studying in Europe was priceless."
After Europe, Miller worked as an education counselor for the US Air Force at Osan Air Base in South Korea. She earned her private pilot license there. While working at United Airlines in Denver, she realized she could become an airline pilot. "My first flying job was difficult; I flew car parts to Mexico out of El Paso. We had to load and unload our own freight. When I had enough experience, I went on to the regional airlines, then to American Airlines just prior to 9/11."
Shortly after 9/11, she was furloughed and found a job flying for a charter company. "I flew professional sports teams, including the Utah Jazz, and then for Frontier Airlines for almost eight years," she added. "American called me back last summer, so I've been back for a year and am currently flying the Boeing 737 out of Miami internationally. I fly mostly Caribbean, Bahamas, and Central and South America."
---
About the Westminster Review
The Westminster Review is Westminster University's bi-annual alumni magazine that is distributed to alumni and community members. Each issue aims to keep alumni updated on campus current events and highlights the accomplishments of current students, professors, and Westminster alum.
GET THE REVIEW IN PRINT STAY IN TOUCH SUBMIT YOUR STORY IDEA READ MORE WESTMINSTER STORIES