---
Class Notes: Overview
1940s
Fannie Zaharias Daly ('48) went on to receive her secondary teaching degree in physical education and dance after graduating from Westminster. She then worked in education (teaching dance, PE, and general science) for 40 years. Fannie fondly remembers her five fellow graduates who were in the first class earning their bachelor's degrees from Westminster—and Mary Kumarelas who helped start up the infamous "Do Flop Inn" on campus.
1950s
Judy Morris Hill ('57) fondly remembers her roommate Peggy Cowles and her theatre performances. She also remembers Professor Lee, from whom she took an interpretive reading class that was very meaningful to her.
1960s
Robert Losser ('61) welcomed his ninth grandchild.
Sharon Greenberg ('66) and her family have been active in theatre. She recently acted in Les Misérables; and her daughter, Carrie, performed in Babes in Toyland in Alabama. Additionally, Sharon and her husband, Barry, have been traveling, spending three weeks in South Africa and the summer of 2014 camping in Connecticut.
Mark Harner ('69) has retired and moved back to Indian Wells, CA, from Honolulu.
1970s
Susan Fortney ('73) retired after working 18 years in the Verona Area School District. She is also the proud grandma of Lycold Charlie.
Jane Brooks ('74) sold her house and is buying a townhouse. She also recently bought a Honda Fit. She is enjoying meeting her new neighbors and traveling.
Lois Cross ('74) is the system case management consultant for Sutter Health. Additionally, she is currently the chair of the National Quality Forum Readmissions Team in Washington DC.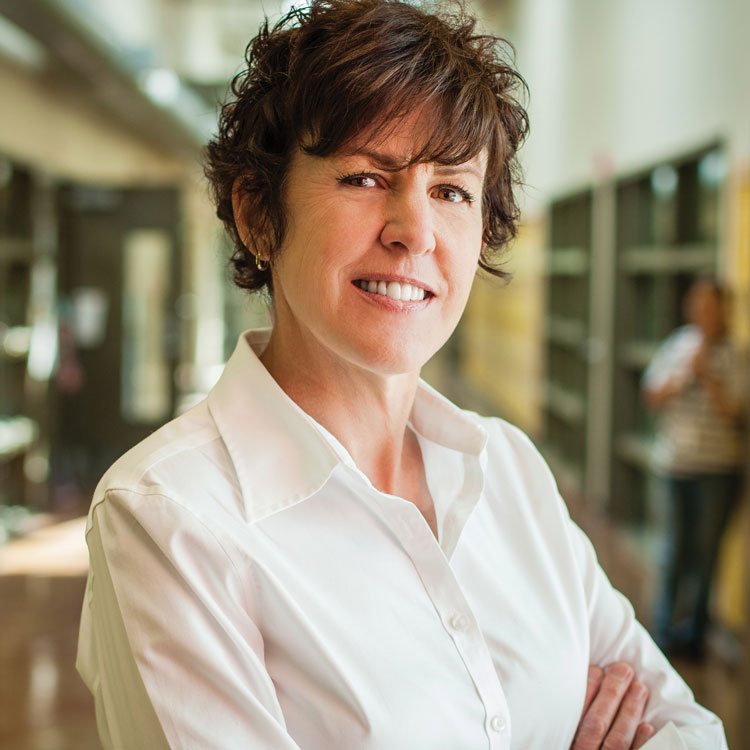 Babs De Lay ('76, '79) recently launched a self-funded campaign for a seat on the Salt Lake City Council. Rather than donations to her campaign, Babs encourages donations to the Rape Recovery Center, Red Cross, or YWCA to support women's rights, LGBTQ rights, and survivors of rape and sexual assault.
Stephanie MacKay ('79) was recently named one of the Utah Business "30 Women to Watch." Stephanie is the director of development at the Columbus Community Center. Since joining Columbus in 2004, she has overseen two capital campaigns that contributed to Columbus's major capital expansions in 2006 and 2012. As foundation director, she serves as a liaison with community partners, Columbus staff, and the Columbus Foundation Board of Trustees to ensure that all stakeholders are involved in major fundraising efforts. She has worked in higher education, corporations, and nonprofit organizations at local, national, and international levels.
1980s
Wendi Sorensen ('81) has been named as a partner at the law firm Burch & Cracchiolo, P.A. Last year, Arizona Business Magazine named her a "Top Lawyer" in the Specialist category. Wendi also serves on the Arizona State Bar Committee.
1990s
Scott Beck (MBA '95) has been named CEO of CHG, where he has been working since 1999.
Brian Dicksa ('97) lives in Discovery Bay, CA, with his two children, Grace and Zach. He is currently employed with Pacific Gas and Electric as a manager of the Gas Transmission Project Management Department.
2000s
Christopher Foley (MBA '01) was appointed as CFO of Green PolkaDot Box, a company that delivers organic foods to people's homes.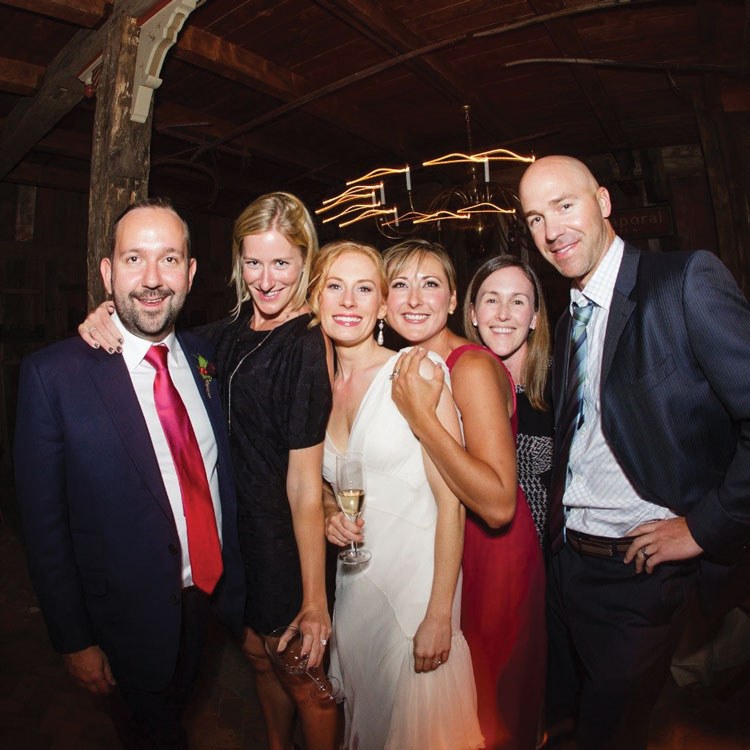 Kristy Owens ('01) owns a bookkeeping company called Source Solutions and is co-owner (with her husband) of 12 Wing Nutz restaurants across three states, the most recent of which just opened in Las Vegas, NV.
Katie Parson ('02) was married on October 5, 2013, in Mendocino, CA. Five of her good friends from Westminster were in attendance. In January 2015, she gave birth to a daughter, Charlotte Ruby Young.
Kim Casaday ('02) was recently appointed director of finance for Miller Family Real Estate, a property management and development company. Kim received her bachelor's degree in accounting from Westminster and spent more than 22 years with Zions Bank before accepting this position.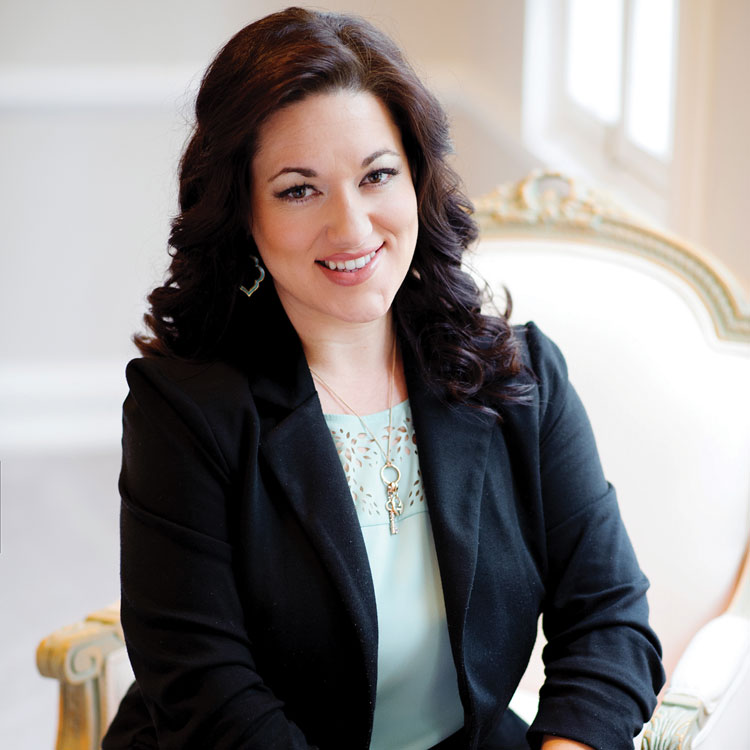 Michelle Leo Cousins ('02, MPC '12) was recently named one of the Utah Business "30 Women to Watch." Michelle is the owner/principal planner/lead designer of Michelle Leo Events. Her company, a five-time consecutive winner of the Utah Best of State award for event planning and wedding services, was recently named one of 62 top wedding planners in the nation by Martha Stewart.
Brooke Miller-Levy ('02) is in Washington DC participating in the Executive Leadership Program with Graduate School USA, a rigorous program designed to foster leadership in federal government employees. Brooke will begin work in the Bureau of Reclamation's Native American and International Affairs office.
Adam Mangone ('02) and his wife, Lindsey, were recently listed as one of "Atlanta's Startup Power Couples" by hypepotamus.com. Adam is the cofounder of UserIQ. Lindsey is a cofounder and executive director of Innovation in Action. The couple met while pursuing their MBAs at Duke University. They recently welcomed their first child.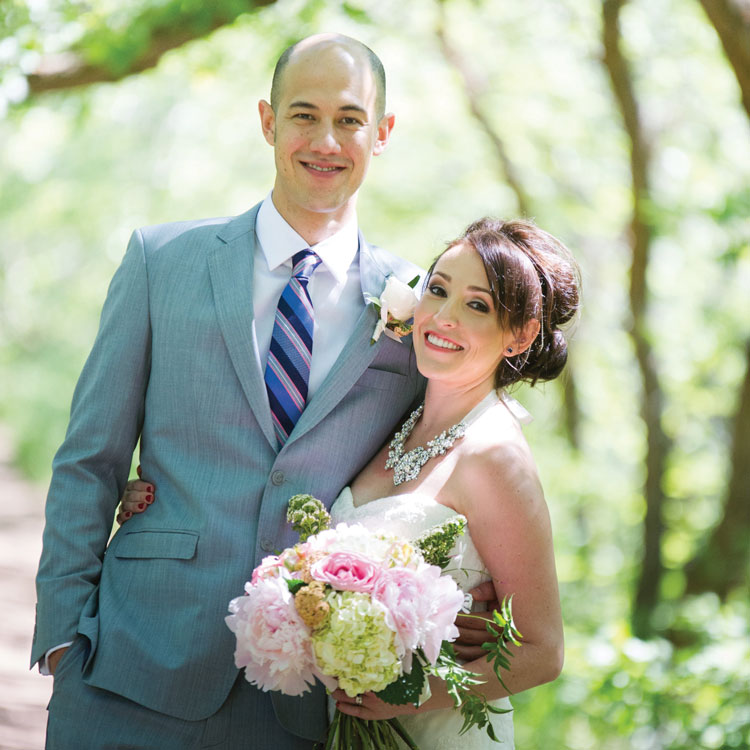 Lesley Manley ('06) and Cameron Dane Smith (MBA '14) were married on June 8, 2014, at Red Butte Gardens in Salt Lake City. Lesley is vice chair/chair-elect of the Westminster Alumni Board and is employed as a staff attorney for the Hon. Brooke C. Wells, U.S. Magistrate Judge. Dane is a commercial real estate agent with Coldwell Banker Commercial Advisors, focusing on investment transactions.
Mike Wallstedt ('06) is a software engineer on the Google team that recently launched a new email product called "Inbox."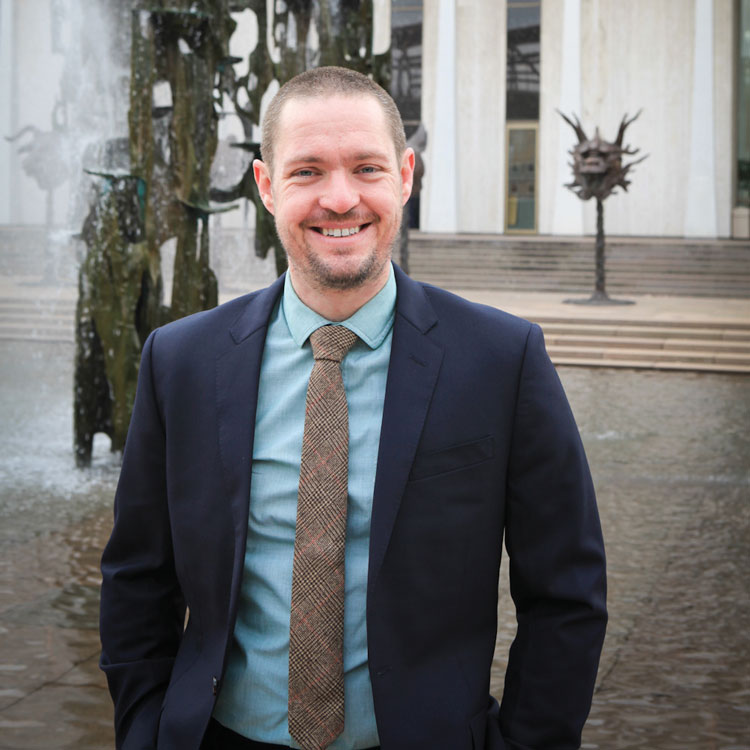 Lara Abuzeid ('07) began a successful law practice in 2013. She recently won a $1.7 million judgment for clients in an elder abuse case.
Andrew Shaver's ('07) article, "The Effects of Temperature on Political Violence: Global Evidence at the Subnational Level," has recently been published by PLOS ONE. PLOS ONE is a peer-reviewed, open-access scientific journal published by the Public Library of Science. You can read Andrew's work at tinyurl.com/oms54ay

Megan (Carney) Zurkan (MPC '09) recently became the director of media for Kassing Andrews Advertising. Previously, Megan served as the director of marketing for Snowbird Ski and Summer Resort.
Chris Hoffman ('08, PMBA '12) and Jason Knott ('10) recently accepted positions with Ardusat, a Salt Lake City-based startup giving impactful experiences in Science, Technology, Engineering, and Mathematics (STEM) for K–12 students by providing them with satellites and space kits to use in the classroom.
Andrew Waterhouse ('08) began the Utah State/Weber State veterinary program.
Megan Correnti Langford (MBA '09) was recently named one of the Utah Business "30 Women to Watch" for 2015. Megan became the executive director of the Utah Association of Justice after graduating from Westminster, served on the board of the Susan G. Komen Foundation, and worked with United Way's Women Leadership Council and Full Circle Group.
Lindsey Roper ('09) has completed her PhD at the University of Wisconsin-Madison in molecular and cellular pharmacology and has accepted a position as assistant professor at Southern Utah University.
2010s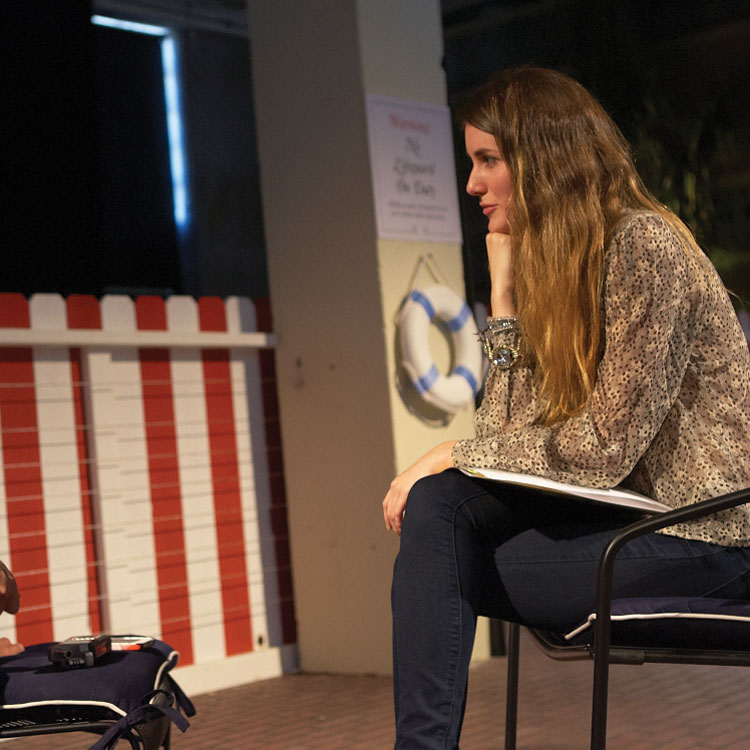 Erin Kelleher ('10) was admitted with a full scholarship to the Iowa Writers' Workshop graduate program. She has been working as a journalist for T: The New York Times Style Magazine, VICE magazine, and Dossier Journal. She recently interviewed James Franco for Milk Studios.
Abe Greenspan ('10) and his friend Brody Leven ('10) accomplished a record-setting bike and ski expedition in the Cascades last summer. The two biked 481 miles from Portland to climb and ski Mount Adams, Mount St. Helens, and Mount Rainier.
Lexie Banks ('12, MACL '15) completed her Master of Arts in Community Leadership at Westminster College this summer. She recently became the alumni relations coordinator for Westminster College and began working as the public relations manager for Cranium Café.
Danny Barber ('12, MBATM '15) is a Judicial Intern at the U.S. Court of Appeals for the 10th Circuit.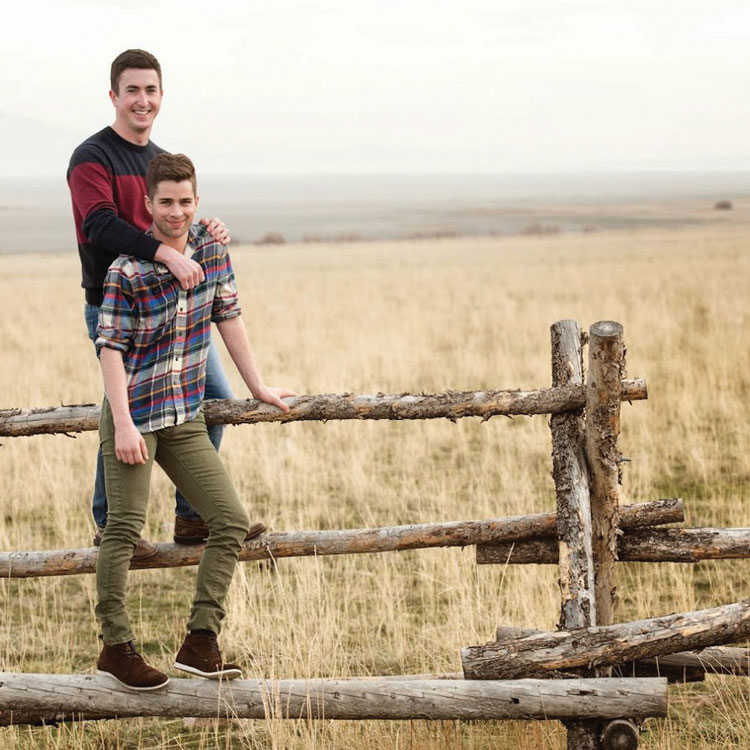 Karl Gerner ('12) recently became engaged to Jordan Penland. Jordan is a lieutenant in the US Navy currently stationed on the USS Kentucky in Seattle, WA. Karl is finishing his Juris Doctor at the University of Utah S.J. Quinney College of Law. Karl and Jordan met skiing in upstate New York in 2012 and plan to wed in late summer 2016, in Saratoga, NY.
Mai Ho ('12) joined the business development team for Storm8, one of the top mobile-gaming developers in the Bay Area.
Allie Roach ('12) co-authored a recent paper in the Journal of Clinical Investigation titled "Anti-micro RNA-21 Oligonucleotides Prevent Alport Nephropathy Progression by Stimulating Metabolic Pathways."
Morgan Anderson ('13) is now a program assistant for the Center for Sustainable Development at the School for Field Studies.
Annie Brings ('13) appeared in the Pioneer Theater Company's production of The Crucible last winter.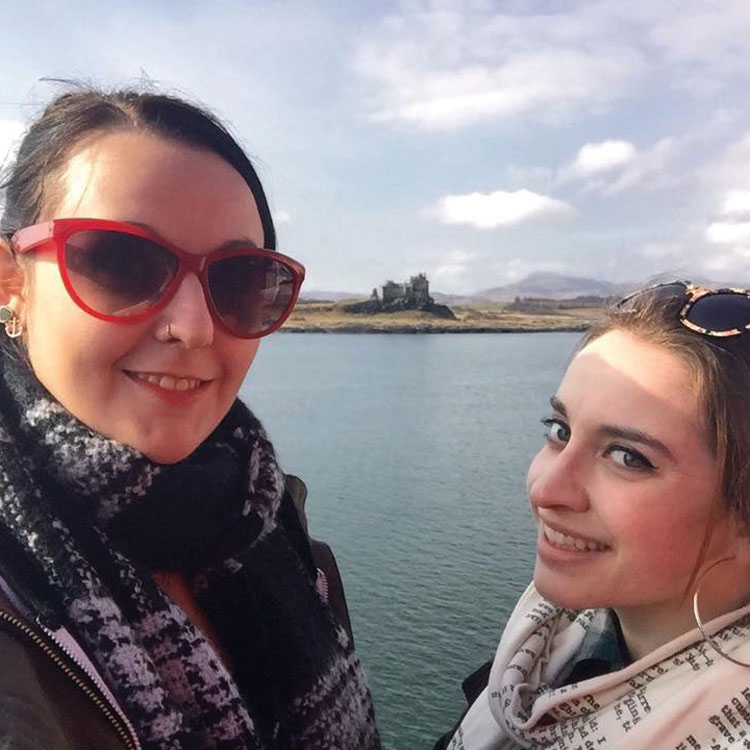 Amanda Corbin ('13, MAT '14) and Sara Mortensen ('14) recently traveled by train, ferry, plane, bus, and taxi to arrive in Scotland in spring 2015. The duo visited famed literary locations throughout the country including Glasgow, Edinburgh, Oban, and the Scottish Isles. They met in Westminster's English program and bonded over a shared love for Gaelic poetry, hairy cows, and scotch.
Hailey Henderson ('13) has been living in Eugene, OR, where she has had numerous acting roles at the Very Little Theatre, including Private Eyes, Leader of the Pack, and A Funny Thing Happened on the Way to the Forum.
Hali Ipaye ('13) recently accepted a position as retail merchandising and fashion product development faculty at Ohio University. She appreciated the role Westminster College and the McNair Scholars program played in preparing her for this role. She began her new position in fall 2015.
Amy (Forker) Kim ('13) married Jinkyu Kim on February 16, 2015. The couple met while Amy was a student at Westminster studying nursing.
Jennifer Mattis ('13) is a preventative medicine specialist in the US Army.
Abby Speicher ('13) has received The Sorenson Award, one of the top honors given to graduating students from Babson College, where she is pursuing her MBA. While at Westminster, she began a business called DAKYE, which sold Ghanaian handicrafts in the US. Abby was also a participant in the first MTSE service-learning trip to India.
Nicole Bedera's ('14) essay, "'Never Go Out Alone': An Analysis of College Rape Prevention Tips," has just been accepted for publication by the academic journal Sexuality & Culture. This work developed out of an Honors Independent Summer Research grant.
Clara Jane Hallar ('14) was accepted into the Master of Fine Arts program at Converse College in Spartanburg, SC. She began coursework for the two-year program in summer 2015.
Ariel Quezada ('14) is working as a substitute teacher in her hometown.
Derrick Fan ('15) began a master in finance and CEMS master in management program at ESADE Business School in Barcelona, Spain.
Derrick Fan ('15) and Hannah Williams ('16) created an economic impact report for Westminster.
Shibl Gil ('15) presented his paper on modeling the spread of Ebola, which he wrote for a mathematical modeling contest, at the Mathematical Association of America Conference at Brigham Young University.
Shianne Gray ('15), Erin Cavender ('16), Hannah Williams ('16), and Sierra DuCharme-Hansen ('18) are team leaders who started the first annual Great Salt Lake Fringe Festival in Sugar House, which premiered in August 2015.
Kailey Kornhauser ('15) accepted a position in the University of Utah's Environmental Humanities master's program. She credits Westminster College, the McNair Scholars program, and her many professors and friends at Westminster College for preparing her for this opportunity. She began the program in Fall 2015.
Katie Mullin ('15) began a joint MS/PhD program in speech-language pathology at the Department of Communication Sciences and Disorders at the University of Utah this fall.
Willy Palomo's ('15) short story "Fish" appears in the 2015 edition of the Honors journal Scribendi, which is published by the University of New Mexico and has an acceptance rate of 10 percent. Willy is the fourth student in the 30-year history of the journal to have had work published for four consecutive years.
Jorie Page's ('15) essay "Redefining the Traitor: Mordred in Arthurian Tradition and The Book of Mordred" was accepted for publication in The Myriad; it is one of five featured articles in the Westminster journal's 2015 issue.
Carla Roberts Pruitt (MPC '15) has accepted a position at Allen Communications in Salt Lake City. She will be working as instructional design lead to create learning materials for businesses across the country. Carla also welcomed her first child earlier this year.
Jake Winter ('15) began the MD/PhD program at the University of Utah.
Corrections
The spring 2015 issue stated that Zak Burkley ('13) graduated with his PhD in physics. He is actually just beginning his PhD research on high-precision spectroscopy of laser-cooled atomic hydrogen at Colorado State University.
Chris Roundy ('11) graduated from Tulane University, not the University of Texas, with his PhD in human pathophysiology and translation medicine.
---
How to SUbmit a Class Note: Michelle Barber Lyhnakis wants to hear from you! We want to celebrate the milestones in your life. Email her about your wedding, new baby, promotion, retirement, new job, adventures, or honors and awards. We'll include your update in the next issue of the Review. Send us your Class Note along with a 1-megabyte photo to mbarber@westminsteru.edu.
---
About the Westminster Review
The Westminster Review is Westminster University's bi-annual alumni magazine that is distributed to alumni and community members. Each issue aims to keep alumni updated on campus current events and highlights the accomplishments of current students, professors, and Westminster alum.
GET THE REVIEW IN PRINT STAY IN TOUCH SUBMIT YOUR STORY IDEA READ MORE WESTMINSTER STORIES