---
Faces: Allison Smith
Queen Bee
Allison Smith takes over the world one leading lady at a time
by Jacqueline Dobbins ('16)
The past year has been busy for the young actor Allison Smith ('16). In the fall of 2013, she created her own production company, Leading Ladies, and directed a standout show to benefit the Rape Recovery Center. By summer, she had been admitted into the prestigious Second City comedy program and was notified she'd present at Westminster Thinks Big. This fall, she shared her ideas and research in an intriguing presentation on the nature of art. Now, she's working on directing and producing an original play to benefit the Domestic Violence House. When you add in her starring role as Prospero in The Tempest and the hectic daily life of a college junior, it becomes clear that Allison is doing it all.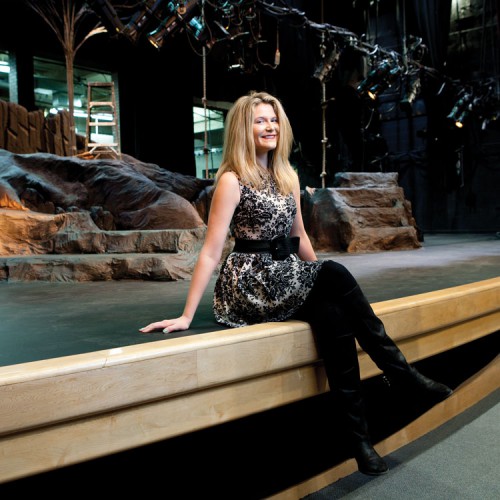 If you talked to those who know Allison, they wouldn't be surprised. She's always been passionate and determined, two formidable traits when combined with her effervescent nature. Last year, after finding out she hadn't been cast in any roles in campus productions, she decided against wallowing and started her own production company. She didn't fit the roles that were available, so she created other roles. She put on her director's hat and focused her energy on showcasing the incredible female talent Westminster has to offer. She chose a women-centric play, Agnes of God, and got to work. The performance was a hit.
Shortly thereafter, Allison found out she'd been accepted into the famed Second City comedy program in Chicago. While completing the rigorous summer program, she found herself asking one question, "How do you make good art?" The answer became clear during a theater theory class. She developed a scale of tragedy and comedy that posits true reality at the intersection of tragedy and comedy. She theorized that good art is a reflection of the lighter and darker sides of that reality. Thus, her Thinks Big presentation was born, and it, too, was a hit.
Allison's whirlwind of success has likely just begun. This spring her company will produce its second play. This time she is not only the producer and director, but also the writer. When asked about her future after Westminster she says plainly, "I want people to see the world through my point of view." And what a lively point of view that is.
---
Fun Facts
Dream role:
"There are so many good ones, but I love playing complex, interesting women. Women are complex, and characters should reflect that."
Hogwarts house you would be in:
"If I were in Hogwarts, I'd be in Slytherin. I don't want to be in Slytherin, but I'd be in Slytherin. I want to be in Gryffindor. I want to be Hermione."
Worst thing you've ever done:
"Since there was no place [for Leading Ladies] to rehearse, we snuck into classrooms every night. And like, I felt so bad. This was the worst thing I'd ever done… I snuck into a classroom to rehearse a play for the Rape Recovery Center."
Moment you knew you wanted to be involved in theater:
"My mom took me to a performance of The King and I when I was 6 years old, and I told her, 'I'm going to do that.'"
---
About the Westminster Review
The Westminster Review is Westminster University's bi-annual alumni magazine that is distributed to alumni and community members. Each issue aims to keep alumni updated on campus current events and highlights the accomplishments of current students, professors, and Westminster alum.
GET THE REVIEW IN PRINT STAY IN TOUCH SUBMIT YOUR STORY IDEA READ MORE WESTMINSTER STORIES