---
Griffin Spirit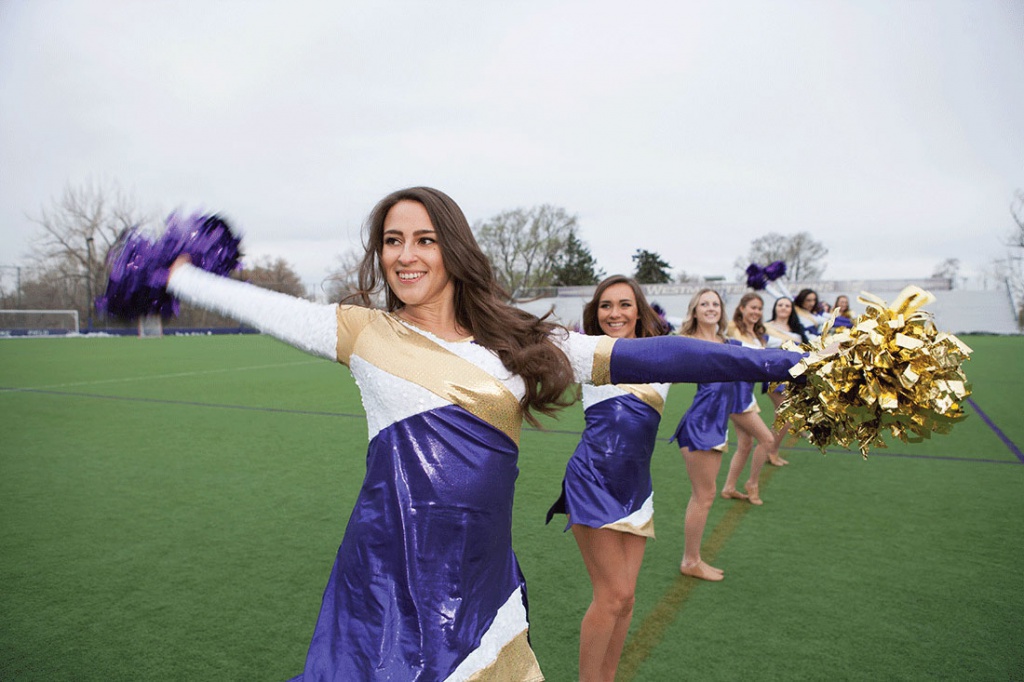 by Joaquin Mixco ('14, MPC '16)
Present at all Griffin home games through­out the year—and at other events—West­minster's newest athletic team, the Spirit Team, takes entertaining seriously.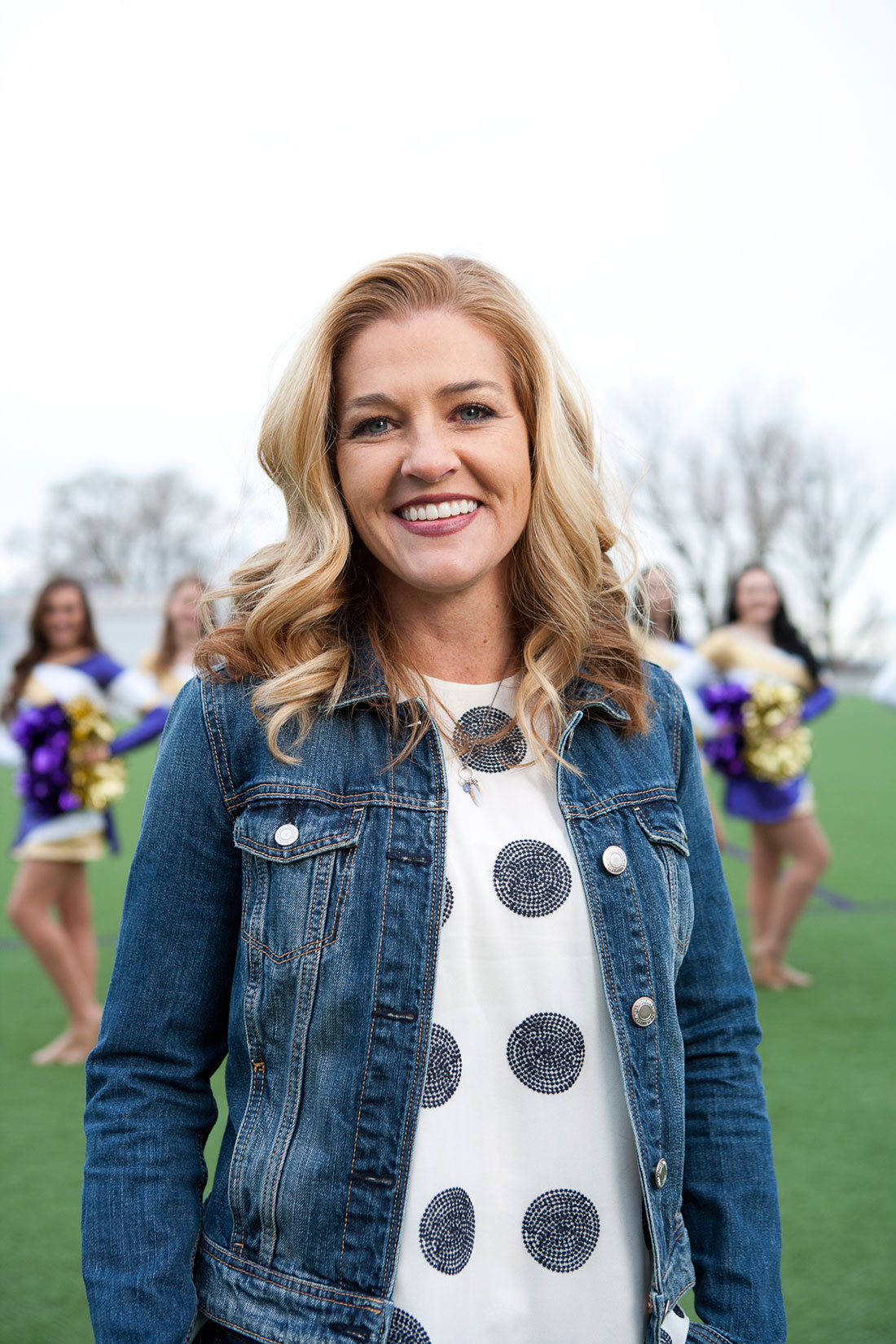 Founded in 2014, the team was initially called the Song Leaders. According to Nicole Vogel, head coach of the team, the term song leaders is used within the dance community to describe a group that does both cheer and dance.
However, Nicole had always imagined splitting the team into two parts. Fall 2016 marks the transition from the Song Leaders to two separate teams that have their own identities: cheer and dance. Athletes in both cheer and dance participate under the umbrella name of Spirit Team: the dancers perform choreographed pieces for most of the halftime entertainment shows, and the cheerleaders work to get the crowd involved from the sidelines. The two groups come together for national competitions and practice regularly together.
The team's main focus is entertainment for all of the fans who attend any Griffin home game. This com­mitment to team spirit and entertainment makes its season the longest of all the teams on campus.
"We start the last week of July, so we can begin practicing routines and cheers to be performed throughout the whole year," Nicole says. "We don't end until April or May when our lacrosse teams have their last home games."
In addition to their busy schedule of home games and practices, they also perform and make appearances at other events like Block Party Weekend and the President's Inauguration. The team is always ready and willing to support Westminster—no matter what.
Nicole was the perfect fit to help Westminster start and grow this program. With 25 years of experience under her belt, she has an extensive background in dance. During college, she was a member of the U niversity of Utah Crimson Line, so she knows how to create an amazing game-day experience for fans.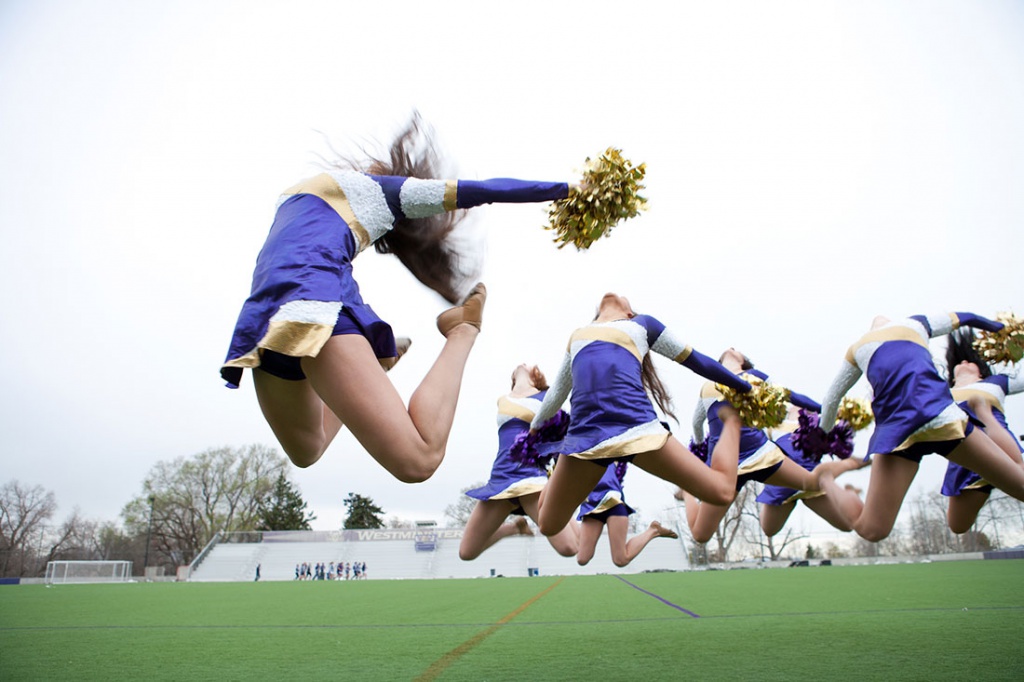 "When fans start to get into a game, it has an ef­fect on the players. Our job is to get the fans fired up and excited when supporting our teams," she says. "When I was approached y Shay Wyatt [the athletic director], I was really excited about the opportunity to help instill tradition and pride in Westminster athletics.
The current captain of the team—and one of Nicole's former dance students—is Bri Miller ('18). Motivated by her desire to continue working with Nicole, Bri followed her to Westminster. She says that Nicole's coaching style can be summed up as one of tough love and relentless encouragement. "Nicole is a great coach," Bri says. "She pushes us to be better and demands that we do our best all the time."
Bri feels that being part of the Spirit Team has allowed her the opportunity to learn while expanding her horizons. Like any other sport, there is team building, but Spirit Team members also gain experience that can help them if they want to pursue a career in dance. "I don't know where dance will fit into my life in the future, but I do know that being on the team will help me no matter what I do," Bri says.
Part of Nicole's vision includes eventually taking the team to national competitions, which gives members a big final event to look forward to. The chance to compete at a national level also motivates the team to work and train as hard as they possibly can. "This year, the team has really stepped it up," Nicole says.
In March 2016, Nicole and the team traveled to Anaheim, California, and competed in the United Spirit Association in the Jazz and Hip-Hop categories, where they placed fourth out of nine Division II teams. "I am really proud and want to continue growing the team year by year," Nicole says. "This is only the beginning of what we can do."
---
About the Westminster Review
The Westminster Review is Westminster University's bi-annual alumni magazine that is distributed to alumni and community members. Each issue aims to keep alumni updated on campus current events and highlights the accomplishments of current students, professors, and Westminster alum.
GET THE REVIEW IN PRINT STAY IN TOUCH SUBMIT YOUR STORY IDEA READ MORE WESTMINSTER STORIES