---
Journey of the Heart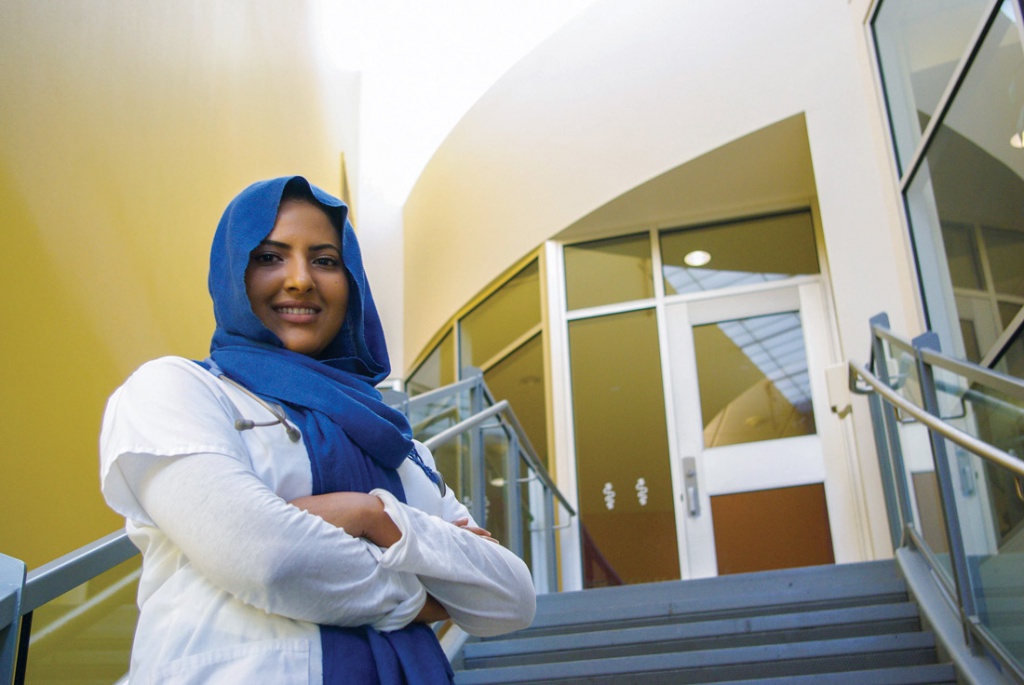 Westminster student rises above a traumatic past to make a difference in the world
by Audrey Maynard ('03)
Ilhan Eeda's ('17) only memory of her home country of Somalia is of the night she fled in 1993. Her father had just been killed by rebel soldiers embroiled in the country's civil war, and a four-year-old Ilhan escaped to Kenya with her mother, brother, grandfather, and aunt. She vividly recalls a cramped van ride down a dusty road paved with emaciated lions. The road led Ilhan to a long stay in an abandoned warehouse owned by a man her grandfather knew, to five years dwelling in a mud hut in a Kenyan refugee camp, and ultimately to a new and uncertain future half of a world away in the United States.
When Ilhan arrived in New York City in 1998, she was struck by how differently American people looked and behaved. She had never seen blond hair, women wearing pants, or couples showing affection in public.
Ilhan and her family moved to Utah a few months later to join relatives who were already living in Salt Lake City. She started fourth grade at Newman Elementary School in Rose Park and remembers a rocky first day. "Going to school was the worst thing ever," she says. "I didn't speak English, but there was a black boy in my class. I started speaking Swahili to him, which he, of course, didn't understand… Everyone thought I was weird."
Hiding in the bathroom was a welcome reprieve to the alienation Ilhan felt on the playground, and she was thankful when school administrators moved her into the English Language Learning classroom. "Most of the kids were from Mexico, so I learned a lot more Spanish than English," she laughs. "But I met students who were going through the same struggle as me."
Ilhan eventually settled into life in the US, making many friends and pursuing a career in healthcare. She completed a vocational program at Highland High School that led to a job as a phlebotomist at Intermountain Medical Center (IMC).
A colleague at IMC suggested Ilhan learn more about college through the Venture Course in the Humanities, a free two-semester course administered through Westminster and the Utah Humanities Council. Venture introduces individuals living on low incomes to philosophy, art history, literature, American history, and critical writing and thinking. Ilhan enrolled in the program and began taking classes two nights a week.
"I learned a lot about American history," she says. "I remember my professor saying that you can change the laws, but you cannot change what's in a person's heart. That really stuck with me."
So Ilhan followed her heart. After she graduated from the Venture program in 2011, she enrolled in Salt Lake Community College to complete her general credits, ultimately transferring to Westminster's nursing program.
"There was something inside me pushing me, and it's impossible not to listen to it. It's in my heart," she says.
College life has been a definite adjustment for Ilhan, but she is making peace with the uneasy feeling that comes with stepping outside of one's comfort zone. "Coming here was another culture to get used to," she says. "I have to tell myself, 'You're never going to fit in; just get over it. Get okay with the feeling of not fitting in!'"
Despite her apprehension, Ilhan is flourishing at Westminster and is learning how she can employ the traumatic experiences of her youth to help others. She finds particular inspiration from public health professor Han Kim. "The topics he discusses—poverty, illness, refugee camps—it's like telling my story to the class. It's emotional for me to listen to the lectures, but I enjoy them because Han is informing people about what's really happening in the world. He's challenging us to get out of our bubble and find ways to help people," she says.
After she graduates, Ilhan plans to pursue a master's degree in midwifery. One challenge she hopes to address is the maternal mortality rate facing the women of Barwa, Somalia—the town she had to leave more than two decades ago. Ilhan plans to open a women's health clinic in Barwa and improve pregnancy and childbearing outcomes in the region.
Ilhan's remarkable story of personal growth and accomplishment would not have been possible without the scholarship aid available to her at Westminster. Through generous support from the Marriner Eccles Foundation, as well as other institutional and private scholarships, Ilhan will graduate from Westminster in 2017 without any student-loan debt.
"I am so grateful for what they are doing: giving students like me the opportunity to live their dream," she says. "Every good deed that I'm doing is their good deed, as well. If not for them, I would not be able to help all the people I hope to one day."
---
About the Westminster Review
The Westminster Review is Westminster University's bi-annual alumni magazine that is distributed to alumni and community members. Each issue aims to keep alumni updated on campus current events and highlights the accomplishments of current students, professors, and Westminster alum.
GET THE REVIEW IN PRINT STAY IN TOUCH SUBMIT YOUR STORY IDEA READ MORE WESTMINSTER STORIES