---
Reports on the Reporter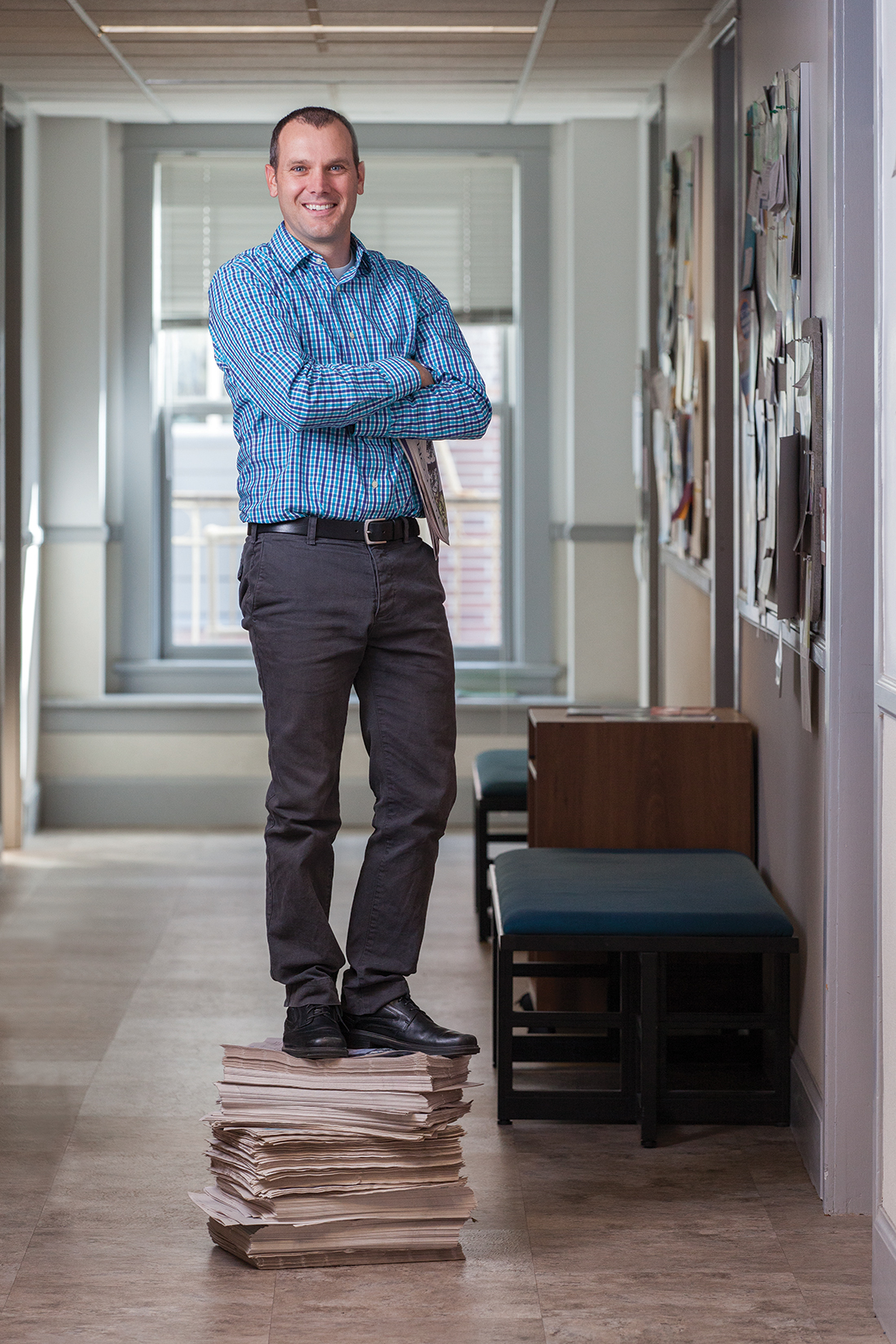 Matt Baker's vibrant involvement energizes the community
by Angie Merkley ('16)
From creating classes that take students camping in Utah's national parks to producing newspapers with high school students whose first languages are not English, Matt Baker is dynamically involved with the college and beyond. A Utah native, Matt received his undergraduate degree in journalism at Brigham Young University (BYU). Upon graduating from BYU, he dedicated two years to magazine writing before getting his master's degree in mass communication at the University of Minnesota. During this time, he began his career in teaching news writing, editing, layout and design, and mass communication law. In 2008, he received his PhD in communication from the University of Utah.
Between earning his various degrees, Matt worked as a freelance journalist writing for the Deseret News and the Daily Herald, as well as managed an environmental beat for The Salt Lake Tribune.
In 2013, Matt landed his dream job at Westminster. For seven years, he had eagerly waited for a position to open up in the Communication Department. After the retirement of Fred Fogo, a long-time professor, Matt was happily welcomed into the Westminster faculty. He looked forward to working at a small college with a focus on community. "I always liked the idea, the feel of Westminster," Matt says. "I knew that I would really like to teach here."
Matt was also drawn to Westminster's culture. "If I'm ever accused of being an effective teacher, it's because of the climate I'm teaching in," he says. "Professors here work hard to engage their students and inspire them to work hard. It makes it easier to succeed when everyone around you is working to do their best."
Last fall, Matt collaborated with his students to help create a newspaper with students at Utah International Charter School (UICS), an institution dedicated to children learning English. The students come from all over the world—from Egypt and Kenya to Mexico and Indonesia. Matt saw the potential for a perfect partnership between Westminster and UICS: his students would experience mentorship roles, and UICS students would learn more about journalism.
More importantly, Matt wanted the UICS students to forge relationships with Westminster students. "I guess it's not so important that they produce a newspaper, but it's more important that they work with students from Westminster," he says. "It doesn't matter what exactly they do, but I want them to be able to relate to people who are in college and see that they are capable of the same thing."
Matt is grateful that his students are willing to spend their time working with UICS. He finds it invigorating to be surrounded by people whose goal is to learn something new. "It puts energy into you," he says. "This is what Westminster professors do. They don't stay isolated from the world. They try to connect with the community, and that's what makes it good. I benefit from the people who do similar or more amazing things than I will ever do."
---
Favorite News Source: The New York Times
Biggest Secret: Used to play the bagpipes
Top of the Bucket List: The Wasatch 100—a 100-mile endurance run across the Wasatch Mountains
Favorite Book: East of Eden by John Steinbeck
Favorite National Park: Capitol Reef—it's off the tourist circuit and has amazing slot canyons
---
About the Westminster Review
The Westminster Review is Westminster University's bi-annual alumni magazine that is distributed to alumni and community members. Each issue aims to keep alumni updated on campus current events and highlights the accomplishments of current students, professors, and Westminster alum.
GET THE REVIEW IN PRINT STAY IN TOUCH SUBMIT YOUR STORY IDEA READ MORE WESTMINSTER STORIES