---
Leaning into Liberal Arts Education
Leaning into Liberal Arts Education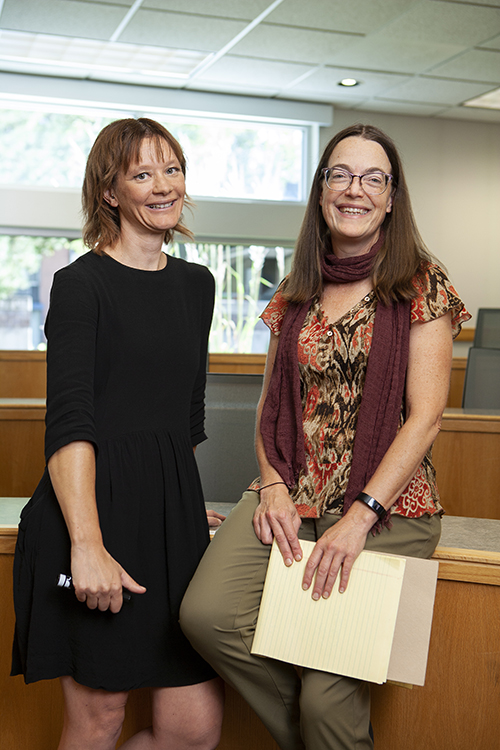 Honors College faculty describe Westminster's approach to engaged learning
True to its liberal arts identity, Westminster College provides an immersive educational experience in rigorous learning communities. Students are guided by expert faculty as they engage with complex ideas and issues. To understand what this looks like in practice, the Review spoke with Julie Stewart, PhD and Connie Etter, PhD, members of the Honors College faculty.
Review: Like liberal arts colleges everywhere, Westminster offers courses that explore a variety of complex social issues. Tell us about your approach to researching, understanding, and teaching these topics.
Dr. Stewart: "My academic career began as a human rights advocate during Guatemala's civil war. I came to know and love survivors of ethnic genocide, displacement, and political violence. The roots of that conflict are complex and contradictory, global and local, systemic, and individual. It turns out that's also true of racism, sexism, and social inequality. So, in my research and teaching practice, I approach each issue with empathy. Real people—in all their beautiful complexity— are both the perpetuators and the recipients of injustice."
Dr. Etter: "It's imperative to recognize we're in a specific somewhere as we collaboratively think about such issues. It's from that specificity—what feminist theorists call 'standpoints'—that I approach researching and teaching about power and social change. Standpoint theory recognizes that thinking doesn't exist outside systems of power structured around hierarchies of race, class, sexuality, gender, ability, and more. Rather, our group identities shape how we experience and think about the world."
Review: Teaching and discussing complex issues can lead to difficult conversations in the classroom. How do you guide such discussions responsibly
and sensitively?
Dr. Etter: "Discussing complex social issues responsibly is not and cannot be a neutral or objective activity. It's about understanding how ideas exist in systems of power. As for guiding such discussions sensitively, I'm most sensitive to the hard work I'm asking for from students to discuss responsibly. I try to acknowledge this constantly. Such discussions require deep engagement through accountability and collaboration. It requires a commitment to each other and to the ideas we encounter."
Dr. Stewart: "Teaching is personal and political. In every class, I incorporate time for students to really get to know each other and me. My hope is we'll create a personal connection that will allow us to weather the difficult conversations around politics, science, and knowledge systems. In essence, my first goal is to create trust. Then we can discuss the knotty issues of our time."
Review: The last few years have been particularly tumultuous: political turmoil, a devastating pandemic, civil unrest, and more. As faculty, how have you helped students navigate so much upheaval?
Dr. Stewart: "In most of my classes, I have the flexibility to invite students to participate in building a syllabus. As current events change, so does my syllabus. That way, we can directly study the issues shaping our lives and better understand what we can do to change the things that make us angry, sad, frustrated, or worried. That also means that as the burdens become heavier, I can immediately change what we're doing in class to encourage students to take time to care for themselves."
Dr. Etter: "I regularly set aside time and space for us to describe the emotional, material, and relational toll these on- going events are having in our lives. A cornerstone of much of the analysis that happens in our classes revolves around what activist Angela Davis calls 'insidious individualism.' So, in these conversations, we come to understand and articulate the struggles, stresses, sadness, anger, and hopelessness we sometimes feel as not just personal, isolated feelings we need to somehow deal with alone, but as shared experiences that emerge from larger, structural issues that require collective solutions."
Review: Westminster seeks to develop students who can experiment with ideas, ask questions, think critically, and make informed decisions. How does grappling with complex social issues figure into that process?
Dr. Etter: "Imagination is key here. These things require a willingness and ability to think beyond yourself and what you've been taught to perceive as inevitable. To be part of building a more just world, we all need to be able to imagine the world otherwise. This kind of intellectual imagination is something I try to model and encourage in class conversations, in assignments, and in my mentoring relationships with students. It's an embrace of process and possibility rather than final products or definitive conclusions."
Dr. Stewart: "As a sociologist committed to engaged learning, knowledge always serves a purpose. It can maintain the status quo, make things better, or make things worse. The middle option is always my preference but finding the best tools to change a sexist institution, inspire comprehensive immigration reform, or reduce racial bias in policing, requires asking good questions and welcoming ideas that may not align with your political perspective."
--
A humanizing way to have difficult conversations
"When students choose to engage in these difficult conversations it creates a much broader and richer discussion and learning environment because we all have different knowledge. And in my experience with Connie's classes, we—the students—are coming into those classes with lived experience and some expertise. Connie's sensitivity to how impactful these conversations can be also gives space for her to acknowledge that she's not the expert on every single topic. And that creates an environment in which it feels very comfortable to share personal experiences as analogies and how they relate to larger systems of power and oppression. It's a humanizing way to have these conversations, which I think is sometimes missed in academic conversations around civil rights and social justice issues." -Quinn Winter ('23)
---
About the Westminster Review
The Westminster Review is Westminster University's bi-annual alumni magazine that is distributed to alumni and community members. Each issue aims to keep alumni updated on campus current events and highlights the accomplishments of current students, professors, and Westminster alum.
GET THE REVIEW IN PRINT STAY IN TOUCH SUBMIT YOUR STORY IDEA READ MORE WESTMINSTER STORIES