---
Strategic Storytelling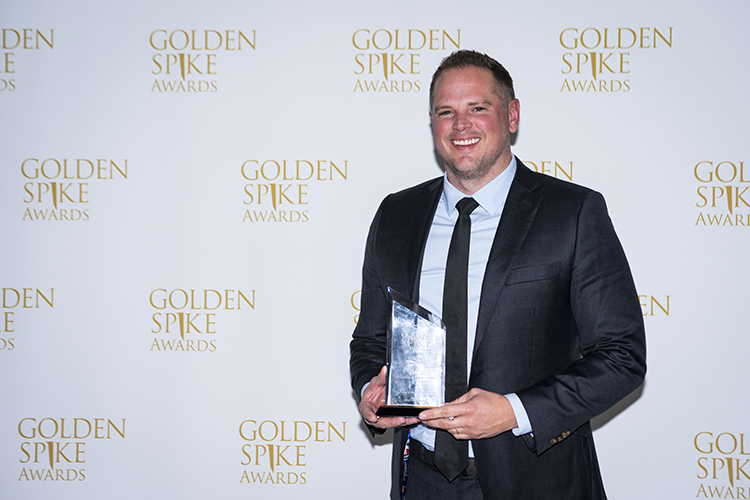 Master's program helps Westminster grad be a positive voice
By Kevin Randall (MSC '22)
When the pandemic hit in early 2020, I found myself in the same situation as millions of other Americans: out of a job and competing for few opportunities. Although I had 15 years of experience, it didn't seem to matter much. I figured it was a good time to go back to school and see what options awaited me in 18 months. That decision changed my life and represented a significant shift in my career.
I chose to pursue graduate studies at Westminster College. I was drawn to the hands-on, experiential learning approach of working for real clients, rather than a more traditional lecture- based environment. My goal was to be a freelance communications consultant, allowing me more flexibility to work with people and causes I'm passionate about.
In my first course sequence, our assignment was to create a public relations strategy for a client. I was fortunate to work for the Utah Pride Center, which was dealing with a crisis of its own. The pandemic had forced them to cancel their annual Pride Festival, which not only resulted in a lack of donations, but an identity crisis as well. After all, who is the Utah Pride Center without its annual Pride Parade and Festival every June?
By administering a survey, we discovered most people didn't realize the Utah Pride Center also provides life-saving programs and services to the LGBTQ+ community, such as mental health counseling, support groups, and suicide prevention. With guidance from our instructors, my cohort and I crafted a PR strategy that would turn things around and get the Utah Pride Center the recognition and community support
it deserved.
Within a year of implementing this strategy, the center more than doubled its social media audience, generated positive news coverage monthly, and gained the financial support it needed. Much of this success is also due to the hard-working, innovative team at the Pride Center, who adapted quickly and created opportunities for me to amplify their message. They became one of my most high-profile clients and recently experienced record attendance at the annual Utah Pride Festival—the highest number of attendees in 30 years. It was a much-needed financial boost after three years without a festival because of the pandemic.
In fact, the project was so successful I submitted it for a Golden Spike Award, given annually by the Utah Chapter of the Public Relations Society of America. My submission won! It's an honor that affirms to me the skills I developed at Westminster are helping me achieve new professional heights in the communications industry. I now serve as a Board Member for the PRSA Utah Chapter, and I have the privilege of collaborating with some of Utah's leading communications experts.
Completing a master's degree at Westminster started a new journey for me. It allowed me to build a thriving communications consultant business. It also prepared me for incredible opportunities I never anticipated, like joining Westminster's Marketing and Communications team in October 2022 as director of Strategic Communication. Although I couldn't have imagined back in 2020 where I'd be today, I know why I'm here. It's all because of the transformative power of a Westminster education.
---
About the Westminster Review
The Westminster Review is Westminster University's bi-annual alumni magazine that is distributed to alumni and community members. Each issue aims to keep alumni updated on campus current events and highlights the accomplishments of current students, professors, and Westminster alum.
GET THE REVIEW IN PRINT STAY IN TOUCH SUBMIT YOUR STORY IDEA READ MORE WESTMINSTER STORIES