---
Giving to Westminster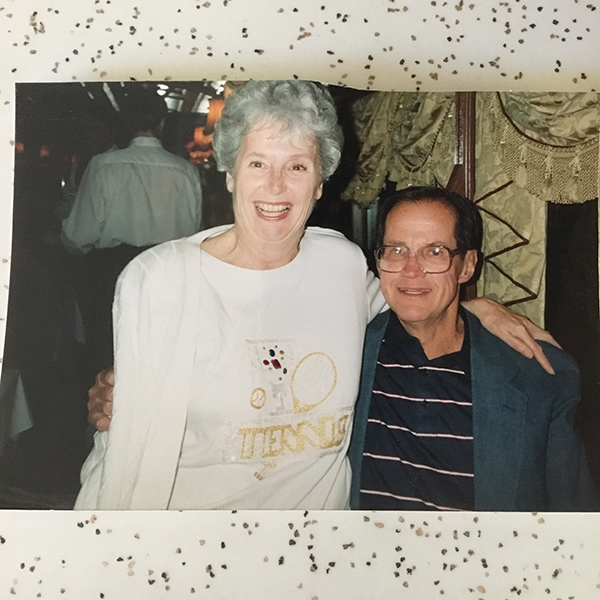 A family tradtion
by Marc Stevens
When a young Bob Koch left his native Salt Lake City in the 1940s to attend college in Los Angeles, he was taking the first steps toward a long life of great success both professionally and personally. It was a life defined by service and generosity to many, including Westminster College.
As a student at UCLA, Bob met Barbara Hanes, who would become his wife of 59 years. After graduation, he went to work for Union Oil, pumping gas at a 76 station on Sunset Boulevard. Bob worked his way up to become president of the company's real estate division. The success he found in his career made it possible for him to donate generously to a variety of causes.
"If you look up the word 'generosity' in the dictionary, you just might find a picture of Bob Koch," says his daughter, Cindy Koch. "Dad had such a generous soul. He made an incredible difference in the lives of the many people and charities he supported."
Among those charitable causes was a certain liberal arts college back in his hometown of Salt Lake. In fact, when Bob passed away in December 2020 at the age of 92, he ensured Westminster would continue to benefit from his generosity by naming the college as a beneficiary of his retirement assets—a monumental gift of nearly $2 million.
As it turns out, generosity and Westminster were always in Bob's blood. In 1985, the Helen Greenwood Koch Woman's Board Scholarship was established by Helen's family and friends to acknowledge her 33 years of volunteer service to the Woman's Board at Westminster. In 2002, it was renamed the Koch/Watson Scholarship to also honor the service of Mary Koch Watson, Helen's daughter, for her service to Westminster.
Helen was Bob's mother, and Mary was his sister. To honor these remarkable women, Bob contributed to the scholarship throughout his life. The Koch/Watson Woman's Board Scholarship is awarded to non-traditional Westminster students who have a 3.0 GPA and are enrolled for at least six credit hours per semester. Four students receive the scholarship each year, with an award of more than $4,000 each.
"I was raised in a culture that viewed a college education for a woman as unnecessary and secondary to the ultimate role of wife and mother, so I forfeited my college education for my husband's," says Emily Laga ('22), a sociology major and Koch/Watson Woman's Board Scholarship recipient. "Now that I'm divorced and unable to provide for myself and teenage sons, I understand the importance of a degree and am working hard to achieve it. I am extremely proud of myself for reaching graduation and earning my degree and know I couldn't have done it without the financial support I've received from these generous donors."
In honor of Bob and his wife, Barbara, the gift of his retirement assets will add to the Koch/Watson Woman's Board Scholarship as well as support new Westminster initiatives. Although Bob and Barbara didn't attend Westminster, they always felt a deep connection to the college because of their family's long-standing support and Westminster's distinctive educational mission.
"My parents were both very kind, generous human beings," says Cindy Koch. "They wanted to support meaningful, impactful causes, and Westminster is a prime example of that. I'm so glad Westminster is part of their wonderful legacy."
You can make a planned gift to Westminster through a will, trust, charitable gift annuity, real estate, or other assets. A planned gift can offer tax benefits, income, and other advantages during your lifetime.
Contact Kaye Stackpole to learn more about planned giving: 801.832.2735 or kstackpole@westminsteru.edu
---
About the Westminster Review
The Westminster Review is Westminster University's bi-annual alumni magazine that is distributed to alumni and community members. Each issue aims to keep alumni updated on campus current events and highlights the accomplishments of current students, professors, and Westminster alum.
GET THE REVIEW IN PRINT STAY IN TOUCH SUBMIT YOUR STORY IDEA READ MORE WESTMINSTER STORIES