---
New Kid on the Bike

An alum discovers New York during COVID
by Harrison Corthell-Wood ('18)
In Spring of 2020, after finishing the first year of my master's degree at Columbia, I had big plans for my first Broadway show, joining the Actors' Equity Association, and making strides in my career in commercial theatre. Then, on March 12, the theatre industry went on hiatus. I was without work as my industry crumbled around me. During this time, a climbing buddy of mine was trying to convince me to take up cycling again. When I moved to New York, I sold my bike to another Westminster alum. The sport is always one I wanted to try seriously—and it's not serious until you're wearing Lycra. So, like many things lately, I thought: why the hell not? I serendipitously invested in a 2020 Specialized Allez in January and, as of writing this, I have ridden approximately 3,000 miles through Manhattan, Brooklyn, the Bronx, and New Jersey.
Cycling has become a saving grace during the pandemic, providing me a transportation alternative to the subway as well as giving me a chance to explore the city in ways I would not have been able to prior to the pandemic. In some ways this New York State PAUSE, as Governor Cuomo has branded it, has been a blessing; letting me explore the usually crowded streets with unparalleled confidence and curiosity.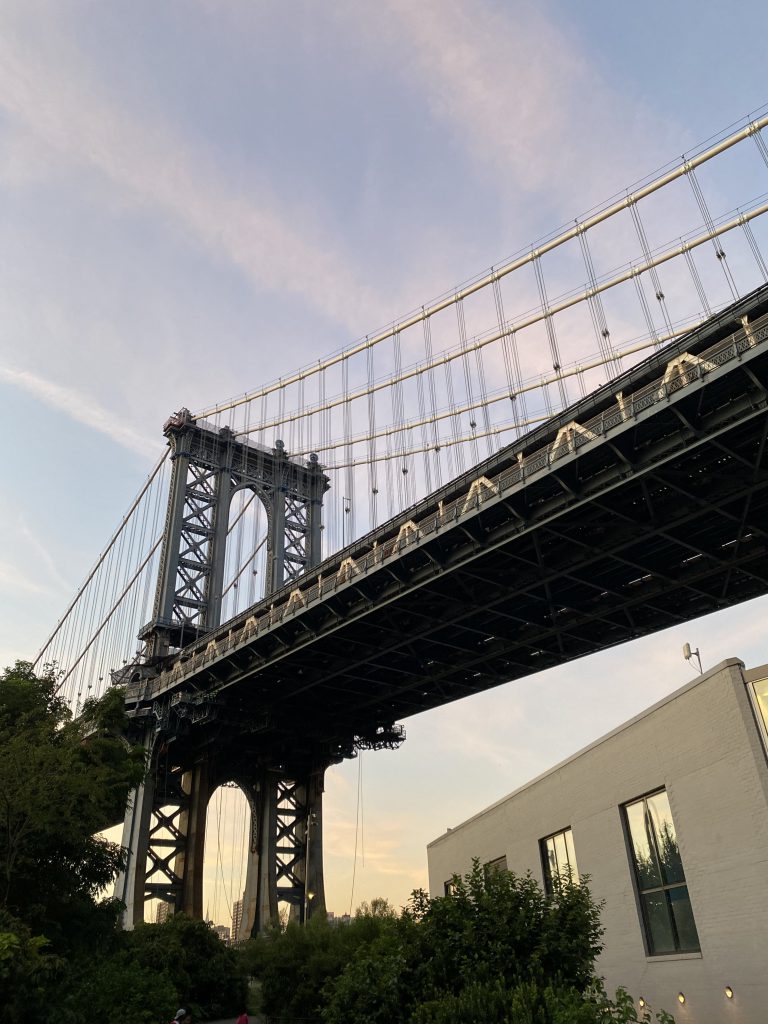 On bike, I am able to see how neighborhoods flow into one another; which avenues become which roads; and how the geometry of the George Washington Bridge takes a big bite out of the quiet residential neighborhood of Washington Heights and turns it (for about 15 blocks) into a hellscape of concrete, highway debris, and litter. In contrast though, right below the bridge, Riverside Park begins. In typical New York fashion, this hellscape is married with nature and history featuring the likes of the Little Red Lighthouse, all within one square mile.
I ventured into the Bronx for my first time in April. Crossing the Broadway Bridge to the north, I was transported into what felt like a suburb. Gone were the skyscrapers and concrete of Manhattan, replaced by lawns, backyards, driveways, and garages. Presumptively quieted by the outbreak, this surreal transportation destroyed all of my privileged preconceptions of the Bronx, and my husband and I are now considering moving there. Following Broadway north, I found Van Cortland Park and escaped into the woods for a few hours. On gravel trails, up and down hills, I felt like I was in Millcreek Canyon again. This is all within five miles of my apartment in the Washington Heights neighborhood of Manhattan.
While this sport is giving me ways to appreciate the grit of my new city and its commune with nature, cycling also helps me participate in protests at my own pace. The lynching of George Floyd, Breonna Taylor, and our other Black, Indigenous, and people of color community members have upended New York's tolerance for this violence. Westminster has given me the critical thinking skills to not only question these systems of privilege and injustice, but also the gall to stand up (on my bike) with fellow New Yorkers for what is right.
New York City is a magical place but, during these times of COVID, it is easy to resign to pity, defeatism, and the void. My time in Salt Lake City and at Westminster taught me that getting outside, getting active, and doing the work of an activist is how you take care of yourself and your community in times of strife. We are living in unprecedented times in this country, but when I get out on my bike I feel just a little bit better. Sometimes, that's all one can hope for.
Harrison Corthell-Wood majored in theatre and graduated from Westminster College in 2018. He also participated in the college's Outdoor Education Leadership Program, where he developed his love and appreciation for being in nature. Harrison is currently pursuing a master of fine arts at Columbia University.
---
About the Westminster Review
The Westminster Review is Westminster University's bi-annual alumni magazine that is distributed to alumni and community members. Each issue aims to keep alumni updated on campus current events and highlights the accomplishments of current students, professors, and Westminster alum.
GET THE REVIEW IN PRINT STAY IN TOUCH SUBMIT YOUR STORY IDEA READ MORE WESTMINSTER STORIES