---
The Year of the Biodegradable Family
The Year of the Biodegradable Family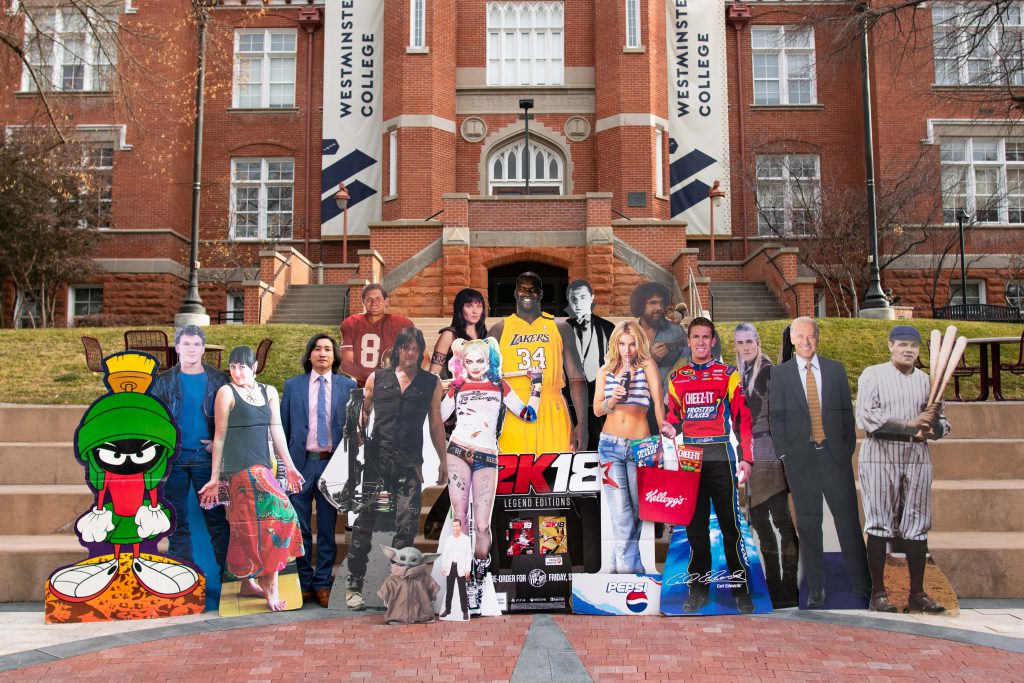 by Maggie Regier ('20)
In 2020 many of us found ourselves a bit lonely and missing our families, but biology major Nghia Nguyen ('00) found his own kind of family. Last May, Nghia saw someone selling a cardboard cutout of Britney Spears online. Paired with his best friend's cut out of Patrick Swayze, he began his own little cardboard family. "2020 was rough," Nghia says. "So why not have a little fun with it?"
Most people would let a cardboard cut out collect dust for a few months before heading to the recycling bin, but not Nghia. He decided to start an Instagram, @biodegradablefamily, and start staging photos with the cutouts at his favorite places across Utah. He sets up every photo to tell a story—sometimes posing with just a few and other times taking out the entire cardboard crew. He'd take them to his favorite bars and diners as a little shout-out to local businesses who were struggling, to Capitol Hill, and to Nghia's favorite hiking spots.
Taking the family out for a photoshoot doesn't exactly blend in. Last Halloween, Nghia headed to Gardner Village for his Halloween photo. "It was kind of breezy and they kept falling over," he says. "Right when I got them up for a perfect picture people kept coming up with their families to take photos—they it thought was part of the installation!"
Despite the unusual setup, the people at Gardner Village seemed to think the family fit right in and wouldn't leave them alone. After several families kept running in to get their own photos, he finally escaped with the perfect shot, which you can see on his Instagram along with shots at other famous Utah locations, or even a re-creation of The Last Supper.
The cardboard family quickly took off on Instagram and people—mostly strangers—began donating cutouts that had been long forgotten about. Though the cutouts are cardboard, they've begun to take on a new life with strong personalities. For example, Shaq is the father figure. He is the largest of the family and folds in half—a perfect size for carrying the rest of the family to various photoshoot locations. Other famous family members include President Biden, Xena the Warrior Princess, and Lord of the Ring's Legolas.
While Nghia's claim to fame may be that Orlando Bloom, who played Legolas, liked his Instagram post, it's the impact on real-life people that has gained the most attention. Local photographer Cat Palmer was so taken with the Instagram account and the fun it was bringing into people's lives that she offered to help Nghia create his own cutout of himself. In a year that has been hard for so many, Nghia seeks to bring some brightness to the days of his followers. "Why not have stupid fun in life sometimes?" he says. "We all need to just go with it."
---
About the Westminster Review
The Westminster Review is Westminster University's bi-annual alumni magazine that is distributed to alumni and community members. Each issue aims to keep alumni updated on campus current events and highlights the accomplishments of current students, professors, and Westminster alum.
GET THE REVIEW IN PRINT STAY IN TOUCH SUBMIT YOUR STORY IDEA READ MORE WESTMINSTER STORIES