---
Sorenson Legacy Foundation
Sorenson Legacy Foundation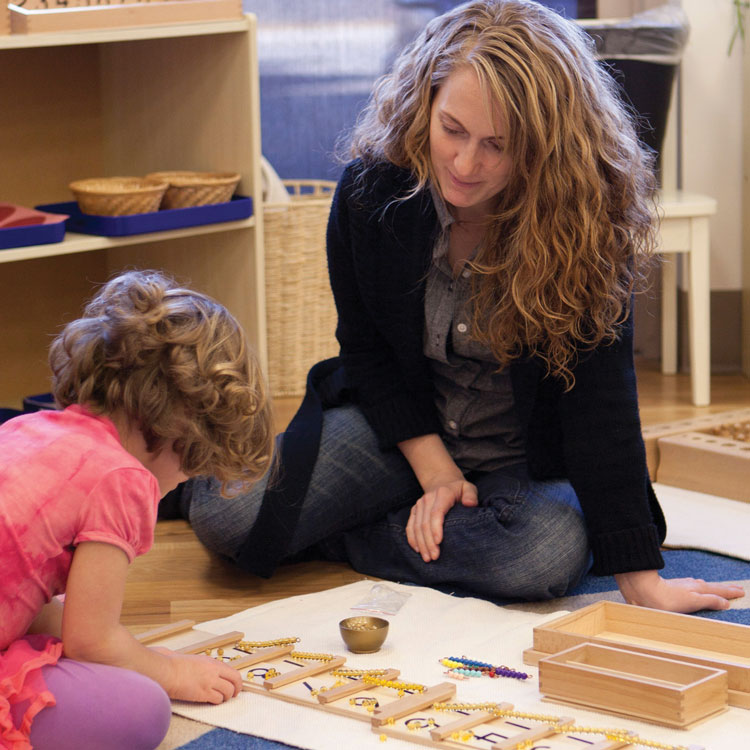 The Institute for Montessori Education Enjoys Rapid Growth Through Support of Sorenson Legacy Foundation
Nearly 100 teachers and administrators have received Montessori certification in three short years
by Audrey Maynard ('03)
In 2012, the Sorenson Legacy Foundation invested $250,000 in the School of Education to establish the Institute for Montessori Education at Westminster. Three short years later, the Institute has trained nearly 100 teachers and administrators working at private and public Montessori schools nationwide.
The Montessori philosophy—curriculum based on a child's individuality and inherent eagerness to learn—has experienced a surge in the United States over the past 15 years, particularly in the public sector. Since 2000, approximately 290 new public Montessori school programs have opened nationwide, including six charter schools in Utah.
Dr. Peter Ingle, acting dean of the School of Education, said that the Institute for Montessori Education is fulfilling a desperate need, particularly in Utah Montessori charter schools, because teachers must have both a state teaching license and Montessori certification, which the state does not offer. "We are one of only nine programs in the country that allows people to get their undergraduate degree in education and a Montessori certificate," he says. "This is a big growth area for us."
The opportunity for growth is so significant that the college is now offering an undergraduate minor in Montessori education, as well as certificates for upper elementary educators and administrators. Students in Westminster's Montessori program engage in an eight-week intensive training session in the summer, participate in an academic-year practicum at a local school, and complete oral and written exams the following summer.
"We are preparing our students to be ready in ways other institutions aren't," Peter says. "They're ready to go, and they don't need as much support that first year of teaching."
Aron Weiss, who is pursuing a Master of Education degree with a Montessori certificate, believes the rich and rigorous curriculum at Westminster is preparing him to effectively lead his classroom at Elizabeth Academy, a private Montessori school in Salt Lake.
"The program is helping me learn how to be a good teacher, which is a simple concept but a difficult achievement," he says. "Student performance, success, and happiness depend on the adult in the room. If the teacher is unprepared, it's hard to expect the students to fare well."
Through the support of the Sorenson Legacy Foundation, Westminster is rapidly becoming a hub for Montessori research and collaboration. In June, Westminster hosted the national Montessori for Social Justice conference, bringing Montessori thought leaders from across the nation to participate in a forum to exchange research, knowledge, and ideas.
"It takes my breath away to think about how much has happened in such a short time," says Nancy Lindeman, Montessori program director. "We thank the Sorensons for their vision. If we didn't have this training program here, these kinds of efforts would not be possible."
Students in the program, most of whom receive scholarships from the Sorenson Legacy Foundation, can pursue their educational goals with less financial burden. "The Sorenson Legacy Foundation scholarship is an absolute gift," Aron says. "Without any doubt it has opened doors for me that I would have never had access to otherwise. It's not only a scholarship to subsidize an education; it truly pays dividends in the foundation's mission of making the world a better and more enriching place to be."
---
About the Westminster Review
The Westminster Review is Westminster University's bi-annual alumni magazine that is distributed to alumni and community members. Each issue aims to keep alumni updated on campus current events and highlights the accomplishments of current students, professors, and Westminster alum.
GET THE REVIEW IN PRINT STAY IN TOUCH SUBMIT YOUR STORY IDEA READ MORE WESTMINSTER STORIES