---
Paying it Forward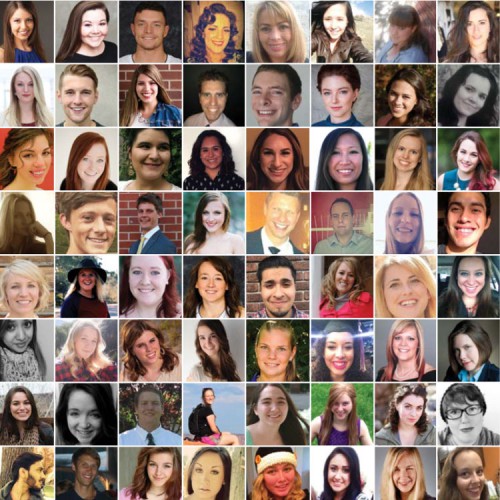 Westminster's $10 million scholarship campaign succeeds in helping students afford an education
by Audrey Maynard ('03)
College affordability is perhaps the most vexing challenge facing higher education in the United States. Although a college degree remains a solid investment, a recent US Department of Education report states that the average tuition rate at public four-year colleges has increased 250 percent over the past three decades and that students today are graduating with nearly $30,000 of debt.
In 2010, after the opening of the Meldrum Science Center, Westminster directed its attention to tackling the affordability issue by embarking on a $10 million scholarship fundraising campaign. "We asked ourselves, 'What good are these facilities if students can't afford to come?'" says Jane Campbell, director of the scholarship campaign. "We strongly felt that people would rally around this cause and that it would have a huge impact on both the college and our students."
It turns out Jane was right. Five years later, Westminster exceeded its $10 million fundraising goal, raising $14.6 million overall. This year, 564 scholarships were awarded to current students.
Angie Ham, who graduated in May with a degree in finance, received the R. Harold Burton Foundation Annual Scholarship in Business that she credits with allowing her to take full advantage of her college experience. "Without financial aid, I would not have been able to focus entirely on my school work, and my performance would have been affected," she says. "Receiving scholarships provided me with more drive to succeed, knowing that people were willing to invest in me."
The campaign, however, did not always have such momentum. "We did well the first year, raising $1.8 million mostly from people who already knew what we were trying to do and who were excited to help," Jane says.
By its third year, however, efforts began to stall; and members of Westminster's advancement team worried about the feasibility of reaching their $10 million goal. "Since our overarching message was about affordability, we drove home to our donors that creating a scholarship was something they could absolutely work into their monthly budget," says President Steve Morgan, who served as vice president of advancement during the campaign.
And it worked. Through targeted marketing efforts and personal visits to prospective donors, they learned that an annual scholarship could be created for $1,000 per year, payable over four years. "So many people who were interested in establishing a scholarship received one when they were students," says Jane, who retired from the college last year. "Once they realized that they could afford to help, they did!"
For Angie Ham, having scholarship aid has made a huge difference in her life, and she is thankful for the opportunities that have been afforded to her. "Scholarships lift so much weight off students' shoulders, and they pave paths for us that we may not have even thought about," she says. "I cannot wait to one day create my own scholarship because every cent would be worth it!"
---
About the Westminster Review
The Westminster Review is Westminster University's bi-annual alumni magazine that is distributed to alumni and community members. Each issue aims to keep alumni updated on campus current events and highlights the accomplishments of current students, professors, and Westminster alum.
GET THE REVIEW IN PRINT STAY IN TOUCH SUBMIT YOUR STORY IDEA READ MORE WESTMINSTER STORIES