---
Sporting Life
Fall Sports Round Up
Griffins soar to greatness during the 2014 season
by Sam Lawes ('15)
Women's Soccer
Westminster women's soccer earned a second trip to the NAIA National Championship after defeating Rocky Mountain in the championship game of the Frontier/North Star Tournament. They went 15–4–2 during the season and established school records for wins and winning percentage (.762). The Griffins dominated at home, going 7–0–2 at Dumke Field.
Rylei North set the school record for goals in a season with 15 and finished her junior season with 25 goals—more than any other player in school history. She scored five game-winning goals and tallied a pair of assists to give her 32 points on the year. Lexi Tucker scored nine goals with four assists, while Madison Roemer added five goals to her résumé. Nicole Carter lead the team with seven assists.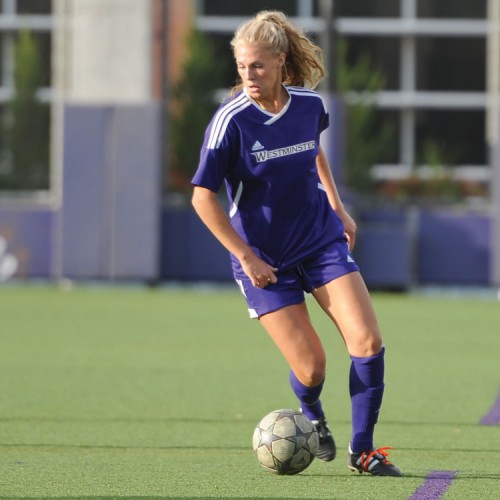 Abi Yanke finished 18th in the country with a .72 goals-against-average and a new school record: 15 wins, 56 saves, a .789 save percentage, and eight shutouts.
North was named the Unaffiliated Conference Player of the Year, and both she and Tucker were named honorable mention NAIA All-Americans. Head Coach Tony LeBlanc took home the Unaffiliated Coach of the Year honor for a second straight season. Yanke and Megan Molumby were named to the Unaffiliated All-Conference team with North and Tucker, and that group was joined by Miranda Miner on the All-Frontier Conference team. Miner was also named a Daktronics-NAIA Scholar-Athlete.
Men's Soccer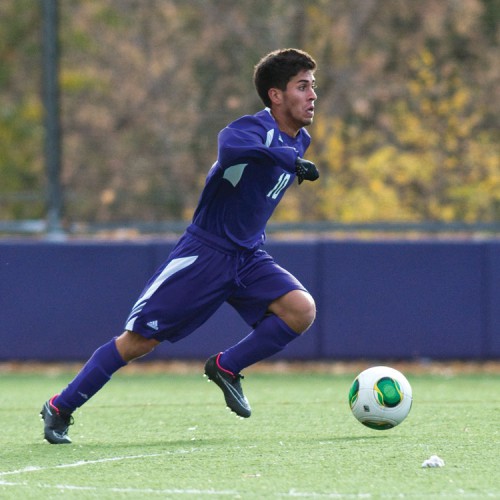 The Westminster men's soccer team finished 2014 at 9–8–2 overall, and they compiled a 3–3 record in Frontier Conference games. The Griffins started the season fast, going unbeaten in the team's first five games and not allowing a >goal for a school-record span of 558 minutes during their first six games. They eventually pushed the record to 7–2–1 before slipping down the stretch.
The team scored 28 goals during the season, and they came from 12 different players. The team also got their nine game-winning goals from six different players. Connor Thompson led the team with five goals and 14 points on the year. Andrew Clayton scored four goals and had a team best of five assists. Logan Butzier led three Griffins in goals with a 0.81 goals-against-average and 41 saves. Butzier, Clayton, Manuel Dueñas, and Liam Harry were all selected to the All-Frontier Conference team; and Dueñas was named to the Unaffiliated All-Conference squad. Jared DeHart, Dueñas, Harry, Collin Hintze, and Jace Schaecher were each named a Daktronis-NAIA Scholar-Athlete.
Women's Volleyball
Westminster women's volleyball began a new era in 2014 under the direction of head coach Al Givens. The Griffins finished the season at 10–18 overall, and they placed sixth in the Frontier Conference with a 4–10 mark. The team's wins during the season included a five-set victory over Biola, which entered the NAIA National Championship with a No. 4 national ranking and only four losses all season.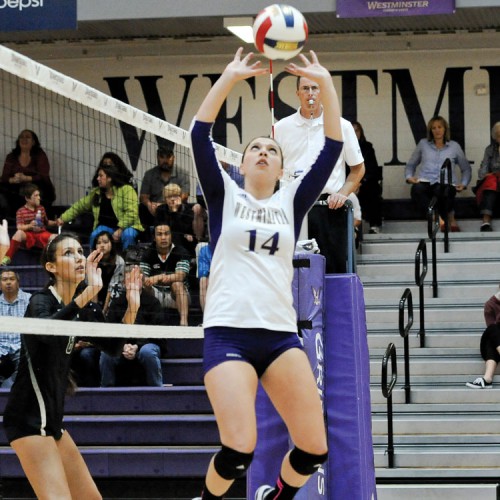 During the season, senior Alexis Aalona established herself as one of the greatest players in school history. She finished the season with 373 kills and became the second player in school history to surpass 1,000 career kills. Aalona also became the fourth Griffin to reach 1,000 career digs, with 341 in 2014. She is the only player in Westminster history with 1,000 career kills and digs.
Aalona was named first-team All-Frontier Conference for her performance in 2014, becoming the third Griffin to make the first team on multiple occasions. Taylor Gustafson was chosen as the Frontier Conference Freshman of the Year and was joined on the Frontier's All-Freshman Team by Amara Culpepper and Megan Gallegos.
Cross Country
The Griffins took a big step forward during the 2014 cross-country season. For the first time in school history, Westminster fielded a full team at all seven events they participated in. The men finished the year by placing ninth at the Frontier Conference Championships, while the women notched a seventh-place result at the conference meet.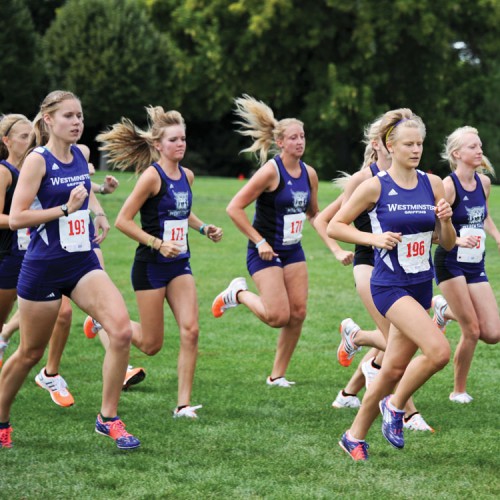 Shay Jonart paced the men's squad with a
time of 27:33.99 in the 8-kilometer conference championship race, finishing 25th overall. Brendan Cassidy posted a time of 29:21.10 to finish 55th, and Karsten Gillwald finished 59th at 29:30.36. Naena Bland led the Griffin women with a 22nd-place finish. Bland finished the 5-kilometer course with a time of 19:57.22. Erin Kibler came in with a time of 20:12.40 to finish 29th, while Payton Schiff placed 32nd with her time of 20:45.10.
Amanda Warner became the 11th Griffin harrier to be named a Daktronics-NAIA Scholar-Athlete.
---
About the Westminster Review
The Westminster Review is Westminster University's bi-annual alumni magazine that is distributed to alumni and community members. Each issue aims to keep alumni updated on campus current events and highlights the accomplishments of current students, professors, and Westminster alum.
GET THE REVIEW IN PRINT STAY IN TOUCH SUBMIT YOUR STORY IDEA READ MORE WESTMINSTER STORIES