---
Gifts in Action: Outdoor Exploration
Gifts in Action: Outdoor Exploration
The President's Innovation Network Funds Exploration Outdoors
by Audrey Maynard ('03)
Now in its tenth year, the President's Innovation Network (PIN)—a network of investors that funds strategic initiatives at the college—has played a key role in advancing the mission and vision of Westminster. Since 2005, PIN members have contributed nearly $2.5 million in venture funds for the president to invest in programs that enhance the educational experience for Westminster students, including the Center for Civic Engagement, Center for Entrepreneurship, and the Environmental Center.
Now PIN investments are being used to support the college's five-year strategic plan, specifically several "Quick Wins," projects selected by the Strategic Planning Council that must be completed in one year and address a goal outlined in the strategic plan.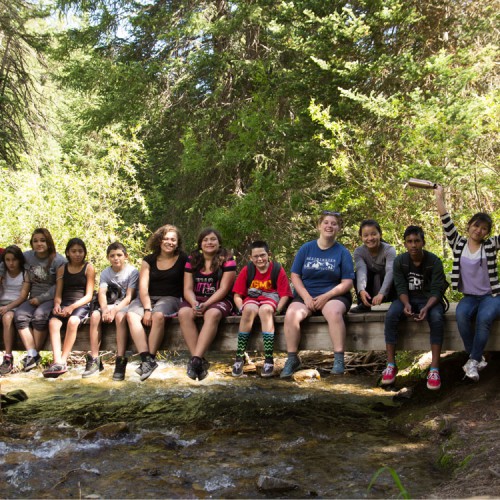 One such project funded through Quick Wins is the South Salt Lake Summer Program, administered by the Westminster Outdoor Program. This summer, youth from South Salt Lake will have the opportunity to participate in outdoor experiences led by Westminster students, including rock climbing, camping, fly fishing, backpacking, and hiking—all at no cost.
"Through this program we hope to get kids from South Salt Lake out into their own backyard in a way that they might be able to repeat on their own with their friends and families," says Tiana White, who directs the Outdoor Program. "We not only teach them outdoor skills that they need to stay safe and comfortable doing each activity, we also focus on natural history, community, and leadership. We encourage the kids to think about what skills and perspectives from the wilderness they might be able to use back at home."
The partnership between the Westminster Outdoor Program and South Salt Lake deepens participants' connections to their community, nature, and each other while providing real-life learning opportunities for everyone involved.
"Westminster students are gaining invaluable leadership experience, questioning their own assumptions and examining their motivations and approach to leadership," says Tiana. "The youth of South Salt Lake are not only learning outdoor skills, they are also building confidence, seeing new things, and getting the opportunity to learn in a setting where lessons have real and natural consequences."
Tiana believes the South Salt Lake Summer Program has the potential to positively impact the fields of outdoor- and community-based education, and she is grateful for the enhancements to the program made possible by PIN.
"We can now design the infrastructure, acquire equipment, and assess the program thoroughly to inform new directions. We definitely would not be able to put as much energy toward this partnership without the support of the President's Innovation Network," she says. "On a local note, it means that we're closer to accomplishing our goals of inclusion and outreach. On a more global scale, it means that we might have the opportunity to inspire people who may not typically access the outdoors to go do so."
---
About the Westminster Review
The Westminster Review is Westminster University's bi-annual alumni magazine that is distributed to alumni and community members. Each issue aims to keep alumni updated on campus current events and highlights the accomplishments of current students, professors, and Westminster alum.
GET THE REVIEW IN PRINT STAY IN TOUCH SUBMIT YOUR STORY IDEA READ MORE WESTMINSTER STORIES