---
Moving On Up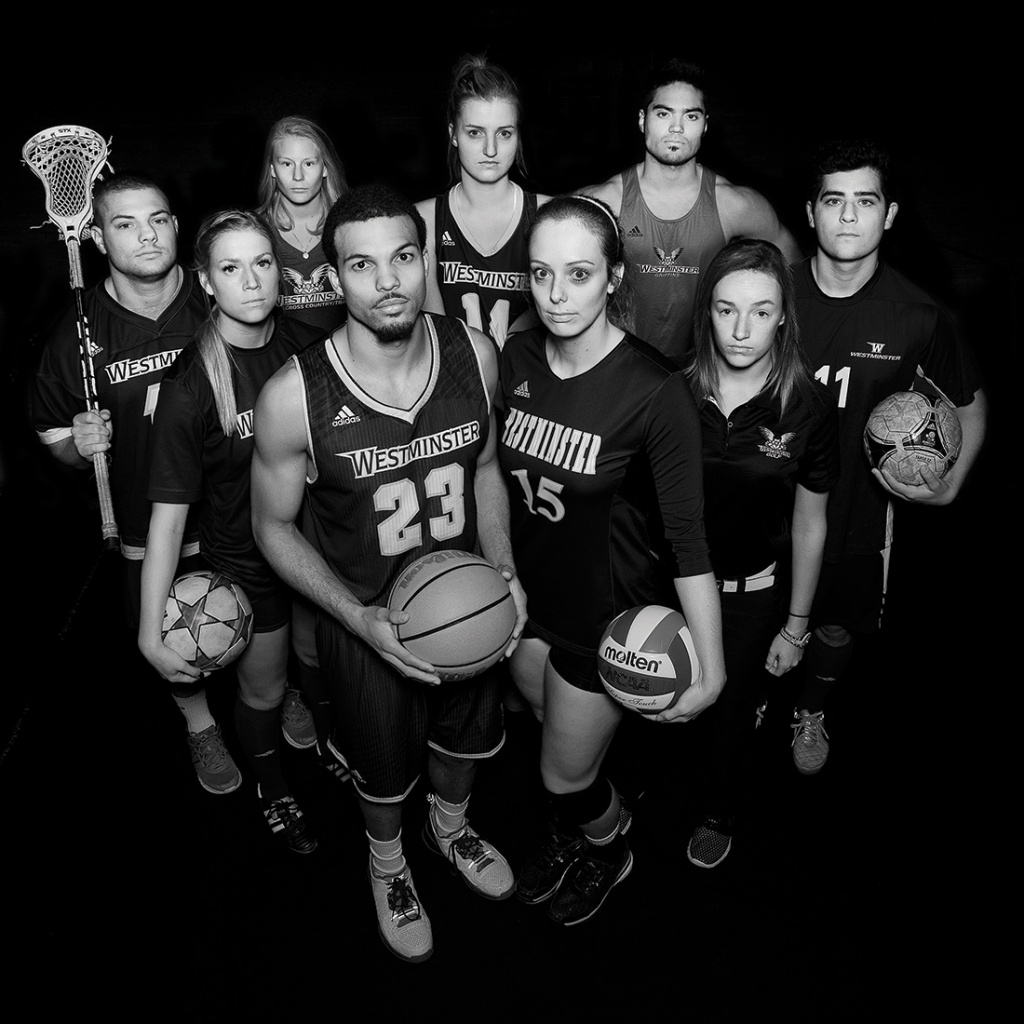 by Joaquin Mixco ('14, MPC '16)
Last summer, Westminster was accepted into the NCAA Division II membership process. The beginning of the academic year was the start of a three-stage transition from the many governing bodies for athletic activity at Westminster College to one association: the National Collegiate Athletic Association (NCAA). In order to become fully vetted as an NCAA school, Westminster will have to pass through three successive stages. Shay Wyatt, athletic director, says that the college must pass the current stage before it can be accepted into the next. The entire process could happen in as little as three years.
Shay is optimistic about the school's chances of becoming a full member in three years, but he is taking it year by year. "I know what we have to get done for the first year before we can start to think about the second year, but I think that we can get there," he says. "Our goal as an athletic department is to get a little better every year."
During each successive year of the provisional period of the membership process, institutions are expected to implement as much of the Division II legislation as possible. At provisional year three, the institution submits an additional membership fee set by the membership committee, and the final outcome is decided.
While the institution has its requirements, the athletes must also demonstrate their abilities to compete in this new arena. Beginning fall 2015, teams began competing with NCAA opponents. This gives each program the opportunity to gauge its competitiveness against other programs. Coaches and players from each of Westminster's 18 programs are using this time to self-evaluate and measure themselves against the competition.
During this process, Westminster will not be eligible to compete for coveted conference titles or national tournament appearances. Although this might seem harsh, there are opportunities for growth and maturity. Now that the eligibility process is a reality, new goals can be set and new benefits anticipated.
Many positives will come from the school's decision to change its athletic governing body, but Westminster won't be able to fully enjoy the benefits of being an NCAA school until as early as the 2018–2019 academic year.
As Tanner Duryea of the men's lacrosse program says, "There is something to be proud of about helping Westminster forge the path for others that are going to come here and compete in the NCAA and be a dominant force at NCAA Division II."
Westminster teams are also excited to now play common opponents and enjoy the camaraderie created in this new environment. "I can't wait to play Mesa State, our RMAC rival," Tanner says. "Because of the geographical proximity—it's a five-hour drive to Grand Junction—it's our closest rival. I'm excited to see how the student body will react to that."
---
About the Westminster Review
The Westminster Review is Westminster University's bi-annual alumni magazine that is distributed to alumni and community members. Each issue aims to keep alumni updated on campus current events and highlights the accomplishments of current students, professors, and Westminster alum.
GET THE REVIEW IN PRINT STAY IN TOUCH SUBMIT YOUR STORY IDEA READ MORE WESTMINSTER STORIES