---
Among Peers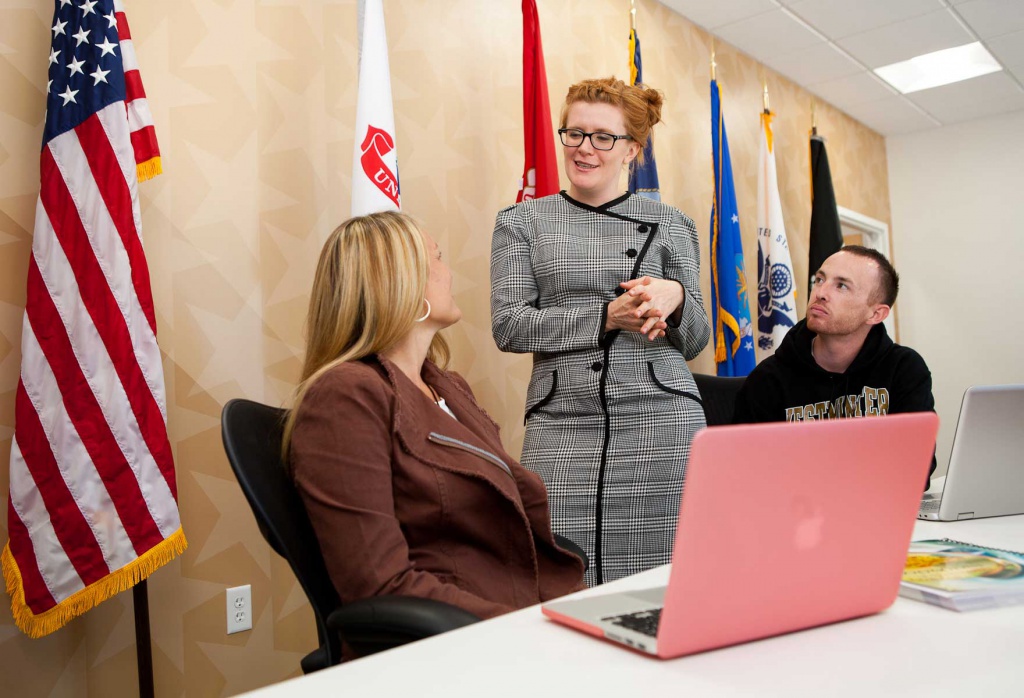 Westminster's Center for Veteran and Military Services offers a refuge of support and camaraderie for veterans
by Krista DeAngelis
Ever since she was a little girl, Berkeley Battle ('17) wanted to be a nurse. Inspired by her grandmother—who was a candy striper in World War II—Berkeley joined the US Navy at age 17 and became a hospital corpsman and emergency medical technician. After being stationed at several major military hospitals across the country and working in emergency care and triage, Berkeley separated from the Navy and moved to Utah, where she is now a Westminster transfer student majoring in nursing.
With the grand opening of Westminster's Center for Veteran and Military Services (CVMS) on September 11, 2015, Berkeley is one of nearly 100 student veterans who will be supported by the college's first-ever center. The CVMS is open to more than 200 veterans, military dependents, and Reserve Officer Training Corps (ROTC) students who attend Westminster.
"I think the center will be great for Westminster. It puts college on par with other universities have veterans centers and is another great reason why Westminster is a great place to go," says Berkeley, who now hopes to become an emergency or surgical nurse. "I've been out of the military for a while, but the camaraderie between veterans is something different. I know a lot of active-duty veterans who would appreciate a home base like this—a spot to meet and connect."
A home base is exactly what the CVMS' new director, Sylvia O'Hara, hopes it will become. "Having a space on campus where student veterans can come together and have their stories be heard, understood, and valued is truly impactful," says Sylvia, who helped establish the University of Utah's Veterans Center several years ago. "No two veterans have exactly the same military experience. There is a shared understanding and culture here."
Sylvia, a veteran herself, joined the Utah Army National Guard through a mixture of being impacted by 9/11 and talking to an Army recruiter at her high school. During her time in the Army, she deployed stateside as part of Joint Task Force Utah to document the damage caused by Hurricane Rita—the huge storm that hit the southern US after Hurricane Katrina.
"My unit was tasked with documenting the damage, in addition to what Utah soldiers were doing to help the situation," she explains. "The destruction was difficult to document. Cemeteries were destroyed, caskets were stuck in trees, but the people who lived there would see soldiers in uniform and be visibly relieved. It was a unique experience to be part of history and help fellow Americans."
It was experiences like those that motivated Kim T. Adamson ('79) to provide a generous lead gift to help create the CVMS and a full-time director's position. As a Westminster alumna, trustee, and US Marine Corps veteran, Kim believes that having those unique experiences sets veterans apart from traditional students.
"One tends to grow up faster in the military, especially in a time of war, a natural disaster, or even a manmade disaster," Kim says. "Many of our military-veteran students have been deployed to such areas. The responsibilities placed on their shoulders can often involve a life-or-death situation, especially in combat. When our veterans reintegrate into civilian life and enroll in college, they are thrust into an environment that really can't relate to what they have experienced. Our veterans center provides a common ground for our veteran students to gather, study, and feel safe."
In addition to the funding from Kim, the R. Harold Burton Foundation provided a significant donation to establish the CVMS, which is housed in Walker Hall. The 1,100-square-foot center offers support for veteran-benefits counseling and resources, and a place to create camaraderie with others who have served their country.
"I want students to take advantage of the space and use it to build community," Sylvia says. "I want the space to provide a platform for success, and I also want the campus to see the center as a resource for questions and education."
To assist Sylvia in providing support services to Westminster's military community, a Veterans Administration (VA) student-worker position was created. Corbin Catmull, who worked in logistical management and operations in the US Marines before attending Westminster, was hired to help fellow veterans acclimate to college life. "I knew how excited I was to interact and work with other veterans as we try to transition them from service members to civilians to students," Corbin says.
Now that the center is open and fully functional, the CVMS team hopes to generate more awareness and build a strong community.
"The idea that Westminster has a center that has been funded by other veterans just suggests that this must be something very important," he adds. "To help other veterans with their personal or educational situations just feels like the right thing to do. Going forward, I'm confident that our center is going to be the best center in the state."
---
Westminster's first-ever Center for Veterans and Military Services includes:
Approximately 1,100 square feet of space
A full-time, dedicated director focused on serving the Westminster military community
A Veterans Affairs (VA) student-worker
Office space available as a resource for campus, community, VA programs, and other veteran representatives
GI Bill® benefits counseling
Referral services
Student Support Services
Veteran-to-veteran tutoring
Veteran mentoring
Free computer, fax, copying, and printing for student use
A lounge area with sofas and matching tables, a flat screen TV, and a DVD player
A place for pure camaraderie
A coffee bar and microwave
A conference/study area for meetings and tutoring
---
About the Westminster Review
The Westminster Review is Westminster University's bi-annual alumni magazine that is distributed to alumni and community members. Each issue aims to keep alumni updated on campus current events and highlights the accomplishments of current students, professors, and Westminster alum.
GET THE REVIEW IN PRINT STAY IN TOUCH SUBMIT YOUR STORY IDEA READ MORE WESTMINSTER STORIES