---
Straight Outta Westminster
Straight Outta Westminster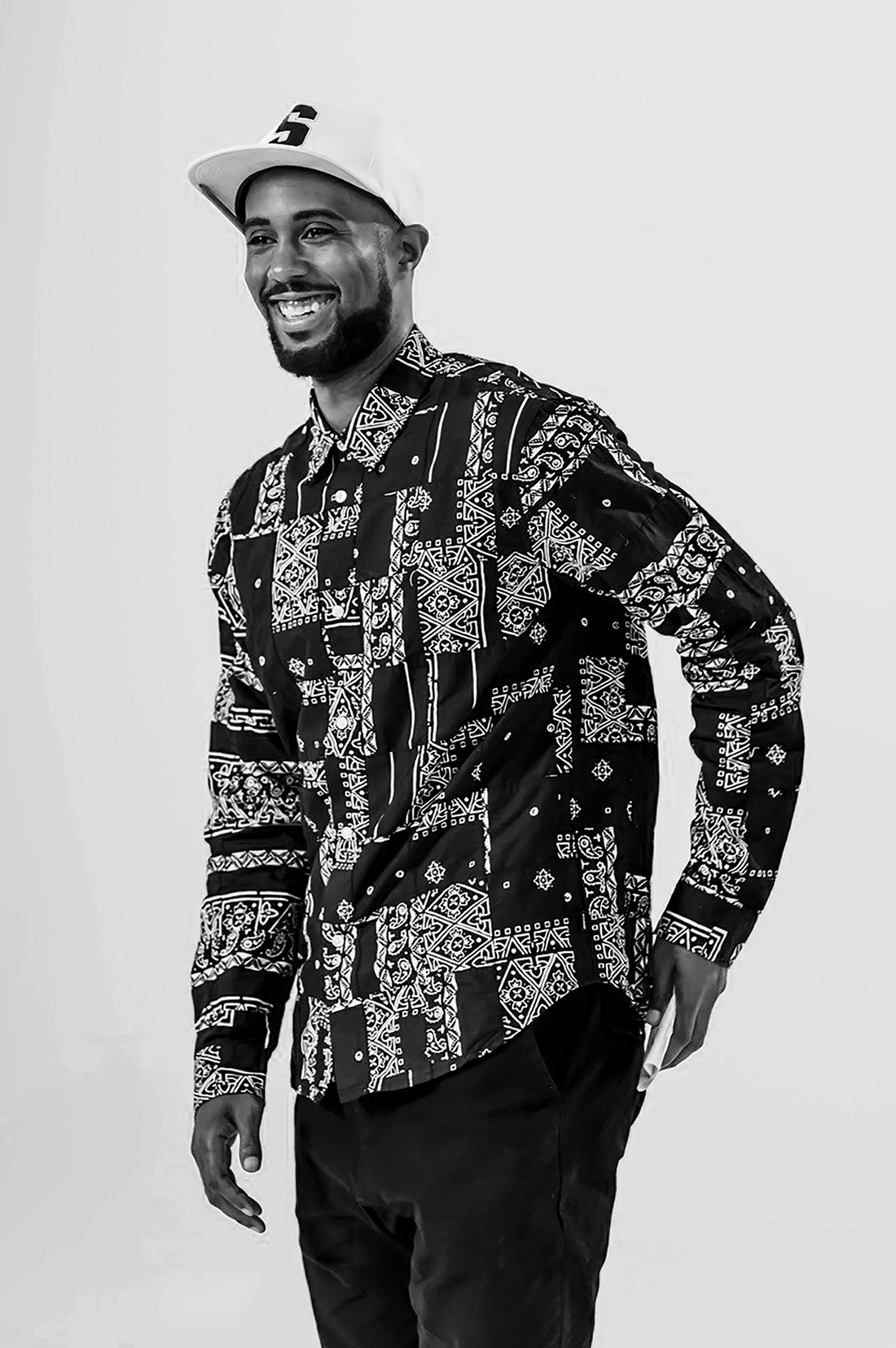 Jeramie Hopson goes straight outta Westminster into a major movie campaign
by David Luhr ('12); photo by Mike Marquez
Jeramie Hopson ('10) spent four years in the United States Air Force, was a star player on Westminster's basketball team, and graduated with a BS in marketing. Fresh out of college, he quickly rose through the ranks at a full-service ad agency, working on campaigns for major sports, music, and culture brands. In the fall of 2014, he made moves to become an associate advertising manager at Beats by Dr. Dre, which was freshly acquired by Apple that summer for a cool $3 billion.
Proving Grounds
Four months after starting at Beats, Jeramie was presented with a game-changing opportunity: to work on the headphone company's promotional campaign for legendary hip-hop group N.W.A.'s music biopic Straight Outta Compton*, which was slated for a fall 2015 release.
*Straight Outta Compton is the incredible story of N.W.A.'s rise and fall in the early '90s, tracing its self-made success from the trappings of Compton, California, to sold-out tours and infamy. One of the original members of the group, Dr. Dre, went on to produce several platinum records, and recently became hip-hop's first billionaire with the acquisition of his own headphone and music company, Beats by Dr. Dre.
For a newcomer, a campaign with four monumental parties (Universal Studios, Interscope Records, Apple, and Beats by Dr. Dre) was a daunting undertaking. "How do I prove that I'm supposed to be here? I'm with the most profitable company in the world—Apple. And then I'm with Beats by Dre, which is one of the most culturally-relevant brands."
The pressure of finding a creative twist for such a massive campaign was compounded by initial doubt in the campaign's direction, while also trying to figure out how to adjust from a small ad agency to a large corporation with multiple functions. Despite the surrounding ambiguity of the movie's success, Jeramie knew he was onto something. "That balance doubt and belief , it could drive you crazy, or it could inspire you and give you confidence to work harder and fight for what you instinctually believe in."
The Turning Point
"This is going to create a movement," were the first words in Jeramie's pitch presentation for the Straight Outta Compton campaign. The idea? Straight-OuttaSomewhere.com, a microsite where visitors can add their own home city to the movie's iconic logo and download a custom image to "let everybody show where they're from."
"We're all Straight Outta Somewhere; we all are prideful about where we come from and have our own unique stories. Everything started falling in place with that simple truth. It comes from this central place of Dre being from Compton, putting in the work, coming up with Beats, and that's historic."
Payoff
StraightOuttaSomewhere.com launched ahead of the movie's release and quickly became a global sensation. With over eight million downloads of images created, the website went viral; the campaign trended #1 on Facebook, Twitter, and Instagram; and the images themselves became a cultural meme that blew up across the internet.
Shortly after the launch, Jeramie attended a private screening with the cast of Straight Outta Compton. The movie's portrayal of Dr. Dre's come-up story brought Jeramie to reflect on his own challenges and personal rise to success. "He had his vision. He didn't care if this guy was doubting him or telling him to do something else, he was focused on 'THIS IS IT.'"
Despite controversy that echoed the early days of N.W.A., Straight Outta Compton went on to have a $60.2 million opening weekend, crushing all critic projections. It is now the highest-grossing music biopic of all time.
"It's like life though, right? Just believing in what you do, but learning things through life's journey, in every phase, until you get to the point where you can inspire and teach other people about your journey, which is what Straight Outta Compton did."
Jeramie looks back on Westminster as an initial force behind his current achievements. "Westminster, and honestly the state of Utah, is filled with so many great people, people who are focused, which helped keep me focused on school and basketball—in that order. How Nancy Schmitt and the marketing program set up the marketing classes prepared me for what I was going to do."
Jeramie is staying hungry, working on a multi-million holiday campaign for Beats by Dr. Dre and focusing on spending time with his fiancée, nine year-old son, and newborn baby.
"The grind never stops," but Jeramie is in his element.
---
Who's this? Jeramie Hopson
Westminster history: BS in marketing, 2010. Westminster basketball team star
Interests: Music, art, basketball, documentaries, photography, urban culture, and inspiring others
DJing: Multi-genre mixes and playlists under the name J_Hop on SoundCloud
What's next: Spending more time with his family and continuing to learn
Most memorable experiences from the campaign: Inspiring the office to back the StraightOuttaSomewhere.com idea, and watching it run wild in popular culture
Impressive campaign statistics: As of October 2015, StraightOuttaSomewhere.com had 12.5 million visits and 8.7 million unique downloads of user-created content, with a campaign conversion rate of 69.6 percent.
---
About the Westminster Review
The Westminster Review is Westminster University's bi-annual alumni magazine that is distributed to alumni and community members. Each issue aims to keep alumni updated on campus current events and highlights the accomplishments of current students, professors, and Westminster alum.
GET THE REVIEW IN PRINT STAY IN TOUCH SUBMIT YOUR STORY IDEA READ MORE WESTMINSTER STORIES