---
A Westminster Wingman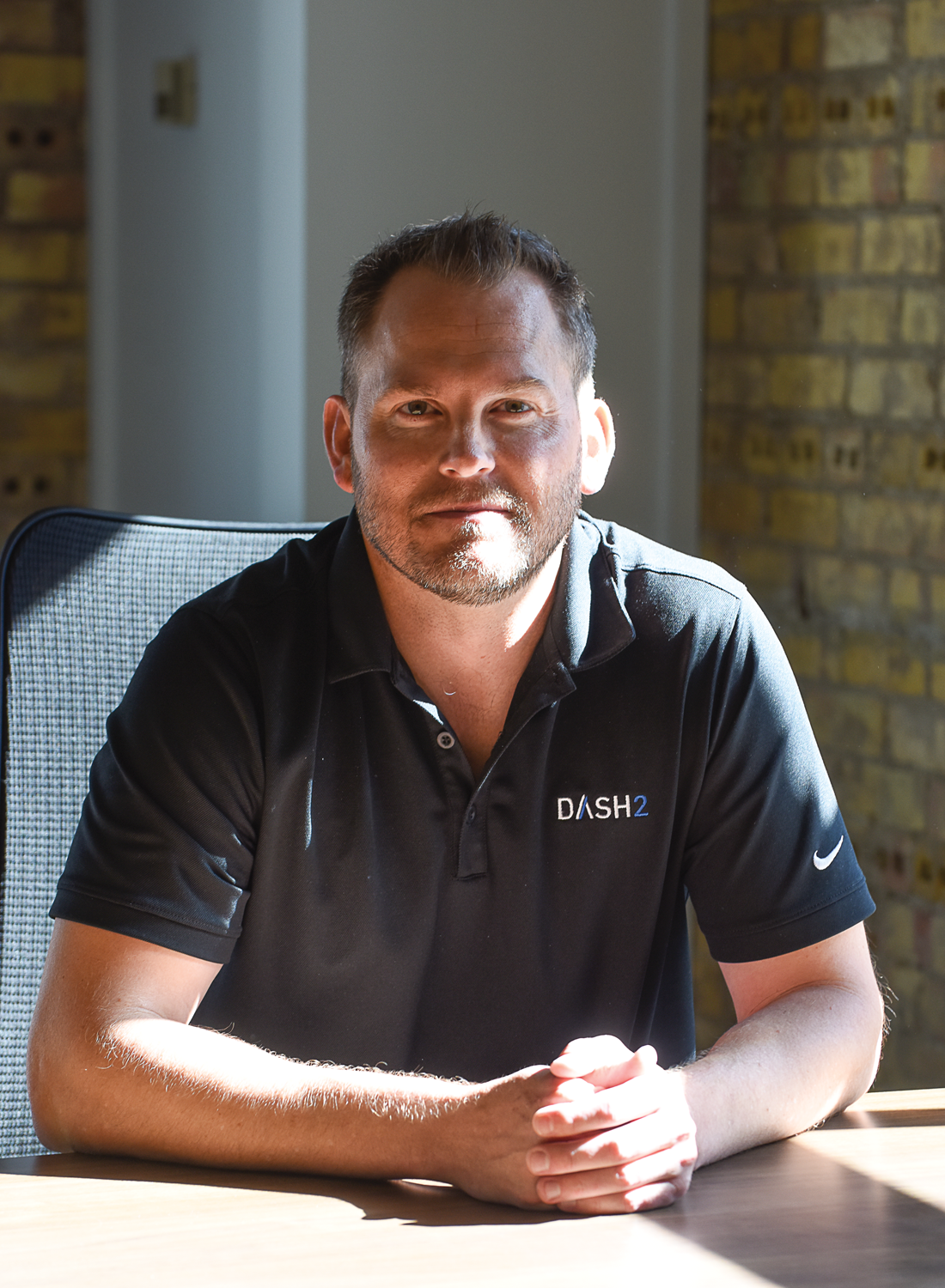 Alum leverages his military experience and Westminster education to navigate the growth of an Inc. 5000 company
by Trey Elvis Hansen ('16)
To those in the military, the term Dash2 signifies a flight leader's wingman. To some in the private sector, the name Dash2 conjures thoughts of a formidable staffing and information technology (IT) consulting group with some of the fastest revenue growth in the nation. The Dash2 Group is a veteran-founded company that not only derives its name from military terminology, but also its values and identity as a "wingman" devoted to the success of its partners.
Gregory Larsen ('07) is a Westminster alum and Marine Corps veteran who serves as the director of IT services for the Dash2 Group.
What qualifies Greg to serve in his capacity as the director of IT services? Virtually nothing. Greg entered this position with non-tech-related undergraduate and graduate degrees, no prior IT experience, and almost zero knowledge on the technological needs of modern industries and partners. And yet, Greg has found tremendous success as the director of IT services for the staffing and IT consulting firm. He attributes his success to the lessons he learned while studying at Westminster College and while serving in the Marine Corps.
Greg attended Westminster College through the Marine Corps Enlisted Commissioning Educational Program in 2004. Three years later, he graduated with a BA in aviation management and returned to the Marines, where he served as an aviation command and control officer in Iraq. "Empowering diversity and decision-making is a part of the military and a pillar of a Westminster education. Most people think the military wants robots, but they don't. They want critical thinkers," Greg says.
Greg credits Westminster with nurturing his analytical skills and making his education about more than just memorizing facts and figures. During his time at Westminster, he supplemented his aviation management major with classes in business, history, and other subjects that broadened his scope. "That expectation and background helped me learn how to run an IT company when I didn't have an IT background," Greg says. By applying all of the skills he learned at Westminster, Greg realized that Dash2 is so much more than just an IT company.
For the past three years, Greg has heavily contributed to Dash2's remarkable 98% revenue growth, earning the company recognition as an Inc. 5000 company, a Mountain West Capital Network Utah 100 Company, and a Vet50 company. Most importantly, Greg has leveraged his education and experiences to help the Dash2 Group retain 100 percent of his partners, earning him and his organization an exceptional reputation.
---
About the Westminster Review
The Westminster Review is Westminster University's bi-annual alumni magazine that is distributed to alumni and community members. Each issue aims to keep alumni updated on campus current events and highlights the accomplishments of current students, professors, and Westminster alum.
GET THE REVIEW IN PRINT STAY IN TOUCH SUBMIT YOUR STORY IDEA READ MORE WESTMINSTER STORIES