---
Finding the X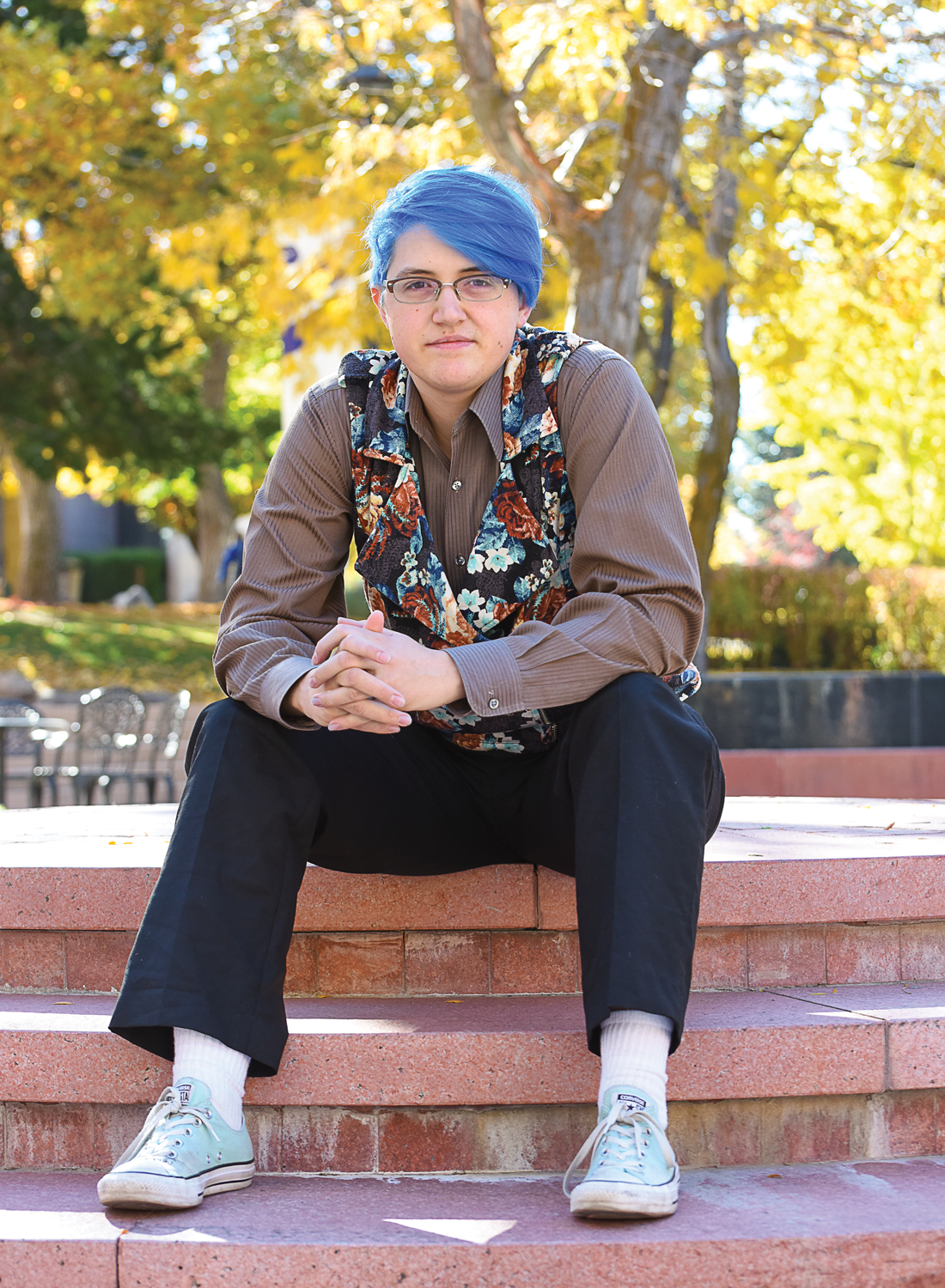 One alum's journey to claim their identity
by Nicole Tyler ('18)
"Iknow it's not guaranteed, but I have to try anyway." This was the mantra that kept Mel Van De Graaf ('14) motivated during the year and four months it took them to legally change their gender marker. Mel identifies as non-binary, meaning they are neither male nor female. Mel utilizes the gender-neutral pronoun "they." In March 2018, Mel became the first adult in the state of Utah to successfully change their gender marker to an "X" on documentations such as their driver's license and birth certificate.
Mel's journey to understanding their gender identity started as early as four years old. "I didn't have the words for it, but I knew I wasn't like anyone else around me," Mel says. Even though they hadn't come into their gender identity in its entirety during their time at Westminster, the supportive community Mel experienced while in college made them feel like they could embrace themself. "I feel like if I had figured it out when I was there, I would have been supported," Mel says.
It wasn't until a year after graduating (in the summer of 2015) that Mel made the decision to medically and socially transition. For Mel, this transition entailed starting the hormone testosterone and going by their chosen name and pronouns. Beginning this transition process allowed Mel to feel more comfortable in their expression of gender. In late 2016, Mel began researching how to legally change their identification.
When Mel decided to take the matter to court, they wanted to find the right representation—an attorney who would handle their case with care and advocate for something that had never been done in Utah. This led Mel to connect with fellow Westminster alumnus Chris Wharton ('06). "I didn't just want someone who was successful in name or gender cases," Mel says. "Chris was also an advocate for the LGBT community."
Chris aided in putting together all the necessary documentation and represented Mel in both of their hearings in early 2018. The day of their first hearing, the judge assigned to preside over the case was changed at the last minute. Though anxiety-inducing at the time, Mel believes had this change not happened, they may not have won their case and been granted the change at the March hearing. "Since there is no official legal precedent, changes are up to the judge based on how he interprets Utah law," Mel says. "I was in shock after the judge said he would grant it, but everyone around me was cheering."
Mel continues being an advocate and educator and began a personal blog a year ago called Mental Healing and Recovery. Here they document and discuss living with mental illness as an LGBT individual and how they manage to survive even when it feels impossible. Mel has shared their story in hopes of being able to help readers who may be experiencing similar situations, so others won't have to feel as alone as Mel once did. "Through this whole process, I've realized that the world is a better place when people have space to be themselves."
---
About the Westminster Review
The Westminster Review is Westminster University's bi-annual alumni magazine that is distributed to alumni and community members. Each issue aims to keep alumni updated on campus current events and highlights the accomplishments of current students, professors, and Westminster alum.
GET THE REVIEW IN PRINT STAY IN TOUCH SUBMIT YOUR STORY IDEA READ MORE WESTMINSTER STORIES