---
Once Upon a Midnight Breakfast
Once Upon a Midnight Breakfast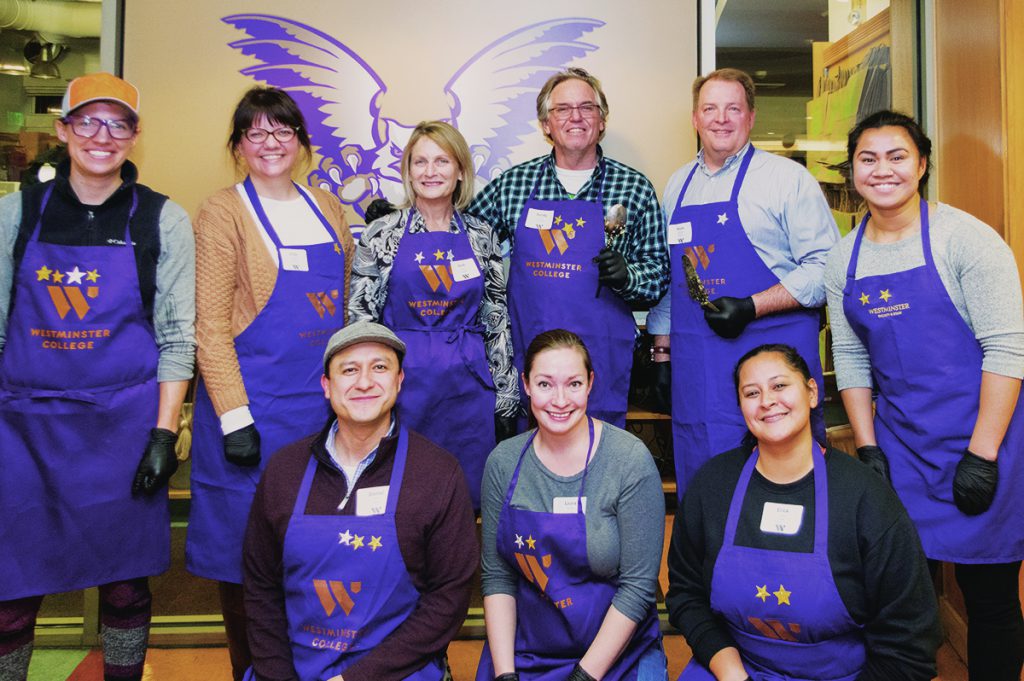 Over 40 years of community-building through late night breakfast
by Nicole Rodriguez Cavero (Honors '20)
The anticipation of vacation is in the air. You are pulling all-nighters, drinking some yerba mate to stay awake, and working to ace that exam and finish that paper: finals are approaching. It is late at night, and you walk into Shaw to see faculty and staff ready to serve you a warm meal. Truth is, you don't really think about Late Night Breakfast often in your academic life, but it is always there for you at the most convenient of times.
The tradition of Late Night Breakfast, previously known as Midnight Breakfast, is so ingrained into the Westminster culture that no one can confirm when it actually began. By the mid-1980s, this well-established event occurred every semester on the Thursday before the last week of classes to remind students that faculty and staff were rooting for their success.
Late Night Breakfast is open to all Westminster students.
"This is a moment when people can breathe and relieve stress," Vice President for Student Affairs and Dean of Students Karnell McConnell-Black says. "It connects students in a moment of intentional community." During the '90s, faculty and staff who helped during the event collected golden stars to sew onto their aprons. Some had over 30 apron stars displaying their constant support to students through the hard time that is finals week. History professor Mary Jane Chase started working at Westminster in 1999. "When I started going to Late Night Breakfast, the faculty and staff used to cook, under supervision of the kitchen staff of course," she says. Eventually, faculty and staff graduated to serving food, giving them more time to interact with students.
Presently, the event occurs earlier at night to better accommodate students' studying schedules. Late Night Breakfast now serves as the kick-off event to Stress-Less Week: a week devoted to stress management and self-care. "Finals are a very stressful time for a lot of students," says Tabitha Edson ('22). "Being able to go to these events to take care of yourself by eating is very important."
Late Night Breakfast is one of many food traditions in the history of Westminster College. Though the events have changed over time, they have the same ingredient for success: creating a space for the community to come together, have a meal, and continue working hard.
---
About the Westminster Review
The Westminster Review is Westminster University's bi-annual alumni magazine that is distributed to alumni and community members. Each issue aims to keep alumni updated on campus current events and highlights the accomplishments of current students, professors, and Westminster alum.
GET THE REVIEW IN PRINT STAY IN TOUCH SUBMIT YOUR STORY IDEA READ MORE WESTMINSTER STORIES