---
Creating a Dynamic Campus
Creating a Dynamic Campus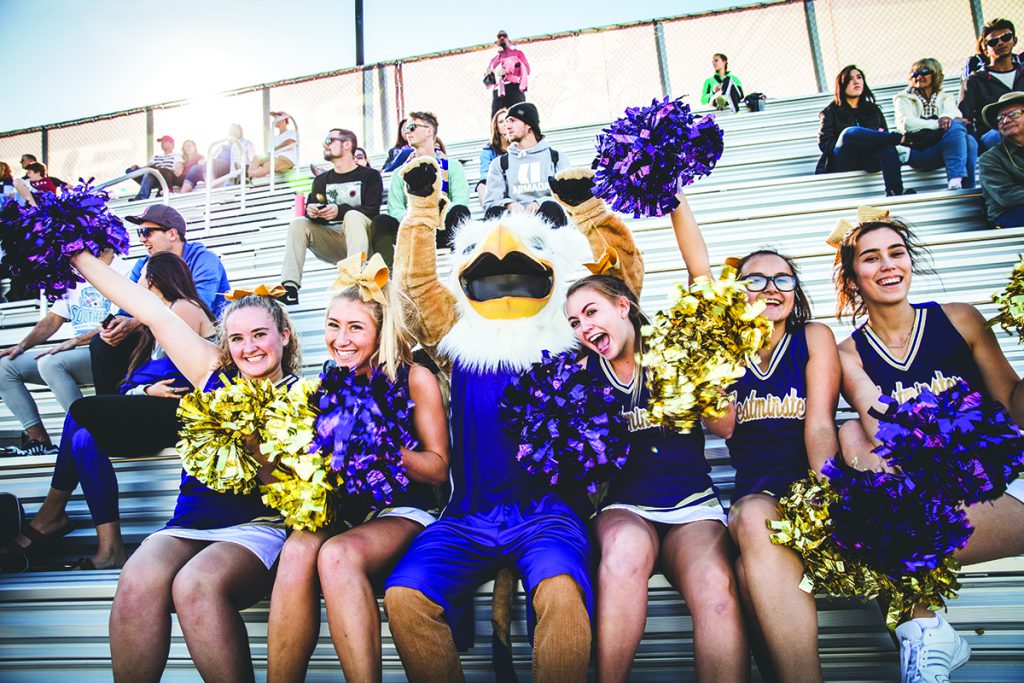 Westminster Athletics strengthen our community
by Autumn Thatcher (MSC '15)
The topic of whether sports matter on a campus can be a controversial one. But at Westminster, it doesn't need to be. When thinking about living an integrated life and participating in activities for the mind, body, and soul, the answer is simple: yes, athletics matter on our college campus—for many reasons. "Living an integrated life is a skill that's important to develop as early as you can and stays with you for the rest of your life," says President Beth Dobkin. "The importance of a healthy mind-body connection is ancient; what we do physically affects what we can do with our minds."
Westminster's student-athletes are often recognized for their skills in the classroom and on the field, frequently with the highest GPAs in the Rocky Mountain Athletic Conference. They, like most Westminster students, are engaged learners pursuing their passions and forging their paths into a bright future. Athletics on campus also offer community engagement opportunities, and supporting athletics lifts both spectators and athletes.
"Being on the spectator side of athletics means supporting people in the things they love to do," says President Dobkin, who makes it a point to attend home games on campus, often found on the sidelines cheering on the soccer, basketball, and volleyball teams.
Sue Rice and her wife, Lisa Kohring, are two spectators also often in attendance at the women's basketball games. Neither Sue nor Lisa attended Westminster, but they are two of the biggest cheerleaders for the college's women's basketball team. Sue and Lisa followed Coach Shelley Jarrard to Westminster and have become donors to Westminster's women's basketball.
"Shelley is really making a difference. She and her assistant, Jenteal Jackson, have no full-ride scholarships to offer their basketball players. They compete at the conference level with teams that offer as many as 10 full-ride scholarships, and players are leaving those other schools in the conference to come and play for her at Westminster," Sue says. "Not only do these athletes want to win, but they want to be part of the culture that the coach has established in how those women can grow and have such a positive experience in their college years. I get chills just thinking about that."
A former student-athlete, Sue says that athletics bring a lot to campus communities, especially small ones like Westminster. "Athletics develop character, life skills, and healthy lifestyles," Sue says. "Westminster is small, but there's a lot of pride there. The crowd in the stands can always be better, but what I see and the potential of what could come excite me."
President Dobkin agrees. "I care about my students and what they're doing, and I want to see them performing to the best of their abilities. To me, that's a part of supporting them and being involved in their successes and failures," President Dobkin says. "I would hope that's something the entire community—not just current students, but alumni and parents and donors—would all be interested in doing as well. It can be a lot of fun."
---
About the Westminster Review
The Westminster Review is Westminster University's bi-annual alumni magazine that is distributed to alumni and community members. Each issue aims to keep alumni updated on campus current events and highlights the accomplishments of current students, professors, and Westminster alum.
GET THE REVIEW IN PRINT STAY IN TOUCH SUBMIT YOUR STORY IDEA READ MORE WESTMINSTER STORIES