---
Serving Aces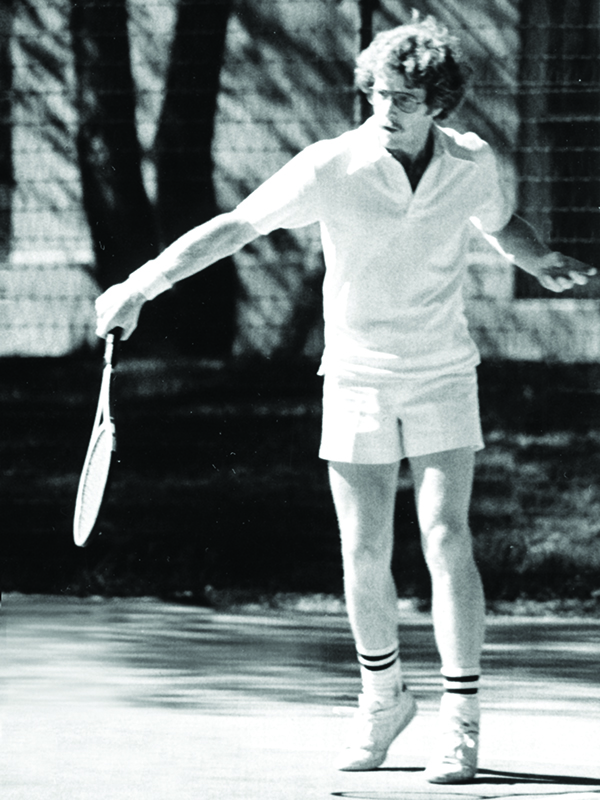 Members of the 1975–76 Men's Tennis team reflect on 
winning on the court and beyond
by Conor Bentley (MEd. '08)
The 1975–76 Men's Tennis team of Brian Triptow ('76), Brian Hatch ('76), Bill Rudman ('76), Doug Olsen ('79), Brad Harbottle ('77), Mike Vandegrift ('77), and the late Tom Snyder ('79) is everything a hall of fame team should be. I had a chance to interact with the team during a Zoom conversation that allowed the players to reunite for the first time in a few years.
Once the technical issues were solved, the team fell back into their easy comradery, sharing stories and jokes about their days at Westminster. "The team chemistry was something special," Brad says. It was a pleasure to listen in on these lively conversations and hear about their dominant run—where they won back-to-back Rocky Mountain Athletic Conference and National Association of Intercollegiate Athletics (NAIA) District 7 championships in '75 and '76 and made a historic seventh-place finish at the 1976 NAIA National Championships.
But it wasn't just about the tennis. The team spent a majority of their Zoom call laughing and sharing fond memories such as driving to and from tournaments, practicing against each other, and just hanging out. They also spoke about the connection they shared with their late coach and Westminster professor, Dr. Raymond Briscoe. Dr. Briscoe was deeply important to the team for his friendship, leadership, and the way he helped the men mentally prepare for matches with visualizations. "Dr. Briscoe had a demeanor about him that encouraged questions and growth," says Brian Triptow. While Dr. Briscoe knew little about tennis, he was able to use early sports psychology to help them maximize their talents on the court.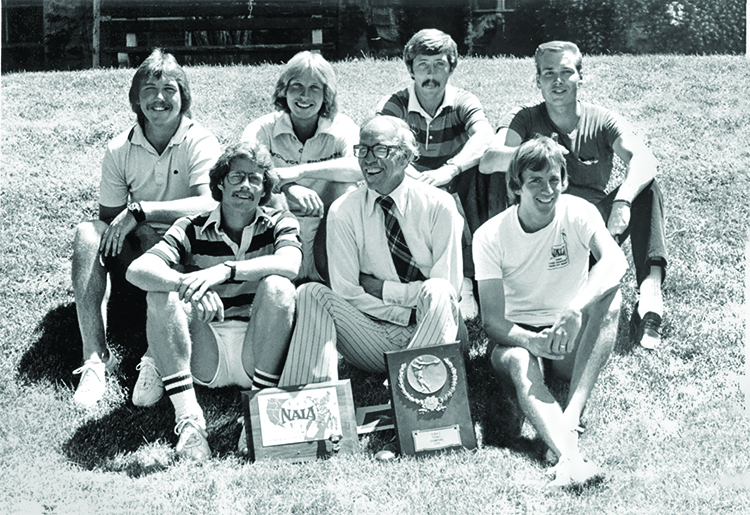 The team shared that at the height of their athletic accomplishments on campus, the Westminster Men's Tennis team had zero scholarship athletes, while their competitors were from larger institutions with far greater resources—making the Westminster team's achievements all the more remarkable. "They epitomized everything it means to be a team," says Shay Wyatt, director of athletics. In addition to their on-court achievements, they exemplified hard work and grit. They are a great example to the current generation of Westminster student-athletes.
In April of 2021, alongside recipients of the Distinguished Alumni Awards, the 1975–76 Men's Tennis team was inducted into the Westminster Athletics Hall of Fame for exceptional athletics performance in a Westminster College athletic program and for the recognition and honors they received during their time at the college as representatives of the tennis program.
"It's a great honor to be affiliated with Westminster Athletics," says Brian Triptow, who nominated the team and individual honoree, Mike Vandegrift, for induction into the Hall of Fame. "Our team's story is a great one of personalities, team chemistry, and athletic accomplishment."
---
About the Westminster Review
The Westminster Review is Westminster University's bi-annual alumni magazine that is distributed to alumni and community members. Each issue aims to keep alumni updated on campus current events and highlights the accomplishments of current students, professors, and Westminster alum.
GET THE REVIEW IN PRINT STAY IN TOUCH SUBMIT YOUR STORY IDEA READ MORE WESTMINSTER STORIES