---
Complexly Marley: A Daughter of Immigrants, an Unsung Hero, an Advocate
Complexly Marley: A Daughter of Immigrants, an Unsung Hero, an Advocate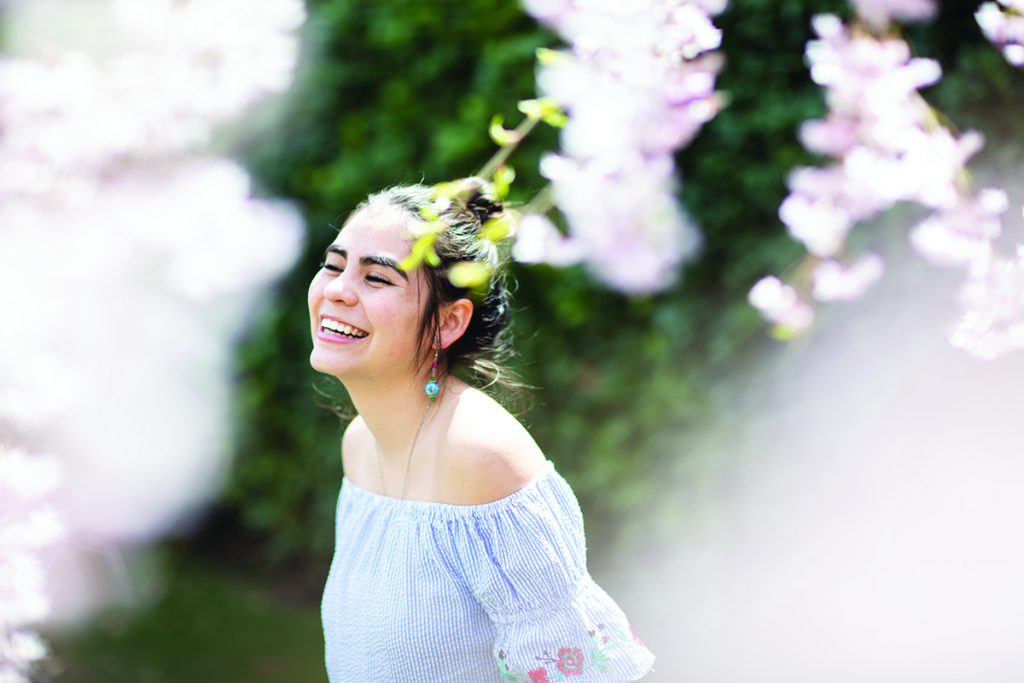 by Johanna Snow (MSC '14)
In January 2019, Marley Dominguez ('21) attended a diplomacy conference in Washington, DC. She was at the Smithsonian Museum of Modern Art when her parents, tearful and full of pride, accepted Westminster's Unsung Hero Award in her stead. Her sister texted her a video. "I had to sit down to watch this video, and I burst into tears in the art museum because my parents mean the world to me," Marley explains, still full of emotion. "And to see them accept this award and to be in a space—this gallery—that they never had the opportunity to be in was just so empowering."
Her recognition as an Unsung Hero—an award given by Westminster's Office of Diversity, Equity, and Inclusion to individuals and groups who are committed to promoting a diverse and inclusive community on the Westminster campus, and beyond—is just one of many achievements on her résumé. She's an Honors student majoring in justice studies (with a minor in gender studies). She's active in campus life, local politics, and the community. But this only scratches the surface of what makes Marley special.
Marley identifies as LatinX* and as a first-generation college student. The daughters of Mexican immigrants, Marley and her sister are the first in the family to attend college. Her parents immigrated to the United States in their teens and attended high school in south-central Los Angeles. They always made education a priority and wanted Marley to have opportunities they did not. They enrolled Marley in Juan Diego Catholic High School in Draper, Utah. There, Marley's natural curiosity flourished.
Expanding her mind came easily, but finding a sense of belonging was more of a challenge. Marley found few LatinX students with whom she could identify and felt self-conscious about the difference in her family's socioeconomic status. Then she discovered debate. On her high school debate team, she found comradery with like-minded students who shared her love of learning and had the courage to consider alternative viewpoints. With her new community, she explored issues of social justice, and her passion was born.
As a Westminster justice studies major with a passion for making a difference, Marley was drawn to the Katherine W. Dumke Center for Civic Engagement, where she worked as a political engagement coordinator for two years. While there, Marley was involved in planning events and working to engage students in the political process. It was her work in the Dumke Center that won her recognition as an Unsung Hero. "While I was working in the Dumke Center, one of my goals was to create diversity and inclusion, especially in politics. A lot of the lives of our students are political, especially the more marginalized you are," Marley says.
Marley has parlayed her experience into a fellowship appointment at the United Way of Salt Lake, where she is working as a grassroots leadership organizer researching the challenges of underrepresented families within the public school system and tackling the problems that keep those families from equal access to education head on. Through this work, she hopes to empower Spanish-speaking moms to take ownership of their own experiences and open doors for their children the way her parents did for her.
Marley's pursuit of social justice has had a profound effect on her scholarly journey. She recently presented her research on the plight of indigenous people and female indigenous activists in the environmental field at a Social Justice and Education Conference in Hawaii. She continues her research in this area and hopes to effect change for indigenous women, who are the victims of violent crimes at an alarmingly high rate—with little or no justice being served. Inspired by her coursework in a class taught by Professor Eileen Chanza Torres, Marley is currently researching the fetishization of black women on social media and exploring the phenomenon of white Instagram influencers posing as black women.
The future is bright for Marley, and a multitude of doors are open to her—she's still deciding which one to walk through. "I can see myself working at a think tank and doing research to influence legislation," she explains. "I can see myself in local positions of office. I can also see myself ultimately becoming a professor and teaching about the things that I love."
*LatinX refers to a person of Latin American heritage; it is used as a gender-neutral alternative to Latino or Latina.
---
About the Westminster Review
The Westminster Review is Westminster University's bi-annual alumni magazine that is distributed to alumni and community members. Each issue aims to keep alumni updated on campus current events and highlights the accomplishments of current students, professors, and Westminster alum.

GET THE REVIEW IN PRINT STAY IN TOUCH SUBMIT YOUR STORY IDEA READ MORE WESTMINSTER STORIES