---
The Great Salt Lake Fringe Festival and Other Adventures
The Great Salt Lake Fringe Festival and Other Adventures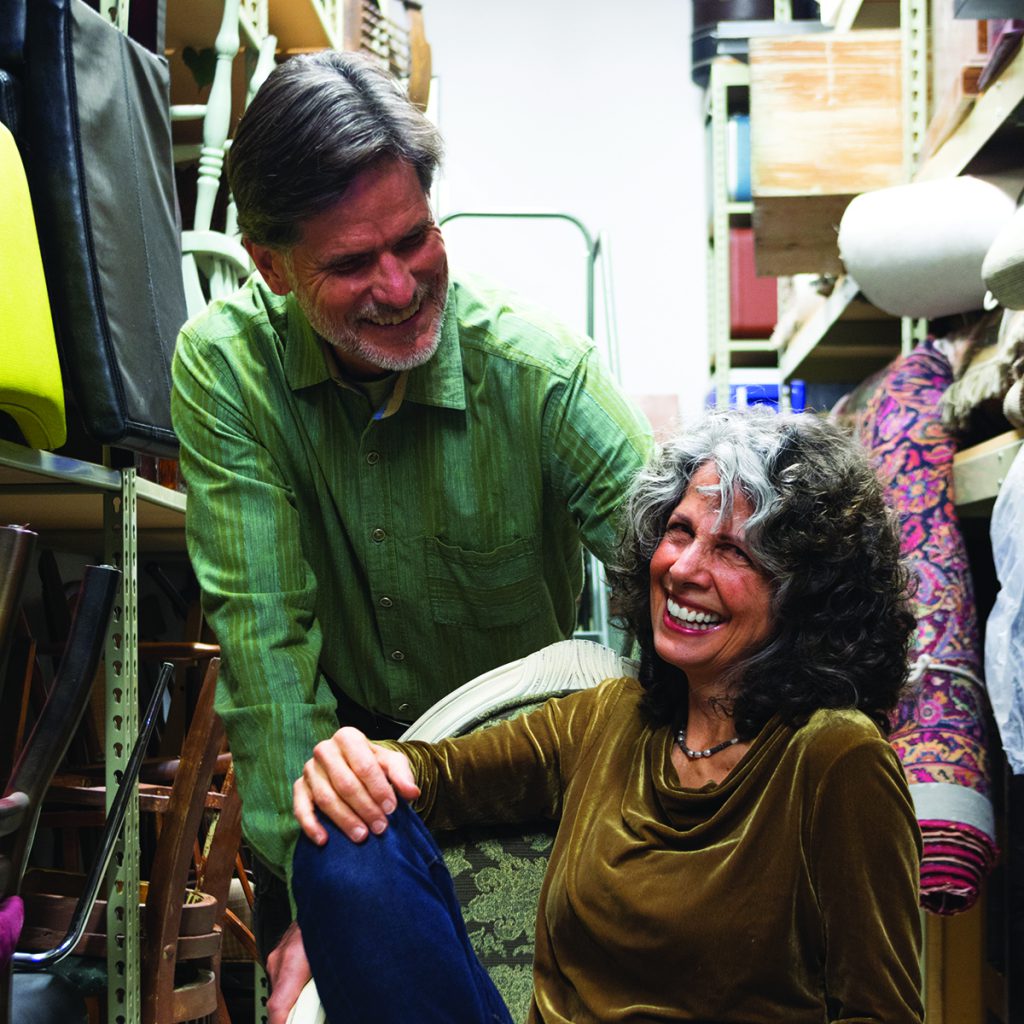 by Gwendelyn Salazar (Honors '21)
Photograph by Jack Benton ('18)
After graduating from the University of Utah years ago, Nina and Michael Vought were planning on going back home to Hawaii. But while Michael was fixing up the house of a Westminster professor, the professor mentioned that Westminster College was looking for a technical director. In a daring act, Nina and Michael applied together: literally, they applied to share the position.
"You can have both of us for the price of one if we can both work half-time," Michael told the provost. What was supposed to be a one-year stay was really a fitting beginning to a 25-year career of mobility and creativity. "We fell in love with the college," Michael says, with Nina adding, "We fell in love with teaching—and with the students."
Soon Michael was the head of the theatre program, and Nina became the full-time technical director. "In our early days at Westminster, we were the theatre program," Michael says. "We did sets, costumes, publicity, directing, box office. We ran the show."
Their careers expanded into their home lives as well. Nina announced her second pregnancy to the cast of Man of La Mancha on opening night, and the couple's two boys were raised on the Westminster College campus. The Voughts hired students to homeschool their kids, Grady and Robinson, who slept on the stage while their parents worked. "We managed to somehow raise our children on the campus as well as run the program," Nina says. Both boys later attended Westminster as undergraduates.
Though the Voughts and their students worked hard and succeeded in creating high-quality productions, Nina and Michael decided their students needed to add more to their résumés. They wanted students to be involved with bigger productions outside of Westminster to help them prepare for careers in such a competitive field. After witnessing fringe festivals around the world, Nina and Michael decided to bring one to Salt Lake City.
"A fringe festival is for theatre artists what a Sundance Film Festival is for film artists," Nina says. "It's independent. It's an opportunity for theatre artists to have a voice that they would not have otherwise."
"Many fringe shows develop into mainstream shows down the road," Michael says, "but this is where they start. We provide publicity and space and all the things the artists need; they provide the show, and they walk home with 100 percent of the ticket sales."
2019 marked the fifth consecutive Great Salt Lake Fringe Festival. "The Fringe Festival has launched the careers of several students. It has also launched theatre companies around the valley," Nina says. "The entire theatre community turns up for the Fringe Festival. Every year we see the fringe getting better."
For the first few years, Nina and Michael were responsible for the dirty work. "I remember cleaning out the swamp coolers because we needed them to work for one more night," Michael says. Now they are able to take more administrative roles and watch as many shows as possible—a difficult task, considering last year's fringe boasted over 250 performances in just two weekends.
While many fringe festivals rely on national and international performances, the Great Salt Lake Fringe Festival is uniquely local. "It's about local artists finding ways to express what is important to them," Michael says. Nina agrees that featuring primarily local artists is key to the Great Salt Lake Fringe experience. "The Salt Lake Fringe is successful because we have so many artists here looking for a chance to put their art out there," she says. "The artistic community here is vibrant."
After creating a successful community festival to support the career goals of their students—and working their way up from part-time staff to full-time professors—Nina and Michael Vought are retiring at the end of this academic year. In the decades they have dedicated to Westminster College, they have discovered new passions, which they intend to pursue in retirement.
"Westminster lets professors grow," says Nina, who teaches yoga as well as theatre. The Voughts also intend to travel, discover new ways to protect the environment, and educate others on eating sustainably. But they want students to know that even after they leave the college, the Vought home will always be a safe place for Westminster students.
"We live right next to the college," Michael says, "and we hope this house will be a place of refuge and solace—a place students can come when they need a warm meal. If students need someone to be there for them, either of us will always be honored to be that person." Nina and Michael say they have loved their time as Westminster faculty. "We could not have landed at a better institution," Michael says. "We could not have asked for better students."
---
About the Westminster Review
The Westminster Review is Westminster University's bi-annual alumni magazine that is distributed to alumni and community members. Each issue aims to keep alumni updated on campus current events and highlights the accomplishments of current students, professors, and Westminster alum.
GET THE REVIEW IN PRINT STAY IN TOUCH SUBMIT YOUR STORY IDEA READ MORE WESTMINSTER STORIES