---
Enhancing Education in the Arts
Enhancing Education in the Arts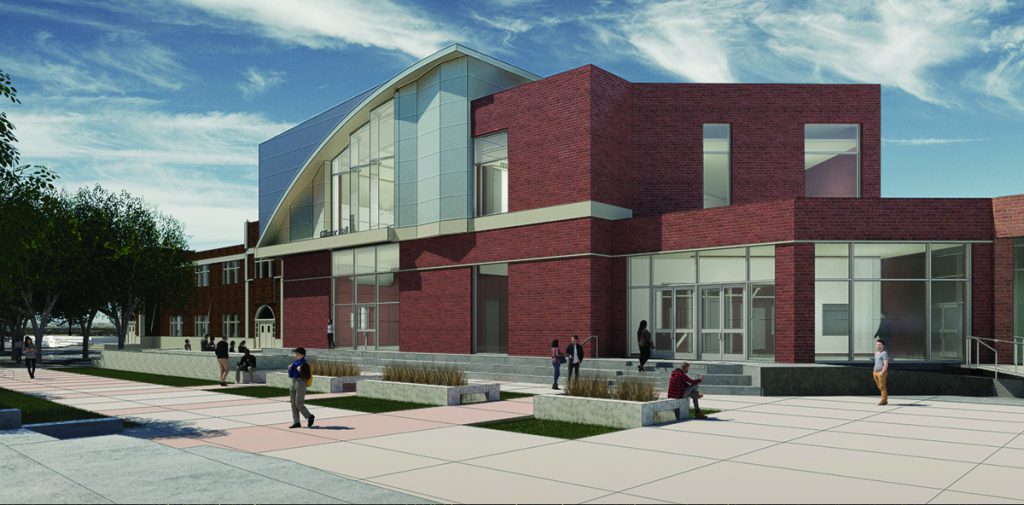 A groundbreaking ceremony for Gillmor Hall was held on February 19, 2020. The project is expected to take approximately 13 months to complete, meaning it will be in full use for classes, rehearsals, and performances by Fall Semester 2021.
Performing arts center addition to open in fall 2021
by Jeff Driggs
Construction equipment is on campus once again. A 26,000-square-foot, three-story expansion of our performing arts complex is being built onto the south end of the Jewett Center for th Performing Arts/Emma Eccles Jones Conservatory, next to Payne Gymnasium. The expansion—which will be known as Florence J. Gillmor Hall—is Westminster's first major building project since the Meldrum Science Center opened its doors in 2010.
Over the past several years, the performing arts programs at Westminster College have flourished in terms of quality; visibility in the arts community; and the skills, talents, and potential of our students. Generous donors to the programs have enabled us to recruit talented students and faculty, purchase equipment and instruments, and stage professional-grade performances. We are rapidly becoming one of the finest performing arts programs in our region.
Since the last expansion of the building in 2004, Westminster has added majors in theatre and music, doubling the enrollments in these programs; created a dance program; added faculty in all three disciplines; and instituted a variety of new opportunities for students to participate in the arts, both as performers and as production designers.
The new expansion will provide facilities needed to appropriately serve the students currently enrolled in our performing arts programs and make possible anticipated enrollment growth.
The building will boast a 100-seat recital hall, dance/performance studios, choir and theatre rehearsal rooms, individual and group music teaching and practice studios, a grand lobby for art shows and receptions, and a student lounge. The project also includes expanding existing facilities in the Jewett Center— primarily the construction shop for theatre and the costume studio.
Justin Ibarra ('22), a vocal performance major from Las Vegas, Nevada, is thrilled about the opportunities for creativity and cooperation that the new facility will provide. "It will give artists a place to hone their craft and lead to more collaboration among the programs. I'm excited about the art we're going to be able to create," Justin says. A tenor with the Westminster Chamber Singers and the Utah Opera Chorus, Justin performed in Westminster's 2019 May Term theatre production of Next to Normal and the 2020 opera production of A Little Night Music, as well as in the Utah Opera's The Magic Flute, Candide, and La Traviata.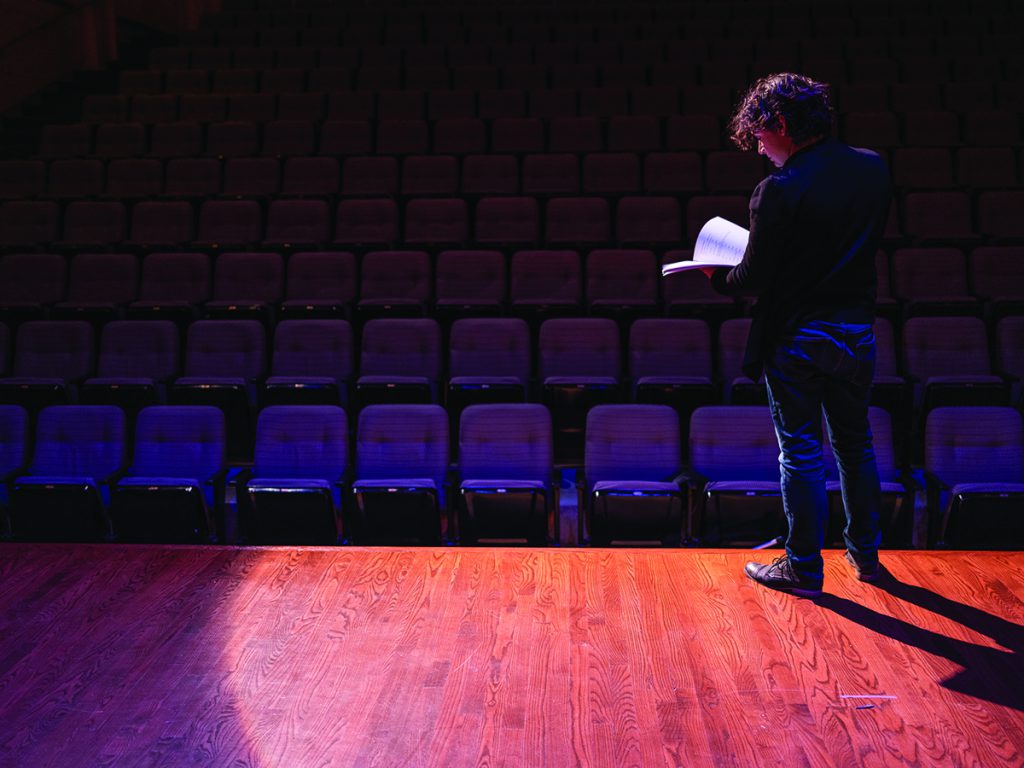 photography by Jack Benton ('18) and Michael Kunde
Megan Fotheringham ('22) grew up close to Westminster, in Holladay, Utah, where she started taking ballet lessons at the age of three. She was teaching ballet by 14, and when she learned about Westminster's dance program, she was happy to come here, even though she knew the dance classes were held off campus at studios 10 minutes away. "I love the dance program and the department," she says. "The people are great!" But she recognizes that not having dance studios on campus sends the wrong signal to potential dance majors. The new building, with its two performance studios for dance classes and productions, will make dance "more of a viable option for incoming students" and demonstrate that Westminster is serious about dance, according to Megan. She has no doubt that the addition of Gillmor Hall to campus will drive up enrollment in dance, as it is so popular in Utah. "This is such a great campus anyway. Getting this addition will mean a lot to us."
Named for a 1938 Westminster music graduate, the building is the latest example of the philanthropy of the Florence J. Gillmor Foundation. The foundation also funds scholarships, faculty, programming, instruments, and summer workshops for the Florence J. Gillmor School of Music.
Other major donors include the Emma Eccles Jones Foundation, the Fenton Family Foundation, the George S. and Dolores Doré Eccles Foundation, the Dell Loy Hansen Family Foundation, Michael ('75) and Andrea ('83) Dumke Manship, the McCarthey Family Foundation, and Bing (MBA '88) and Judy (MBA '99) Fang. Many opportunities remain to contribute to the maintenance and operations of the building and to the arts programs themselves. Donors of $500 or more will be recognized in Gillmor Hall, and donors of $1,000 or more can "buy a seat" in the new building's recital hall.
For more information, contact Jeff Driggs of Westminster's Office of Institutional Advancement: jdriggs@westminsteru.edu or 801.832.2737
---
About the Westminster Review
The Westminster Review is Westminster University's bi-annual alumni magazine that is distributed to alumni and community members. Each issue aims to keep alumni updated on campus current events and highlights the accomplishments of current students, professors, and Westminster alum.
GET THE REVIEW IN PRINT STAY IN TOUCH SUBMIT YOUR STORY IDEA READ MORE WESTMINSTER STORIES