---
From a Life of Abuse to a Life of a Star
From a Life of Abuse to a Life of a Star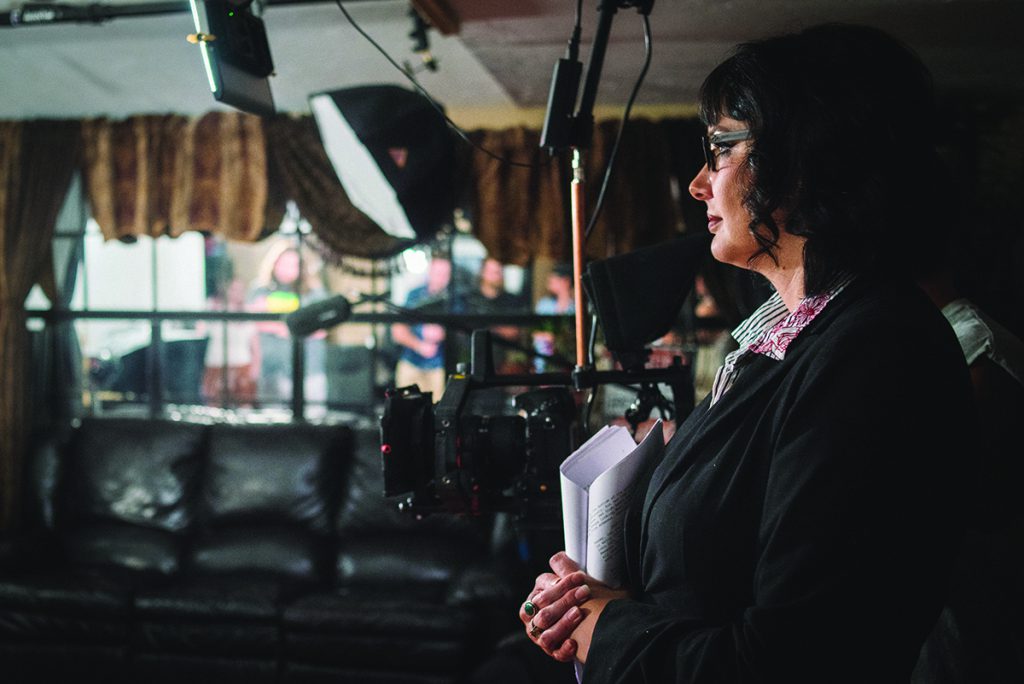 by Liz Dobbins ('21)
Photograph by McCade Gordon
The setting is like that of any horror movie: wooded and cold, except nobody is going to die in this scene. Instead, this is a joyful moment of a young girl's coming out and finally accepting who she really is—or so the audience thinks. One minute she's screaming for joy and the next, she's screaming for help. Her excitement is replaced with terror as a man comes up from behind and forces himself on her. But they aren't alone in the woods. Somebody else yells, "Cut!" What the audience can't see is the camera, a fleet of crew members, hair and makeup artists, and the young girl's real mother crying on the side. They don't see the multitude of people who made the movie City of Salt or the mastermind, writer, and director behind the project, Alicia Farmer ('11, MEd. '13).
Alicia is a perfectionist and stopped at nothing to make City of Salt a reality. In order to fully grasp the woman she is, we need to go back to her teenage years.
When she was just 13 years old, Alicia met a man. He was 23. What she didn't know at the time was that he was at the start of a downward spiral. "My parents did their best to keep me away from this toxic individual, but I was very headstrong," Alicia says. "It was almost like a Stockholm situation in the sense that I can't even tell you how many incidents there were of abuse."
The relationship went on for years before Alicia tried for the first time to end it. When she asked him what it would take to end their relationship, he pulled out his gun and shot at her. At this point, Alicia was scared and decided to form an alliance with her abuser. Two kids and five years later, she decided again that enough was enough. "I kind of knew that he was going to try to kill me that day," Alicia says. "It finally ended with me taking a bat to him. I don't like condoning violence, but that's finally what it took for me to get out of that relationship."
This was her turning point. After working multiple dead-end jobs, she knew it was time for a dramatic change. "I decided to set an example for my kids and go back to school," she says.
Within 11 years of starting her higher education journey, Alicia had three degrees: an undergraduate degree in English and a master's in education from Westminster, and a PhD in innovative instruction from Walden University. "My way of coping with what I'd experienced was homing in and not losing focus on improving and setting that example for my kids," she says. "Almost everything that I did, I had to do it 10 times better than I normally would just because I wanted to flip my life completely around."
After graduating and going into education administration, Alicia felt as if something was missing. She had the education and the salaried job, but she wasn't fully pursuing her passions. One day, she decided to sit down and write. Taking inspiration from a poem she had created in her undergrad years at Westminster, she wrote for five days straight. At the end of that time, she had an entire movie script.
City of Salt began as Alicia's side project: an outlet for her to discuss issues relevant to her and the community, issues that plagued her past and are often considered "taboo." As the movie was set in Salt Lake and discussed issues highly prevalent here, Alicia knew she wanted to also keep her cast and crew local. Her team, composed of local bands and stars like former Utah senator Jim Dabakis and former mayor Rocky Anderson, quickly grew to over 180 people and began to demand her full attention. "A job can always be replaced, but this is a once-in-a-lifetime opportunity to have this kind of army."
Alicia quit her job and began to work full time on the movie. "Taking that leap was extremely terrifying," she says. "But I definitely think it's going to pay off in the end for City of Salt." The movie will premiere at the Utah Film Festival on April 3, 2020. However, despite not being released yet, City of Salt has already won 16 FilmCon, Kosice International Monthly Film Festival, and Los Angeles Film awards, including best narrative film, picture, first-time director, cinematography, sound design, acting, and more.
While the decision has financially impacted her, Alicia says her gut tells her the payout will come. Having already begun a loose sequel, Alicia's long-term goal is to create a series of socially impacting films. Her fear morphed into drive: drive to tell stories that aren't being told, drive to make change, and drive to fight for women like her—survivors.
---
About the Westminster Review
The Westminster Review is Westminster University's bi-annual alumni magazine that is distributed to alumni and community members. Each issue aims to keep alumni updated on campus current events and highlights the accomplishments of current students, professors, and Westminster alum.
GET THE REVIEW IN PRINT STAY IN TOUCH SUBMIT YOUR STORY IDEA READ MORE WESTMINSTER STORIES