---
The Great Wide Open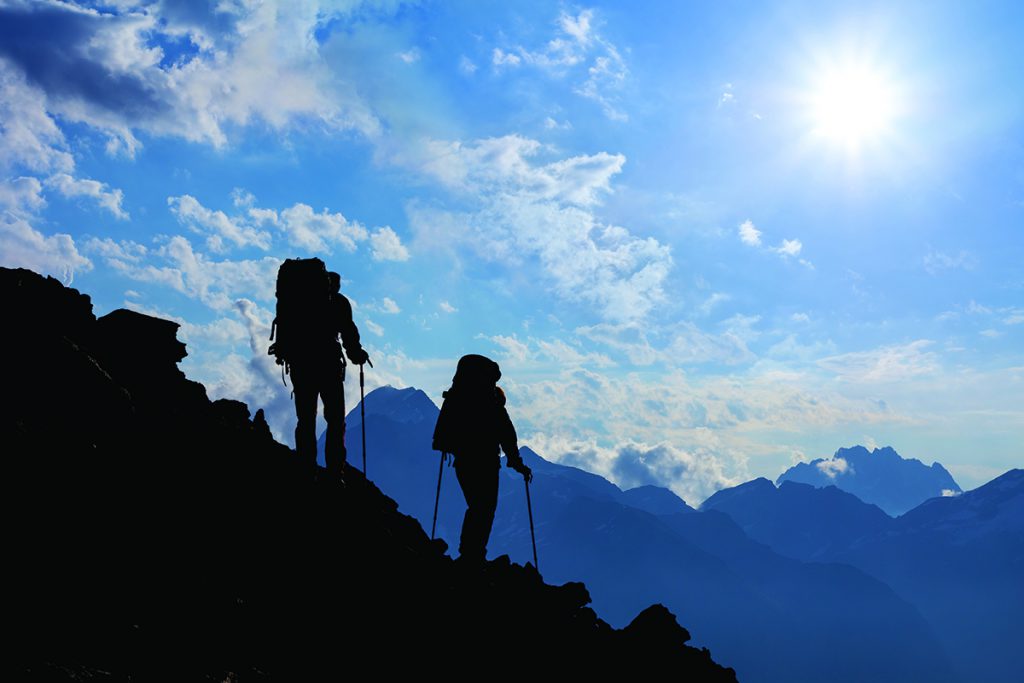 Step Out helps open the outdoors to a more diverse population
by Johanna Droubay
Utah is known for its world-class ski resorts, otherworldly national parks, and Wasatch mountains. Seventy-two percent of residents participate in outdoor recreation annually, and more than twice as many Utah jobs depend on outdoor recreation as they do on mining and energy combined. It's safe to say that to some Utahans, outdoor recreation isn't just recreation: it's religion. But Utah's demographics are changing. Will the outdoor industry change with our rapidly diversifying state?
"When we look at the outdoor industry, we see a certain type of person represented," says Michelle Vainwright ('20). And that person is typically white, affluent, and male. Michelle is the student coordinator of the Step Out program, a student-led, student-run initiative of Westminster's Outdoor Program and the Dumke Center for Civic Engagement. The initiative brings outdoor education to young people in South Salt Lake: the most diverse city in the greater Salt Lake Valley and a major resettlement hub for refugees.
"There are so many parts of our identity—our cultural identity, our socioeconomic status, our international status, language, sexuality, gender—that affect who we feel we are when we're outside, and whether or not we feel like we belong there," Michelle says. The young people who participate in the Step Out program—many of whom are people of color or from low-income backgrounds—might not see Utah's spectacular public lands as accessible to them.
Step Out aims to increase access to a sustainable relationship with the outdoors by leading weekly workshops that teach outdoor skills and environmental awareness in preparation for overnight camping trips typically held in July. For many of the campers, this is their first time hiking and camping—and their first night away from home.
"There is so much self-actualization and empowerment that come with being in the wilderness," Michelle says. "Having a relationship with the outdoors—whether you're camping or just taking a walk—is really important to our long-term survival as a species."
Outdoor Program Director Tiana White says that Westminster's Outdoor Program has been thinking about social justice and inclusion in the outdoors for almost a decade. "As a field, outdoor-recreation education has acknowledged for a long time that it really serves privileged white people, specifically males," Tiana says. "As educators, we can't just apply the same formula to everyone and expect it to work. We need to fundamentally change how we engage with people in the outdoors."
What that means is that a relationship with the outdoors that revolves around contrived challenges doesn't speak to everyone. "Outdoor recreation as we know it started with creating challenges and conquering things," says Tiana. "People who face significant challenges in their day-to-day lives might see no reason to create more challenges for themselves just for fun."
For Westminster students with an interest in outdoor education, working with young people in the Step Out program provides a unique opportunity to learn about different value systems and to practice new approaches to engaging people from diverse backgrounds in the outdoors.
Step Out trip leader Lasana Trawally ('20) is currently conducting research for a capstone project that focuses on the relationship between public health and outdoor recreation. He is interested in engaging a wider variety of people in outdoor recreation for the benefit of public health, the environment, and long-term sustainability of our national parks and the outdoor industry.
Lasana's family came to the United States from the Ivory Coast when he was seven years old. Growing up in Utah, he developed a deep connection with the outdoors. He understands that although the outdoor industry has not traditionally targeted a wide variety of people, there is no way to gauge how people relate to the outdoors just by looking at them.
"I learned that some of the kids we work with already have the skills and knowledge to camp and set up fires, probably better than a lot of us at Westminster," he says.
Another trip leader, Mariana Espinoza Lugo ('22), says that one of the boys she worked with was particularly adept at fending for himself in the wild. "He had lived in a jungle, and he knew a lot of the things we were teaching him, like how to maintain direction." Hiking for recreation, however, was new to him.
"At the end of the trip, everyone said they wanted to hike more and be part of Step Out again next year," Mariana says. "They all gave the trip a 10 out of 10 and said they wanted to take their families hiking. For me, that was the best part."
---
About the Westminster Review
The Westminster Review is Westminster University's bi-annual alumni magazine that is distributed to alumni and community members. Each issue aims to keep alumni updated on campus current events and highlights the accomplishments of current students, professors, and Westminster alum.
GET THE REVIEW IN PRINT STAY IN TOUCH SUBMIT YOUR STORY IDEA READ MORE WESTMINSTER STORIES