---
Faces: Jennifer Simonds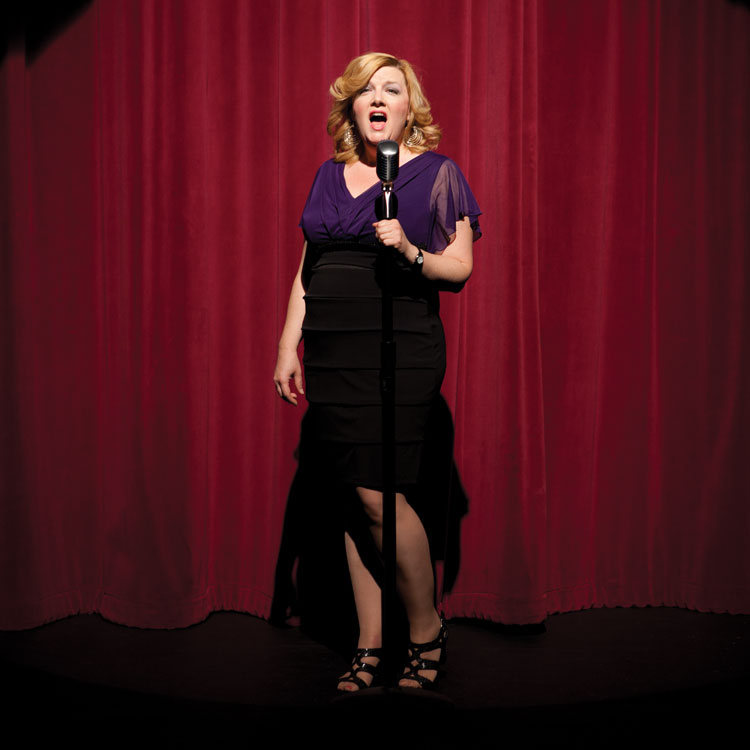 The Fabulous Dr. Simonds
Sultry Jazz and Broadway Tap Merge
by Johanna Snow
She's a professor by day, but when the sun goes down and the lounge lights turn on, you'll find Jen Simonds slinking across a baby grand, belting out velvety vocals. Jen has been a beloved psychology professor at Westminster College for nine years—but there is more to her than meets the eye. Jen has rhythm. Jen has soul. Jen has powerful pipes. Jen is a Renaissance woman who can dazzle you with her sultry jazz vocals or her tap-dance beats. From an early age, she loved singing and musicals—with a particular affinity for Annie. As a singer, Jen fell in love with jazz standards and then vocalese—a style of jazz where vocals are sung to the tune of existing instrumental solos.
When it was time to go off to college, Jen chose Sarah Lawrence, where she earned a bachelor's degree in liberal arts and spent much of her time performing. After college, Jen's love for performing was still strong, but she shifted her focus to saving the world: she considered a career as a civil rights lawyer and worked as a paralegal. After meeting with a career counselor who suggested psychology, Jen decided to switch gears. She earned a master's degree in counseling from Seattle University and developed a passion for research. After working in the field for a number of years, her love of research pulled her back to school, and she earned a PhD in developmental and personality psychology from the University of Oregon.
This path led her to working in a lab at the University of Oregon with Lesa Ellis, and they became fast friends. When Lesa came to Westminster, Jen visited her and quickly realized this was the place she wanted to be. Jen wanted to work where educating students was the priority, but she also wanted the opportunity to be involved in the development of a research program. Westminster was the perfect fit.
While pursuing her career in psychology education, Jen never lost her passion for the performing arts. And she's still singing—don't be surprised to hear her belting out tunes at the next campus event or at a downtown speakeasy. Treat yourself to Jen's jive anytime at www.jenvocaljazz.com
Fast Facts:
Favorite song to sing: "I Remember Clifford."
Favorite song to tap dance to: Almost anything—that's the great thing about it!
She once sang: "It's My Party" at a hippie coffee house in Seattle accompanied by high school friends, Chris Ballew and Dave Dederer, who later became the band The Presidents of the USA.
---
About the Westminster Review
The Westminster Review is Westminster University's bi-annual alumni magazine that is distributed to alumni and community members. Each issue aims to keep alumni updated on campus current events and highlights the accomplishments of current students, professors, and Westminster alum.
GET THE REVIEW IN PRINT STAY IN TOUCH SUBMIT YOUR STORY IDEA READ MORE WESTMINSTER STORIES