---
Gifts in Action: Nurses Rising
Gifts in Action: Nurses Rising

Helping Nurses Achieve Higher Education
by Audrey Maynard ('03)
Paula F. Julander asserts that she's a nurse first and a politician second. The former Utah state representative and senator worked passionately through the 1980s–2000s to elevate the nursing profession in the state and provide much-needed healthcare services to rural areas and underserved populations. "There were legislators in Utah at the time who were trying to introduce a two-year degree for a registered nurse as the highest level of education in the field," she says. "I didn't think that was right, so I fought to keep the four-year degree."
A long-serving member of the Westminster Board of Trustees, Paula is a staunch advocate for advanced-practice nurses and graduate education degrees: she participated in the advisory committee that created Westminster's Master of Science in Nursing: Family Nurse Practitioner (MSN/FNP) degree in 1995.
Graduates of the MSN/FNP receive an advanced practice education that allows them to prescribe medication and treat patients at a higher level. Julander believes that advance practice nurses are key in solving healthcare issues in the United States. "With the nationwide reduction of general practice physicians, nurse practitioners are providing increased services in our healthcare delivery system," she says.
In 2013 Julander created the Paula F. Julander Endowed Scholarship for Nurse Practitioners at Westminster, with the goal of easing the financial burden that working nurses often face. "Nurse practitioners, both male and female, have families they must support," she says. "Financial issues often keep them from doing something they have a passion for. I thought 'wouldn't it be nice if I could help someone a little bit along the way?'"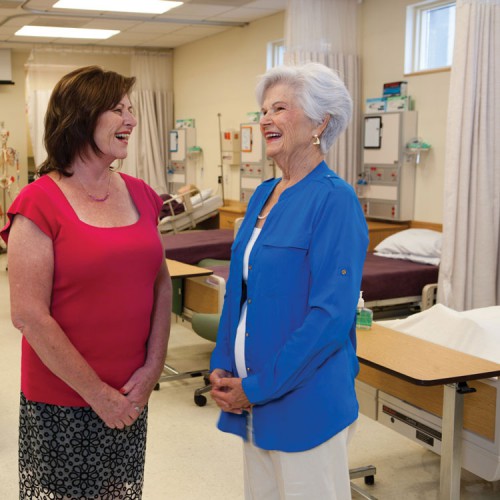 Sheryl Steadman, dean of the School of Nursing and Health Sciences, appreciates Julander's commitment to graduate students, a group that has not historically had access to scholarship aid. "What is so special about Paula's gift is that it is designated for nurses at the graduate level, something we've never been able to offer before," she says. "Paula understands that nurses need to continue to pursue higher education so that they are prepared to provide the best healthcare to the country. We are truly grateful to her for investing in our graduate nurses and in this vital program."
Julander encourages others to contribute to the nurse practitioner scholarship. "Many people want to reach out and help somebody, and this is one way in which you can."
Please consider contributing to the Paula F. Julander Endowed Scholarship for Nurse Practitioners. If you would like more information about supporting scholarships at Westminster, please contact the Office of Advancement at 801.832.2730 or lactor@westminsteru.edu.
Becoming a Westminster Nurse Practitioner
Nationwide demand for family nurse practitioners is strong. With expected growth of 31 percent through 2022, employment for advanced practice registered nurses is outpacing all occupations. Westminster's Master of Science in Nursing/Family Nurse Practitioner (MSN/FNP) program currently enrolls 24 working professional nurses who will graduate with the skills to provide holistic care and better health outcomes for patients.
Dean Steadman believes that advanced practice nurses play a key role in a patient's primary care team. "At Westminster, our nurses are mentored by knowledgeable faculty who prepare them to handle healthcare situations in a variety of settings," she explains. "What makes advanced practice nurses so important is that, in addition to diagnosing and treating acute issues, they are taught to provide wellness guidance to patients and encourage them to take an active role in their own well-being."
Students in the MSN/FNP program are required to complete 546 clinical practice hours, as well as volunteer their time serving patients in community events like health fairs. "Students in this program spend a lot of time caring for the needs of others," says Sheryl. "This year we have developed partnerships with organizations that will quadruple the amount of service we are able to provide to our community!"

---
About the Westminster Review
The Westminster Review is Westminster University's bi-annual alumni magazine that is distributed to alumni and community members. Each issue aims to keep alumni updated on campus current events and highlights the accomplishments of current students, professors, and Westminster alum.
GET THE REVIEW IN PRINT STAY IN TOUCH SUBMIT YOUR STORY IDEA READ MORE WESTMINSTER STORIES