---
Gifts in Action: Westminster College Flight Team
Gifts in Action: Westminster College Flight Team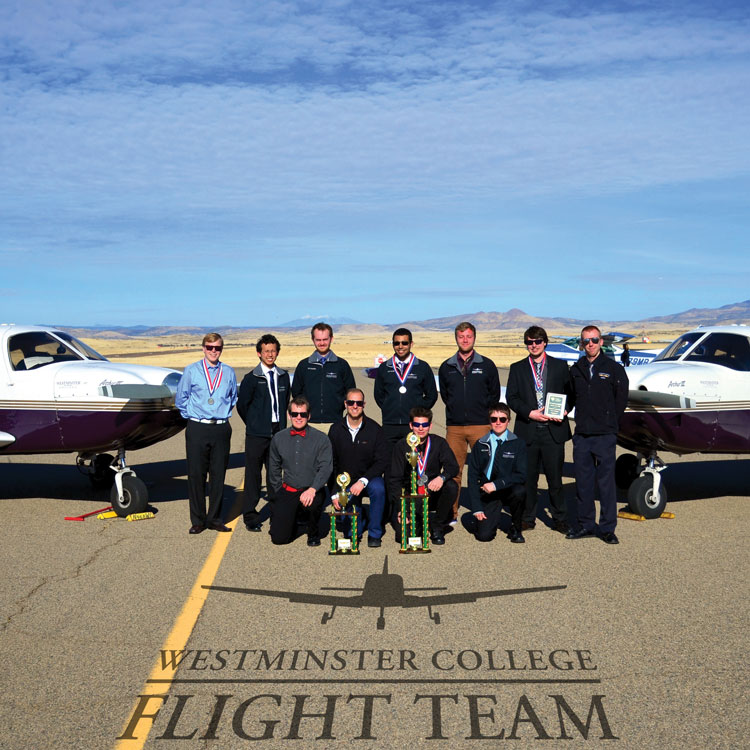 NIFA Flight Team Soars Thanks to Matching Gift
by Audrey Maynard ('03)
The Westminster Flight Team's path to the National Intercollegiate Flight Association's (NIFA) regional competition in Prescott, Arizona, has historically been a turbulent one. In years past, the team raised funds by working concessions at Utah Jazz games, washing planes at the airport, and even scouring their couch cushions for extra money to compete. This year they knew they needed to do something more and asked to present to the college's Aviation Advisory Board to appeal for help. Their pitch was a bit unpolished, but it was effective enough to secure a couple of gifts, encouraging them to keep going.
With a more refined presentation, the team approached Carl Champagne, a friend of the college (who also happens to be a private pilot), and asked for his support. "I appreciated the flight team's commitment and dedication to reaching the next level in their education," Carl says. "To me, the pathway to the competition is as valuable an experience as the competition itself."
Carl proposed a challenge grant to the team: Raise $5,000 in any way possible, and he would match it dollar for dollar. "My only requirement was that they needed to spend more time practicing so they would have a chance to be top three in the region and earn a ticket to the national competition," says Carl. "This was a tall task, considering their region includes the Air Force Academy!"
The team had an added incentive to earn a top spot at the regional competition. "I told them that if they reached the national competition, I'd kick in an additional $7,500 to help them compete on the national level," Carl says.
In May, the Flight Team competed in nationals in Columbus, Ohio, and won the Red Baron Sportsmanship Award. They are already beginning their fundraising campaign for 2014–15 with the goal of competing at the national competition every year. Thank you to Carl and Elaine Champagne, the Call Family Foundation, Robert Steiner, the Mashhoon Family Foundation, 1st Atrium, and many alumni, board members, and staff for helping the team reach its potential on the national stage. If you would like to make a gift to the Flight Team, please contact Marc Weyerstall at 801.832.2739 or mweyerstall@westminsteru.edu.

---
About the Westminster Review
The Westminster Review is Westminster University's bi-annual alumni magazine that is distributed to alumni and community members. Each issue aims to keep alumni updated on campus current events and highlights the accomplishments of current students, professors, and Westminster alum.
GET THE REVIEW IN PRINT STAY IN TOUCH SUBMIT YOUR STORY IDEA READ MORE WESTMINSTER STORIES