---
Heart in Numbers
Westminster students serve the community and bring record-breaking numbers of tax dollars back to Utah during the 2015 tax season
by Autumn Thatcher (MSC '15)
Students enrolled in tax courses in the accounting program at Westminster College have been working with the Volunteer Income Tax Assistance (VITA) program for many years, helping Utah residents file their taxes during the tax season. The 2015 tax season, however, marked the beginning of a new era for Westminster's accounting students: one that went beyond taxation and into the world of service.
Professor Emily Rains joined the Westminster community in 2014 as an associate professor of tax. A lawyer with a double degree in law and tax law, Emily knew that she wanted to try her hand at teaching because of how much she enjoyed public speaking. She developed a passion for serving the community through pro bono work in law school and beyond. When she learned about the annual tax clinic that Westminster students participated in through VITA, she decided to challenge her students and see just how far that would take them.
"VITA is a volunteer program run by the IRS that allows individuals to donate their time and gain tax knowledge by preparing tax returns during the tax season. Last year, Westminster filed around 150 returns, and the clinic was kind of small," Emily says.
The 2014 tax season saw two to four Westminster students preparing tax returns on campus, by appointment only, in a little room that did not have much capacity.
"When I learned about the tax clinic, I thought, 'What better way to introduce students to taxation than through the application of theory in the marketplace?' I wanted to have a community-service component to this year's tax clinic, and not only that, but we were really eager to set some new goals," Emily explains.
She joined forces with the Center for Civic Engagement and, through the center, acquired a small budget that enabled her to hire two student leaders. She then approached the Salt Lake County Mayor's office and collaborated with Mayor McAdams and his deputy, Nichole Dunn, who offered space in the Salt Lake County building's atrium for the students to run their tax clinic.
Word spread around the Bill & Vieve Gore School of Business, and soon Emily had a total of 28 students—some of whom were strictly volunteers—signed up to participate in the tax clinic. In order to volunteer in the clinic, students had to be trained and certified through the IRS to file individual taxes, and all 28 students received advanced IRS certification so that they could do any type of return.
Emily is not entirely sure why this year's clinic saw such an incredible increase in student participation, but she thinks it is a combination of giving the students autonomy, serving the Salt Lake community at large, and setting a goal to beat Brigham Young University.
"At the beginning of the season, our IRS liaison from CapUtah told us about the other schools in Utah that do this particular program. Last year, BYU did 2,300 returns. We were told they have an accounting club, and everyone in the club has to volunteer," Emily says.
Her team of students decided that their main agenda for this tax season was to beat BYU—and they did. Emily enjoyed watching the relationships that developed throughout the four months, as students donated their time to help low-income families in Salt Lake file their taxes. When students began working with community members, she noticed that the focus began shifting away from competition and onto the joy service can bring.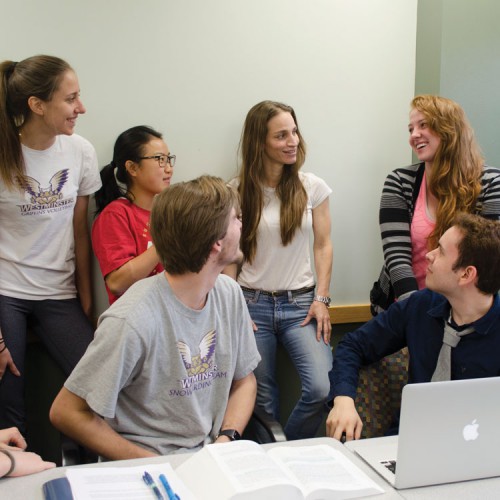 "There was this interesting organic camaraderie happening between the students. Sometimes students would not be scheduled to work, and they would just show up at our clinic. Some students were just so engaged. Their level of service and commitment was just amazing," Emily explains.
The tax clinic team agreed at the start of the season that they would not turn anyone away. That meant that, in the throes of the season, if a client had waited for over an hour to be helped, and it was past closing time, a team member would stay to work with the client. This dedication resulted in over 2,000 volunteer hours and over $2 million in refunds.
"It was a huge learning experience because you would have people who would come in with circumstances that you had never heard of," explains McCall Jensen ('16), an accounting student who participated in the 2015 tax clinic. "The whole time, we were getting unusual situations and trying to work through them with each other to figure out what was most beneficial for the client, but that was also in the legality of tax law."
The students worked with many individuals who likely would not have prepared their taxes on their own. One of their overarching goals was to bring money back to the state of Utah, and because they were so successful, Mayor Ben McAdams recognized them for their community service.
"The things that were taught here at Westminster in our tax and accounting classes prepared us to help taxpayers in the community and bring money back to Salt Lake," says accounting student Katie Kallas ('16). "It was a really cool experience that completed the circle of understanding things I was learning in school and being able to apply it."
At the conclusion of tax season, Emily and her team of students were overjoyed to learn that, not only did they beat BYU and the University of Utah, but they may have beat out Dixie State, earning the number-one spot in the state for refunds completed through the VITA program.
"We went from not even being on the map as a competitor to potentially taking the number-one spot. That was really exciting," says Emily, who credits the dedication and commitment to education that Westminster students are known for as contributors to their success—that and a little competition.
"It was an extra benefit to go out and compete for the number-one spot. We had this great core of students who are dedicated to their field. They were amazing at trying to figure out how to improve their service and how to deliver the best possible service," Emily adds.
---
2015 Tax Clinic Stats:
28 Westminster students
2,193 volunteer hours
1,729 tax preparations
$2,504,930 in refunds
$1,023,661 in Total EIC (Earned Income Credit—refundable credit)
---
About the Westminster Review
The Westminster Review is Westminster University's bi-annual alumni magazine that is distributed to alumni and community members. Each issue aims to keep alumni updated on campus current events and highlights the accomplishments of current students, professors, and Westminster alum.
GET THE REVIEW IN PRINT STAY IN TOUCH SUBMIT YOUR STORY IDEA READ MORE WESTMINSTER STORIES