---
Pseudo Carillon Bells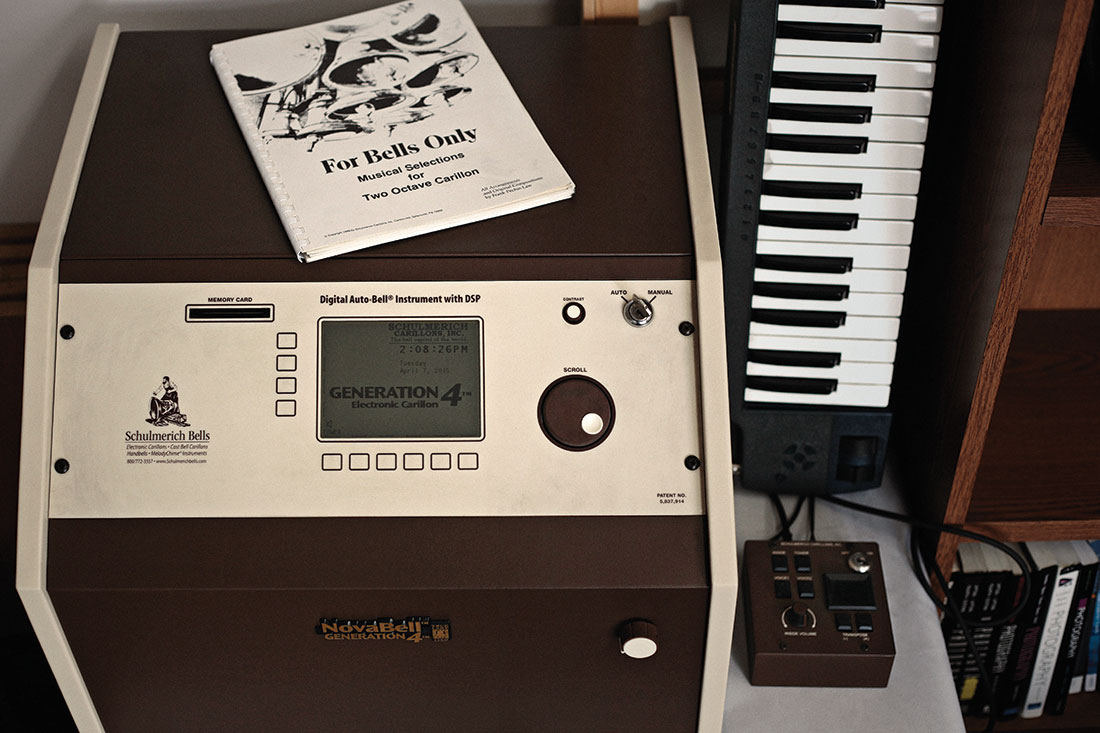 The mystery behind Westminster's bells revealed
by Edward Pishiyski ('15)
Merriam-Webster defines the word carillon as a set of fixed, chromatically tuned bells sounded by hammers controlled from a keyboard. Westminster has its own take on the word, defining it as an electronic instrument imitating a carillon.
Every day, from 8 a.m. to 6 p.m., everyone in a four-block radius can hear the charming sound of Westminster's virtual carillon, The Wheatlake Schulmerich Virtual Carillon to be exact. Random bell music ranging from classical and traditional to show tunes and popular songs is amplified around campus and throughout the Westminster neighborhood.
The chimes and bell tolls that we are lucky to enjoy daily are among the most famous in the world. The bell tones of Westminster College are re-creations from chimes and bells of Big Ben in London, which adds to the European and East Coast feel our campus has. Their sounds mark the andante tempo of walking, talking, biking, skateboarding, and socializing—reinforcing Westminster's campus culture.
Two steps up from the third floor of Converse Hall is the belfry that is the home of the "bells." It quietly rests in the middle of the roof, not as tall as the gothic towers. The tenants of the belfry are the Westminster Bell, the actual bell that we hear on special occasions like Convocation, and four loudspeakers connected to the Wheatlake Carillon. Each speaker points toward a cardinal direction while being angled toward the ground. The bells ring through the process of inserting a digital disk into the console and setting the music controller to "shuffle."
So the answer to everyone's question is, "No, we do not hear real bells every day; we hear something cooler." The Wheatlake family bestowed the "bells" in the name of their father, Dr. B. C. J. Wheatlake, a Westminster alumnus. In addition to the chimes ringing every 15 minutes, bell melodies are played at noon and 5 p.m., allowing those trapped in traffic along 1300 East to hear the refrains of Westminster's virtual carillon—if they turn down their own radios.
---
Is it real? Yes!
Is it an actual bell? No! It's The Wheatlake Schulmerich Virtual Carillon.
How long have we had it? Since the 1970s
Where? In the middle of the roof of Converse
How often? Every 15 minutes from 8 a.m. to 6 p.m.
---
About the Westminster Review
The Westminster Review is Westminster University's bi-annual alumni magazine that is distributed to alumni and community members. Each issue aims to keep alumni updated on campus current events and highlights the accomplishments of current students, professors, and Westminster alum.
GET THE REVIEW IN PRINT STAY IN TOUCH SUBMIT YOUR STORY IDEA READ MORE WESTMINSTER STORIES