---
Faces: William R. Trojan ('75)
Faces: William R. Trojan ('75)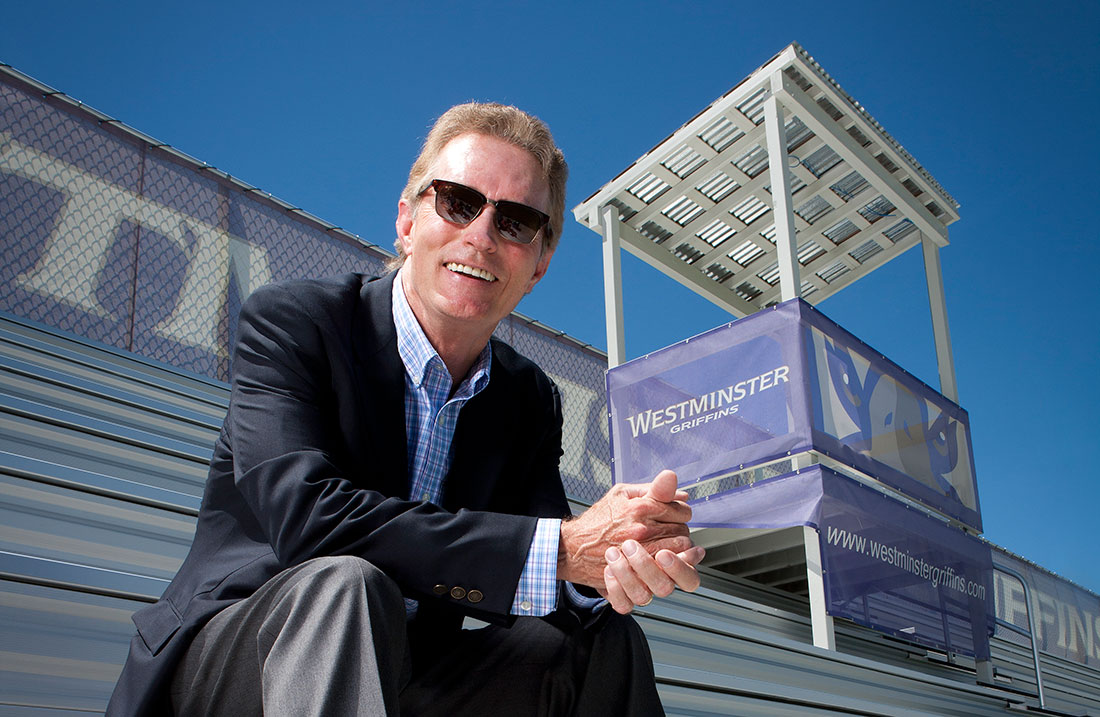 Westminster's Newest Board Member
From football player to trustee
by Sebastian Hooker ('14)
Bill Trojan has a long history with Westminster, playing as #64 on the college's football team in the early 1970s. Graduating from Westminster in 1975, he parlayed his degree in geology into a successful career in oil exploration. While the football team is long gone, Bill is back at Westminster in an entirely different role, serving as the newest member on Westminster's Board of Trustees. He is seeking to give back to his alma mater and ensure that today's students are prepared to join the workforce of the future.
A Utah native, Bill attended Murray High School before starting his education at Westminster. He also earned an Eagle Scout award. His perseverance paid off, earning him a four-year football scholarship at Westminster. Bill earned many more accolades and awards during his time at Westminster, ranging from academic recognitions to athletic accomplishments, and was presented with the Glen Lloyd StudentAthlete Award at graduation.

His college career didn't end at Westminster. Bill went on to earn a Master of Science degree in geology from Oregon State University in 1978. His thesis work resulted in several publications in scientific journals.
Bill spent 28 years in oil and gas exploration, climbing the corporate ladders at some of the largest multinational corporations in the world, including Shell, Unocal, Phillips Petroleum, and ConocoPhillips. He held a variety of roles within these companies, ranging from technical to executive-level positions. Although he has retired as an oil company executive, he still sits on the board of directors for Chariot Oil and Gas and has been able to explore the world through his work.
Bill and his wife, N. Susan Stone, an attorney who specializes in international tax law, split their time between Houston, Park City, and Taos.
---
Favorite food: Mexican
Favorite travel destination: Someplace I haven't been
Favorite entertainment: Broadway plays
Favorite pet: Old English Sheepdogs
Favorite participant sports: Skiing, hiking
Favorite spectator sport: College football
Favorite football teams: Texas Longhorns, Houston Texans
Favorite Westminster experiences: Geology field trips and playing football
---
About the Westminster Review
The Westminster Review is Westminster University's bi-annual alumni magazine that is distributed to alumni and community members. Each issue aims to keep alumni updated on campus current events and highlights the accomplishments of current students, professors, and Westminster alum.
GET THE REVIEW IN PRINT STAY IN TOUCH SUBMIT YOUR STORY IDEA READ MORE WESTMINSTER STORIES