---
A Griffin with a Challenge
A Griffin with a Challenge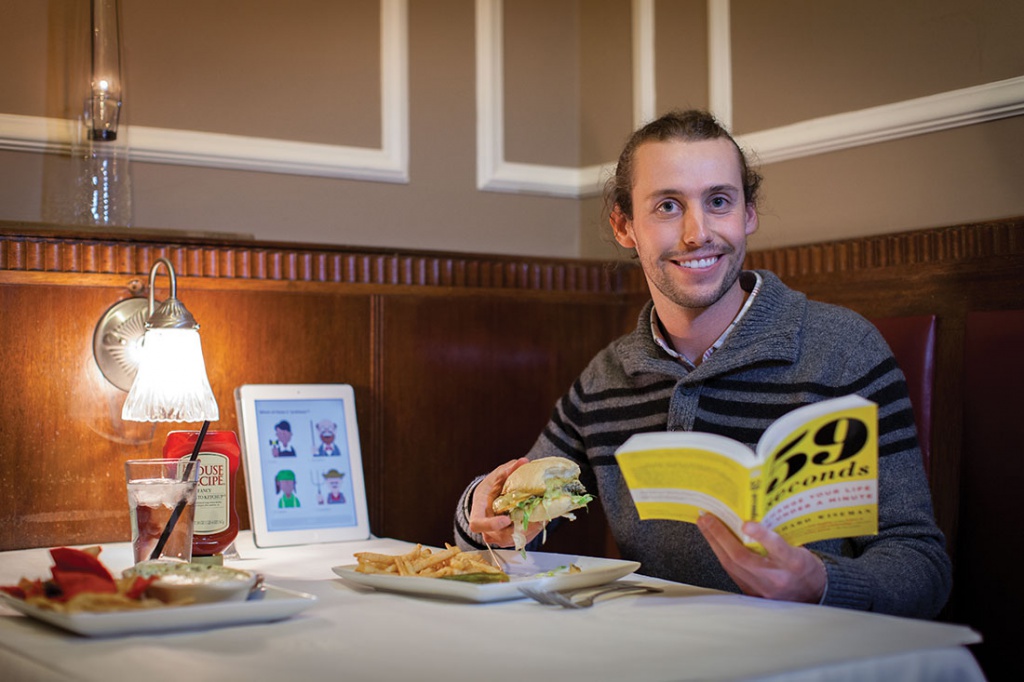 Chase Johnson dedicates himself to 30-day challenges that motivate and improve him
by Angie Merkley ('16)

It's been four days, and Chase Johnson ('10) hasn't eaten any processed foods.

He has 26 days to go.

This has been the toughest challenge Chase has done so far, which is saying something considering the many other 30-day challenges he's met. He began these trials almost a year ago after watching a Ted Talk by Matt Cutts titled "Try Something New for 30 Days."

"A challenge for him was writing a book," Chase says. "He whittled it down to writing 1,000 words a day. I always liked the idea of challenging yourself to grow and improve, so I adopted 30-day challenges." Chase exudes energy and inventiveness when it comes to his challenges. His motivation is contagious and makes those around him want to join in on the journey.

During his time at Westminster, Chase's outgoing personality led him to participate in student government. Yet, he didn't pay much attention to his studies until a friend motivated him to begin self-improvement practices.

"I asked him how he was so good at his job, and he said, 'You have to focus on the one thing in your life that is most important at that time,'" Chase says. "He said, 'You're in school; there's no reason why you shouldn't get straight A's.' After that, I had my first semester of straight A's." After completing his degree, Chase was recruited by an MBA alum to work at CHG, a healthcare staffing company.

Chase had practiced self-improvement in the past by giving up meat and alcohol during Lent. Four years ago, he adopted Meatless Mondays and No Tech Tuesdays. After seeing the Ted Talk, he decided to step it up a notch. Challenges Chase has completed include working out four times a week, writing in his journal every day, and—most recently—having a meal with someone different every day. He even created a spreadsheet to stay organized.

"Every day was a different experience," Chase says. "There were a few days when I didn't have anyone on the schedule, so I would improvise and ask someone from work to go. Some of those were the best lunches—the unexpected ones."

Chase has paired up with a friend to do challenges, and will alternate who picks the next challenge. "I didn't expect that people would want to do them with me," Chase says. "The fact that other people were interested surprised me. It's spiraled into something a lot bigger than anything I'd ever imagined."

Chase encourages others to get involved with the challenges. He says that habits begin to form after doing things for 30 days and can result in a long-term practice. "It's really easy to talk about something, but it's a lot harder to actually do it," Chase says. "You just need to commit to it. Talk is cheap, so just do it."

Keep up with Chase's challenges by visiting facebook.com/chasethejohnson.

Top of his bucket list: To visit a new country every year for the rest of my life

Dream job: I'm a big beer nerd. I would say, doing marketing for a brewery.

Favorite pastime: Watching and reviewing Sundance films

Role model/inspiration: Mark Ferne—he's accomplished a lot in his 40 years. Also, my friend Ray Bradford who received the Distinguished Alumni Award.

Dream destination: New Zealand—my parents came back blown away with how beautiful it was.
---
About the Westminster Review
The Westminster Review is Westminster University's bi-annual alumni magazine that is distributed to alumni and community members. Each issue aims to keep alumni updated on campus current events and highlights the accomplishments of current students, professors, and Westminster alum.
GET THE REVIEW IN PRINT STAY IN TOUCH SUBMIT YOUR STORY IDEA READ MORE WESTMINSTER STORIES