---
Westminster Pets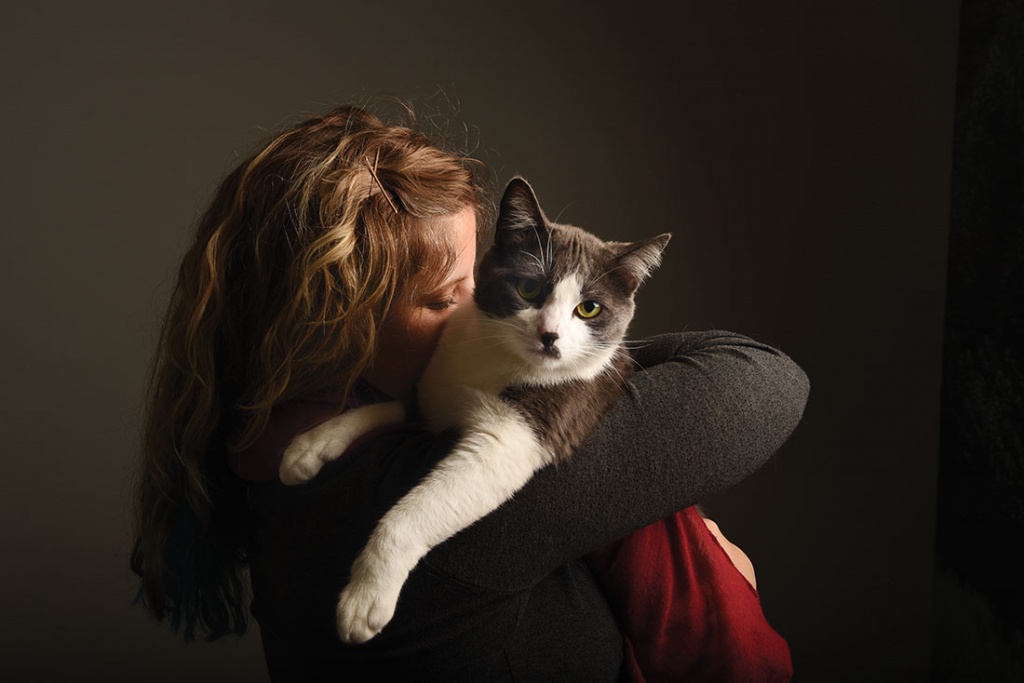 by Autumn Thatcher (MSC '15)

photography by Francisco Kjolseth
On most days of the academic year, faculty, staff, and students alike can be spotted walking their canine companions around the college's lush campus greens. The Westminster campus kitties are often spotted sunbathing on a warm summer day, and even llamas have made an appearance in Richer Commons.

There is an abundance of scientific evidence pointing to the health benefits animals offer their human counterparts: "Research has shown that most people report experiencing comfort from pets in times of stress. Studies have shown a decrease in anxiety, lowered diastolic blood pressure, and pain relief similar to that from acetaminophen for those who interacted with dogs therapeutically," says Westminster psychology professor and department chair, Jen Simonds.

The Dean of Students Office has noted the positive ways in which interacting with animals on campus has influenced students. Because of this, they hope to one day offer a certified therapy dog for students to work with as needed throughout the academic year. In the meantime, we introduce you to an alum who has dedicated his time to helping others through the unconditional love animals offer. And we showcase four four-legged griffins—and the humans associated with them—who are almost always on campus and ready and willing to brighten someone's day.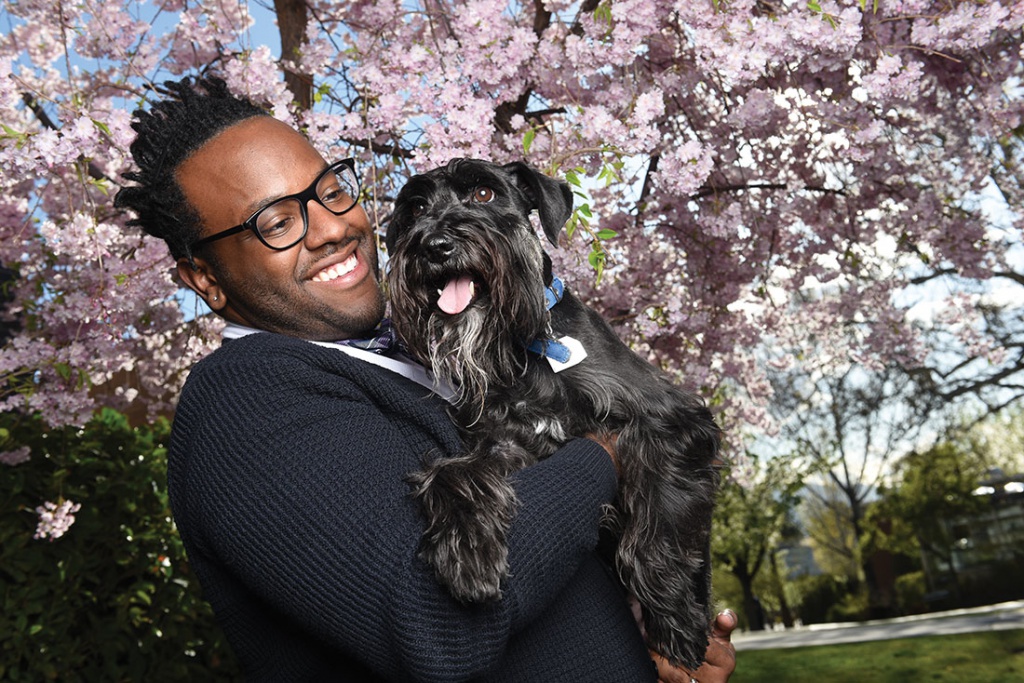 Karnell Black and Charlie
Assistant Dean of Students Karnell Black has worked at Westminster for over six years. Though his role has evolved since coming to the college, his time on campus has involved working with students in some capacity since day one. Every student on campus knows who Karnell is, and as popular as he may be, it's his dog, Charlie, who steals the show.
Meet Charlie
Age: Eight
Breed: Miniature schnauzer
Hobbies:

sleeping
watching The Real Housewives reality TV shows
getting loves
Favorite treats:
dried foods such as bananas and beets
homemade dog treats
Best trick: "Charlie knows how to do every trick in the book in order to get a treat: sit, stay, dance, roll over. When I don't tell him anything and have a treat, he goes through them all."
Charlie on Campus
"The big reason why I bring Charlie in is that he creates a different atmosphere. He is a calming presence in the office. When students come in and are having a hard week and see Charlie, he makes their day. Dogs have a good sense of when people aren't feeling their best: they provide more energy and love for that person. I bring him in every year during finals week, and it's surprising how many students ask for Charlie: he gets more attention than I do."
Animals on Campus
"It de-stresses our students a lot and provides a connection to home. I think it helps our students feel more connected to campus. A big piece of it is the stress and pressure on our students. When they get to hang out with Charlie, everything goes away."
Being Mindful
"One of the things that we require is that dogs be on leashes. If there are students who are allergic or may have a religious reason of why they can't be around dogs or even have their own personal experiences, that allows us to be mindful so that the dog doesn't go running off. In our office, I always ask our students if they are okay with having the dog in the office. I actually put a sign up on the front door that says, 'Charlie is in; he's friendly.' In that way, students can be aware that he is here so they aren't caught off guard. People can request for the dog to be put away, and we are respectful of that. We do a good job to make sure that we are cognizant that not everyone likes dogs."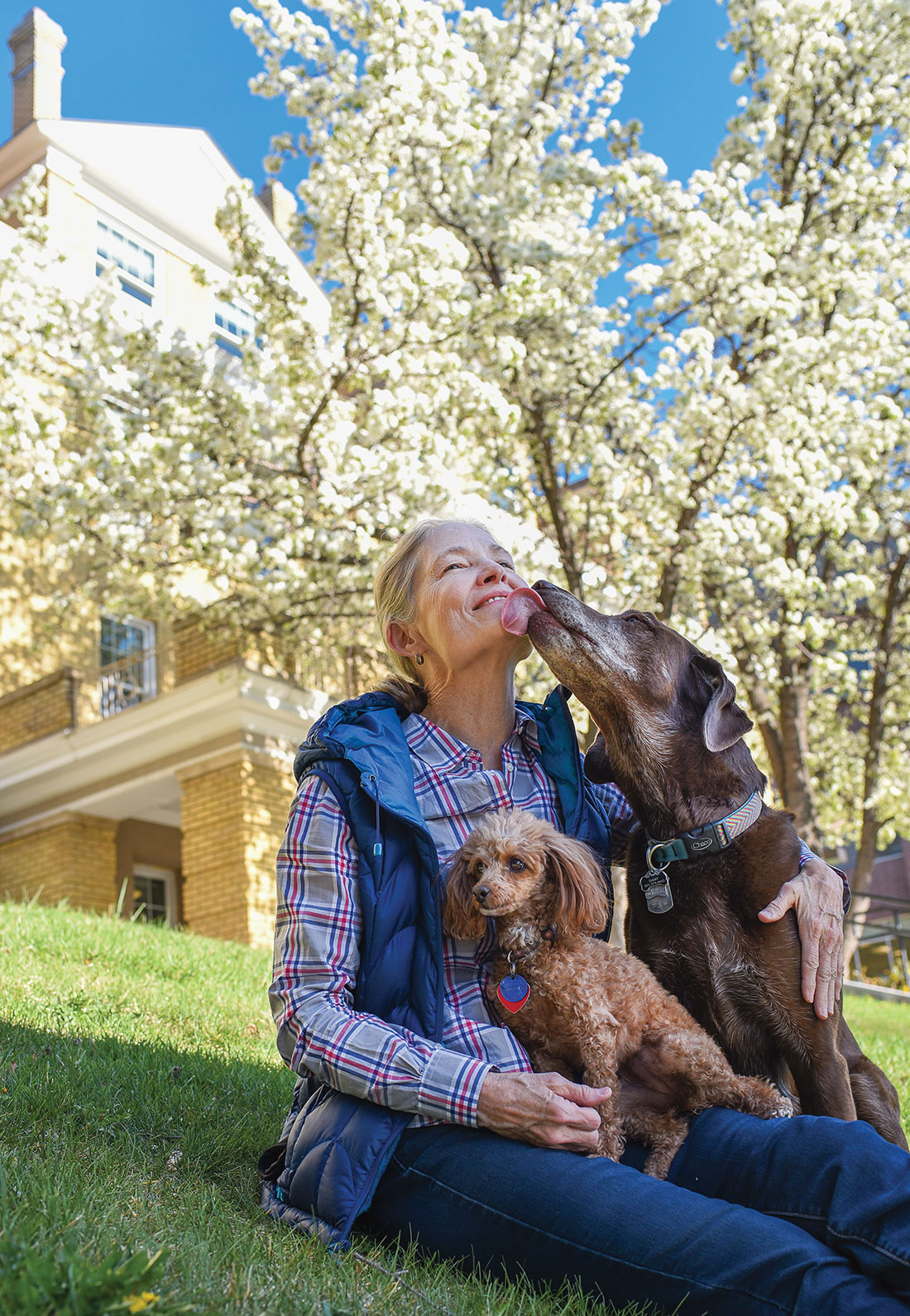 Carolyn Connell, Daisy, and Lucy
Math professor Carolyn Connell* has been at the college for many years, and few who have interacted with her would remember seeing her without a toy poodle by her side. Carolyn began bringing her toy poodle Jenny to campus years ago. Jenny earned such a reputation that she was given an award by staff members for her service to the college. Carolyn has seen firsthand the benefits having a dog in her office has offered her students. One memory that stands out for her is when she brought Jenny to class and witnessed a transformation in one of her students.

"I had a really shy student who wouldn't say anything in class or speak to anyone. Midway through the semester, I brought Jenny to class with me, and she wanted to hold Jenny. It was like night and day: she seemed to open up to others in the class," says Carolyn.

Though Jenny has since passed, Carolyn continues to bring joy to her students through her officemate, Lucy, and chocolate lab, Daisy, who Carolyn acquired when her son left for medical school. Cheyli Sylvester ('19), one of Carolyn's students, says that Daisy's presence in her trigonometry class made everyone feel better. "It made the atmosphere nicer. If you were having a bad day or were late, she would come lie next to you. It was a relaxed environment," says Cheyli.

Daisy now stays in Carolyn's office with Lucy, but the requests to have her back in the classroom are still being made.
Meet Daisy
Age: Nine
Breed: Chocolate Labrador
Hobby: Theft of anything edible—and nonedible—is her number-one hobby.
Favorite treats:
Homemade dog biscuits
Any food item at least six feet off the floor
Best trick: being sneaky
Meet Lucy
Age: Six
Breed: Toy poodle
Hobby: Shredding homework
Favorite treat: Cheese
Daisy and Lucy on Campus
"Lucy stays in my office. I began bringing Daisy during the 2015 Fall Semester. At the time, she was new to being in the office and would scratch and whine if I left her, so she went to all of my classes. Everybody on campus seemed to know her. I would pass people on campus who would say hello to Daisy and know her name—and I didn't know who they were. Now, I am only taking her to one of my classes."
The Humanizing Effect
"The dogs help the students feel like we are approachable. After all, if we have dogs, we are real people. I hear from a lot of students that they miss their dogs because they are away from home. If there is anyone on campus that doesn't like dogs, I haven't found them."

*Carolyn Connell retired after this story was written. We wish her the best in her future endeavors.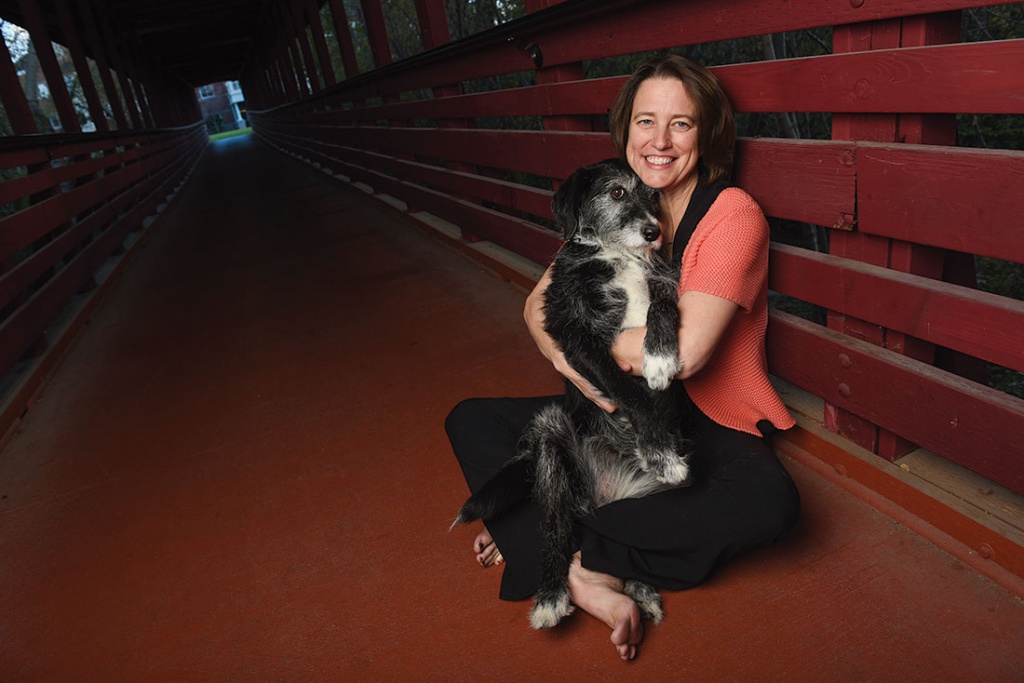 Bonnie Baxter and Mesa
Bonnie Baxter, professor of biology, adopted Mesa eight years ago and has been bringing her to campus ever since. Mesa has worked her way into the hearts of faculty, staff, and students alike; and she helped Bonnie teach students about the concept of genetics.

"We had a project in my genetics class where we were swabbing the mouths of mixed-breed dogs on campus and trying to identify their ancestry," Bonnie says. "That was such a success that I started working dog genetics into my genetics class every year."

Mesa's wiry hair and warm eyes will melt the heart of anyone who meets her, and though she is popular, she never lets it get to her head.
Meet Mesa
Age: Nine
Breed: Mixed terrier
Hobby: Biscuit collecting
Favorite treat: Salmon biscuits—formerly acquired from the Arts and Sciences office. Mesa hopes the salmon biscuits make a comeback in Foster Hall.
Best trick: High five
Connecting with Students
"The thing I will cherish always about having a dog on campus is the impact she has on students when they are having a hard time. I have so many experiences of having students drop by to lie on the floor with her because they are stressed out, or broke up with their significant other, or are worried about getting into medical school. When I look back at what it meant to have my dog on campus, I will imagine student after student getting comfort from her. It really is from the heart."
Teaching Lessons
"Dogs are really social animals, and they teach us how to behave in social groups. They are much better at it than we are. They help us get along and work together because they exude that community spirit. They remind us that we are part of the animal kingdom and that we work in packs just like they do."
Animal Etiquette
"It's really important that the dogs we have on campus be well-behaved and friendly. The staff and faculty have been responsible in making sure of that."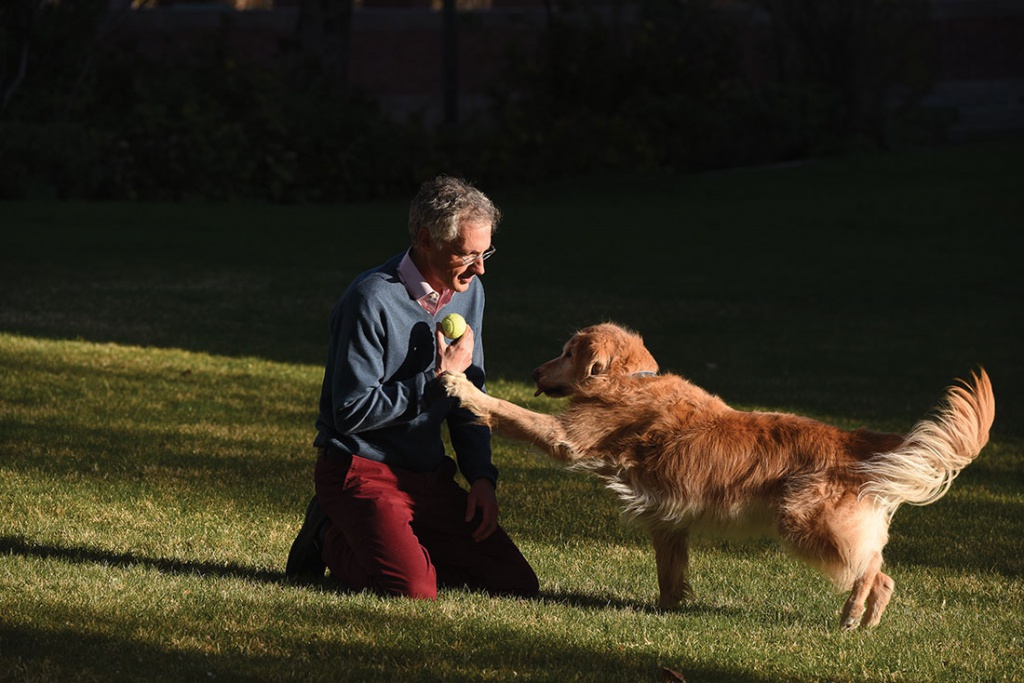 Richard Badenhausen and Scout
When Honors program director Richard Badenhausen's son was 10 years old, he reminded his father of the deal they made when he was two: once he reached 10, they would talk about getting a dog. Richard kept his promise, and the family visited the local Companion Golden Retriever Rescue group to find the perfect dog and give it a forever home. The dog who would become the Badenhausen's new family member was nearly bald and covered in sores. She was perfect. Ten years later, Scout has a full coat of soft, golden hair; a family wrapped around her paw; and a slew of Honors students who couldn't imagine the program without her.

"She is part of Westminster," Richard says. "She has lived in Nunemaker longer than any human being other than me. She goes with the building and is a recruiting machine."
Meet Scout
Age: 12
Breed: Golden retriever
Hobby: Mastering her ball fixation
Favorite treat: Bread (she is a carb-loader)
Scout: The Canine Honors Member
"The vast majority of Honors students have pets that they have left at home. Scout will get quite a few visits—particularly those first few weeks when students are missing home. Students will come by and walk her around campus and get a little animal time. She is very placid, so she has a calming influence."
Humanizing Professors
"I think animals can potentially humanize professors who might be intimidating. Having them here brings a little bit of joy to campus—where it can be high-stress—and relaxes the environment. It introduces a sense of play into the environment. Also, at least for my own children, animals teach us empathy in crucial ways. I think the students paying attention to animals around us are a little more empathetic."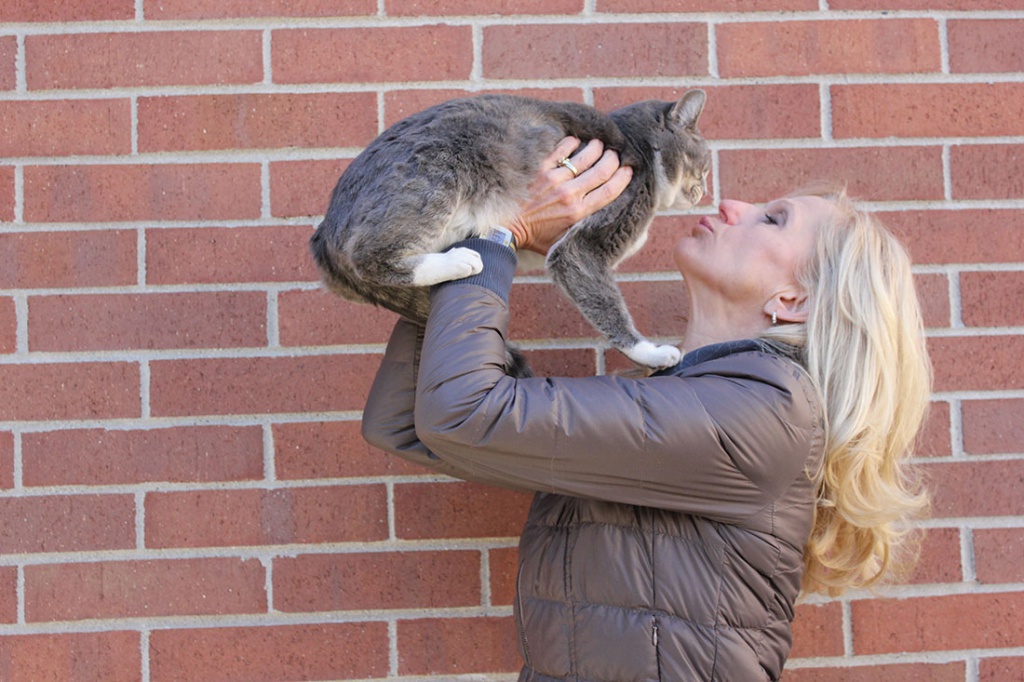 Syd Tervort, cat champion
If you are walking around campus on a warm, sunny day, chances are you may stumble upon one of the chubbiest feral cats you've ever seen. Westminster is home to three feral cats that are primarily cared for by Syd Tervort, managing director of financial affairs. The most commonly spotted cat is Mama, a gray cat who was discovered on campus four years ago with two kittens. Syd began feeding Mama when she realized that she and her babies were starving. In addition to providing them with nutrition, Syd set up a feral-cat housing unit for the cats to have shelter. One of the kittens went missing; but Sweet Pea, a striped male, stuck around with Mama. Syd was also successful in trapping the cats through a safe feral cat trap and getting them spayed and neutered to prevent future homeless cats. Sampson, a large Maine coon, stumbled upon campus two years ago. Since Sampson is likely a purebred, Syd can tell that he was abandoned. He has been alone in the wild long enough that he relies on his feral instinct to survive, but Syd believes if someone were to adopt him, he would ultimately be happier.

Taking care of the cats is a job Syd volunteers for. She purchases their food and even comes in on days off to make sure they get fed. "I love them and am very close to those cats," she says. "I can't imagine not taking care of them."

Now, four years later, the cats have become part of Westminster. If someone wants to pet them, then they should spend time with Syd to get to know them. The campus kitties have a presence that lends itself to many photos on social media and even a Facebook page.

"For people who like animals, it makes them happy to see the cats, and it brings a calming effect to the atmosphere," Syd says. "We are a place that takes care of its pets, and people seem to enjoy the fact that they are here."
Resources
If you find a cat that is obviously lost or abandoned, then the shelters are the best choice to get that cat home.

If you want to provide shelter to keep a feral cat warm, Best Friends Animal Society offers free feral-cat shelters.
Forrest Cuch, RAIN Utah
"I felt this compulsion to hug the horse called Shadow," Forrest says. "I reached around his neck, and his heart was located behind his shoulder, and I pressed my heart there, and I felt this powerful pull from my chest. It was like taking something deep within my soul that hurt and was heavy, and lifting it. I felt different: something happened, and I couldn't explain it. I looked at the horse, and he had tears coming down on the side where he lifted all the sorrow from my chest. That was the beginning of our use of the horses."

After his life-changing encounter, he made the decision to use the horses as a way to help others recover from trauma.

"I opened the doors first to my people because there has been no effective program for them," Forrest says. "There's a tremendous amount of societal and familial dysfunction. A lot of it has to do with historical trauma. We do what we can to help people, and the best way we do that is our horses."

RAIN Utah focuses its efforts on working with Native Americans but is open to anyone who would like to work with Forrest and his wife, Shauna, to heal through energy training, meditation, healthy eating, yoga, and of course, working with the horses. An equine experience with RAIN Utah consists of learning the techniques of working with the horses through establishing boundaries and learning how to approach the horse. This establishes love and respect between the person and the horse.

"My wife and I teach people to release their fear, and then once that's out of the way, the horse's energy pulls the emotions forward," Forrest says. "People have to choose: do I want to deal with this, let go of it, or hold on to it? Each person is different in what they're going through in their lives. The horses seem to know, and they take care of it from there."

Forrest has witnessed incredible healing experiences through working with his horses. As a result of the work being done at the RAIN Utah ranch, he has also seen an increase in visiting wildlife.

"Animals are connecting to us more and more," he says. "The birds will sometimes be in the healing grove, and we will get messages from them that things are good or something's not right or we need to meditate and focus. A lot of times, it has to do with reminding us to be in the present: that's where all the miracles happen."
---
About the Westminster Review
The Westminster Review is Westminster University's bi-annual alumni magazine that is distributed to alumni and community members. Each issue aims to keep alumni updated on campus current events and highlights the accomplishments of current students, professors, and Westminster alum.
GET THE REVIEW IN PRINT STAY IN TOUCH SUBMIT YOUR STORY IDEA READ MORE WESTMINSTER STORIES