---
Singapore Math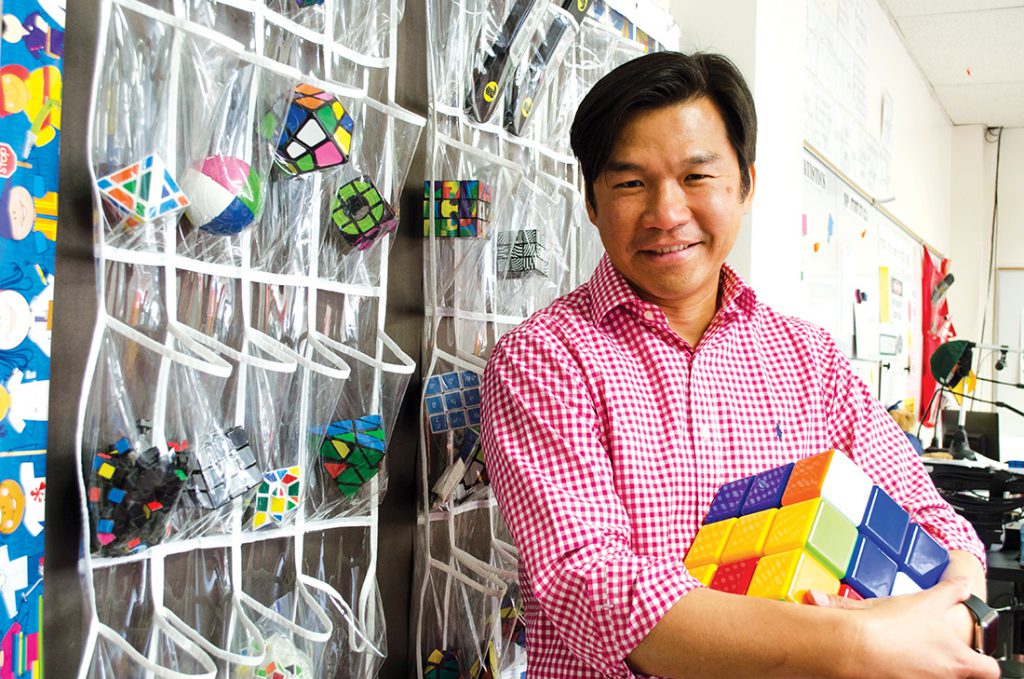 Alum uses Westminster education to help his students succeed
by Kayla Smith ('07)
In 2000, Jonathan Hsu ('05, MEd. '13) had just completed his military obligation to his home country of Singapore. Armed with a mechanical engineering degree, he was unsure where to go in life. "I was trying to figure out what to do next," Jonathan says. "I knew I wanted to explore the world."
At a scuba-diving conference with a friend, Jonathan met the couple who would eventually become his host family in the United States. Jonathan's new friends invited him to come to Utah to learn how to dive. Despite his great fear of water, Jonathan couldn't pass up this opportunity.
Upon arriving in Utah, Jonathan began teaching Asian studies and math at a private elementary school. He had developed an interest in teaching while helping his engineering classmates during study group. "I wanted to make a difference," Jonathan says.
When the elementary school closed in 2009, Jonathan found himself unemployed and without a green card. "I was very worried I would have to swallow my pride and return to Singapore," Jonathan says. Luckily, his green card arrived at the last-possible minute.
He wanted to teach high school math, but felt that his engineering degree did not prepare him enough, so he went back to school. "I knew if there was any place that could make me better, it was Westminster," Jonathan says.
Upon completing a bachelor's degree in mathematics, Jonathan enrolled in Westminster's Master of Education program.
"Respect is given to teachers in Singapore," Jonathan says.
"They set the standards high; you either achieve, or you don't. In the US, teachers must earn students' respect."
Jonathan credits the faculty at Westminster for helping him bridge the differences between the education he experienced and the environment in which he must teach. "They molded me into the teacher I am. My professors accepted me, pushed me, and allowed me to grow," he says.
Math can be a challenging subject to teach. "Many have math anxiety," says Jonathan. He uses games and puzzles to help students enjoy math—and is known for the Rubik's Cube collection in his classroom. But, most importantly, he finds ways to support his students in reaching their goals. "Westminster taught me that you can set high standards for your students, but as a teacher, you support your students to help lift them to their potential," Jonathan says.
Jonathan's methods work. In 2016, he was voted most inspirational teacher at Judge Memorial Catholic High School by the students. "Support is one of the most important things I give my students—and it is a support that would not be possible without my Westminster experience," Jonathan says.
---
About the Westminster Review
The Westminster Review is Westminster University's bi-annual alumni magazine that is distributed to alumni and community members. Each issue aims to keep alumni updated on campus current events and highlights the accomplishments of current students, professors, and Westminster alum.
GET THE REVIEW IN PRINT STAY IN TOUCH SUBMIT YOUR STORY IDEA READ MORE WESTMINSTER STORIES