---
Vocal Inspiration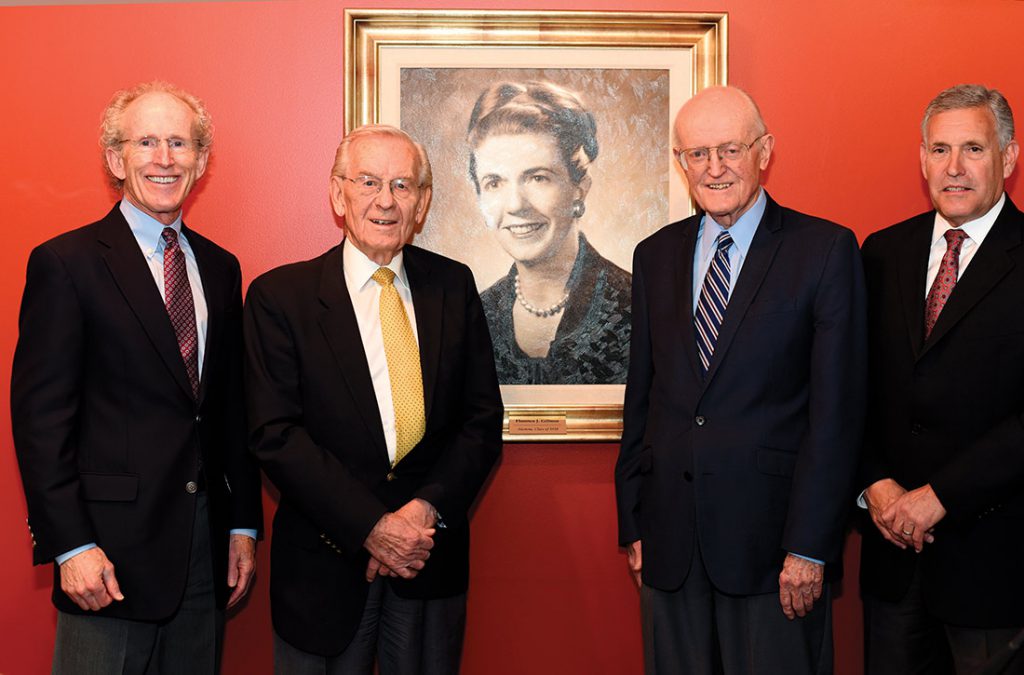 The Gillmor School takes (and builds) the stage
by Jeff Driggs
A multimillion-dollar gift from a foundation established by a Westminster graduate results in both a name change for the college's music program and the expansion of its performing and fine-arts facilities.
The Florence J. Gillmor Foundation, established by former music student and vocal artist Florence Gillmor ('38), is contributing $3.6 million to rename the program the Florence J. Gillmor School of Music. This is in addition to more than $4 million in commitments the foundation is providing for scholarships, faculty, and operations for music programs on campus.
The $3.6-million gift is going toward the construction of a three-story, 20,000-square-foot expansion of the Jewett Center for the Performing Arts and the Emma Eccles Jones Conservatory. The expansion will extend south of the current facility into the open area between the existing building and Payne Gymnasium. The new addition will include a 100-seat recital hall; a classroom and performance studio for dance, music, and theatre; a lobby and grand staircase for receptions, art shows, and other gatherings; a rehearsal hall for small musical ensembles, student-directed plays, and one-act shows; music practice rooms; and a secured art gallery.
"Over the past several years, the performing and visual arts programs at Westminster College have flourished, due in no small part to generous donors like the Gillmor Foundation," says Stephen Morgan, president of Westminster. "We are now poised to become some of the finest performing arts programs in our region. The final piece needed to achieve this goal is to enlarge our physical facilities to better serve our students in these programs."
Nearly $7 million has been pledged to this $13-million expansion, with additional private donors being sought. Visitors to campus can now see the name Florence J. Gillmor School of Music prominently displayed in the existing facilities.
"We are extremely grateful to the Gillmor Foundation for its exceptional support," says Christopher Quinn, the Florence J. Gillmor professor of music. "The scholarships the foundation is providing have enabled us to enroll extraordinarily talented musicians in the Gillmor School of Music, and the foundation's support for our programs—and now the building expansion—is ensuring that we can offer outstanding educational experiences to these young artists."
As a student at Westminster, Florence Gillmor trained in piano and voice, and performed in many concerts, recitals, and plays on campus. She later supported the college's music program for decades and established a charitable foundation designed to assist Westminster and other causes dear to her heart. Now operated by attorneys James B. Lee, Robert M. Graham, Raymond J. Etcheverry, Francis M. Wikstrom, and David R. Bird, the foundation has provided Steinway pianos in Westminster's music teaching studios, a music program fund, music festivals and voice camps for high school students, studio opera productions, and $150,000 per year in music scholarships.
"It is only fitting," President Morgan says, "that this program Florence loved and nurtured throughout her life now bears her name."
---
About the Westminster Review
The Westminster Review is Westminster University's bi-annual alumni magazine that is distributed to alumni and community members. Each issue aims to keep alumni updated on campus current events and highlights the accomplishments of current students, professors, and Westminster alum.
GET THE REVIEW IN PRINT STAY IN TOUCH SUBMIT YOUR STORY IDEA READ MORE WESTMINSTER STORIES