---
Path Unwinding

Students and alums reflect on their personal expeditions
by Autumn Thatcher (MSC '15)

On August 23, 2017, 14 students and professors Brent Olson and Jeff Nichols loaded two vans and a couple of trailers with backpacks, books, and camping gear and hit the road. The group embarked on Westminster's Expedition Semester: a road trip designed as an exploration into issues at the heart of the contemporary West. The class traveled roads winding through the American West and visited iconic, protected sites like Yellowstone and Glacier national parks, as well as contentious places like Little Bighorn and Malheur Wildlife Refuge. They also visited working landscapes such as the Butte Copper Mines and communities from present-day Native nations to New West towns like Bend, Twisp, and Moab. Throughout the semester, the students engaged in conversations with one another and reflected on what they had learned when meeting individuals whose livelihoods were influenced by discourse surrounding the places in which they lived.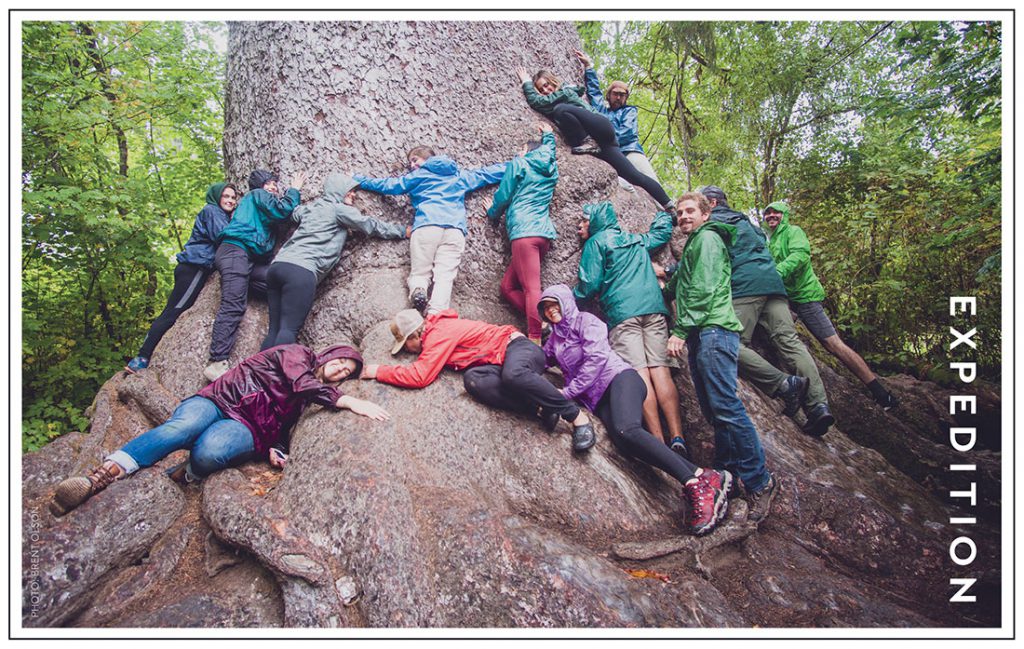 The first of its kind, the Expedition Semester took students out of the classroom to the frontlines of political controversies, where they learned firsthand why decisions matter, who is affected by them, and why sometimes the answers to conflict aren't as simple as they may seem. The students were encouraged to step outside of themselves and be open to learning, to ask questions and confront their own opinions and perceptions, to learn in a way that has the potential to transform them into different versions of themselves.
"The Westminster experience is about moving towards a meaningful life: learning who you are and what that's going to mean for how you live in the world," explains environmental studies professor Brent Olson, who developed Expedition Semester with history professor Jeff Nichols.
Similar to insights gained during the Expedition Semester, stories of students and alums who seek to live meaningful lives are at the core of the Westminster experience. The journey that students are on when they begin their first day of classes evolves, often changing course and resulting in the discovery of passions that Westminster helped reveal. Like the 14 students who traded the classroom for the road, every individual embarks on his or her own personal expedition—a journey toward a greater goal, the bigger picture, the better person. Two alums, Maryam Hosseini and Ben Rackham, have been on this type of unique journey.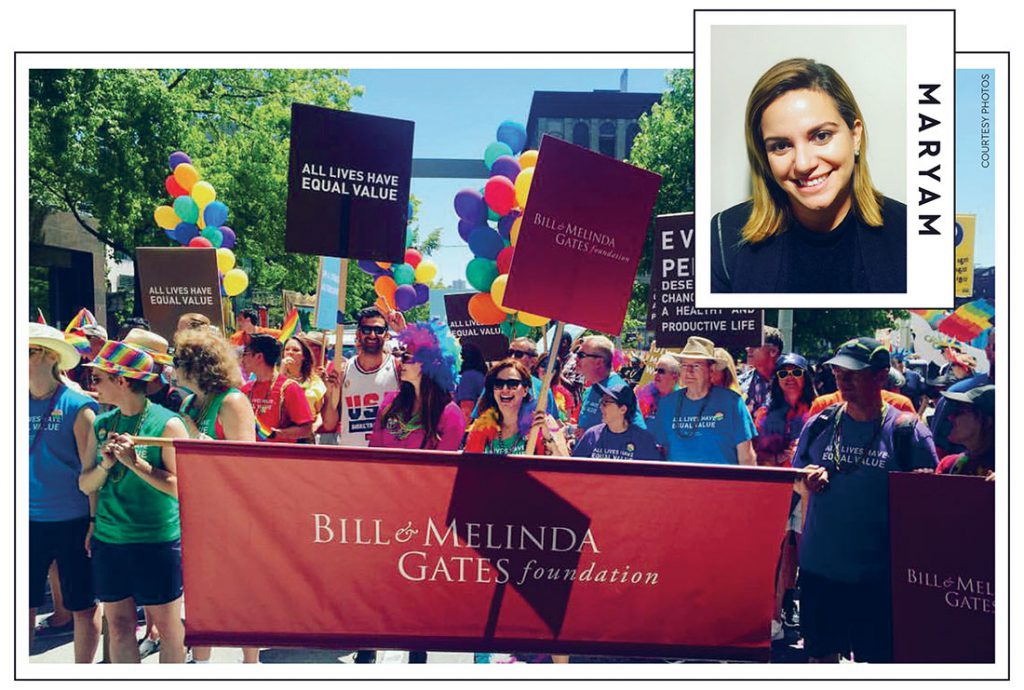 Maryam Hosseini (MPC '14) was in high school when she boarded a plane in her home country of Iran to move to Salt Lake City, Utah. She taught herself English on that plane and braced herself for a whirlwind of change. "High school is hard enough," Maryam says. "Imagine being a bushy-browed, non-English-speaking girl who dresses weird. In Iran, I was a cool kid."
Maryam explains that many immigrant stories follow similar paths. Hers involved struggling through high school to fit in among a sea of students who looked nothing like her— and who showed little interest in learning about her. After high school, Maryam enrolled in classes at the University of Utah, where she studied communication. Five years after earning her bachelor's degree, Maryam had the desire to return to higher education and work toward a master's degree. In thinking about where to apply for graduate school, she recalled a few classes at the University of Utah that she took from James Hedges.
"I was the most engaged and challenged when I took a rhetoric class from my most beloved communications professor, James Hedges," Maryam says. "He was a comm god—really smart. I consider him the person who ignited my love for communications."
Maryam had learned that James was teaching at Westminster and was one of the faculty in the Master of Professional Communication (MPC) program. She went to an MPC open house, met Helen Hodgson, and didn't look back.
"It felt like the stars were aligned," Maryam says. "I got into the program, which I was super delighted about. I am the first person in my family to have a master's degree. From a statistics and equity perspective, it was a pretty proud moment for me."
As Maryam was navigating her way through the professional world and higher education, she had her sights set on the Bill and Melinda Gates Foundation. She saw it as an organization that she was meant to be a part of.
Prior to attending Westminster, Maryam had landed a job with CHG Healthcare Services. Maryam loved her job at CHG and experienced personal and professional growth during her time with the organization. Her role was to enhance the employee experience, and eventually, she inspired the creation of a new position for the company as culture manager for the corporate culture team. "It was so fun—probably one of the best jobs I ever had," Maryam recalls.
Maryam evolved in the classroom as well. At Westminster, she experienced the interactions with her peers that she had hoped for as that teenager teaching herself English on the plane. The students in her small classes cared. They were curious about her culture; they were interested in learning more about her and the life experience she had to offer.
"My experience at Westminster was more in line with what I hoped my education would be like in America," Maryam says. "Westminster—and going to the MPC program—changed the trajectory of my life because, through the experiences and the connections I made, I learned more about myself. That was the only space that provided that for me as an adult."
Shortly after graduating from the MPC program, Maryam moved to Seattle. She continued to work remotely for CHG, and, although she loved her job, she decided to take a big risk.
"Leaving CHG was one of the biggest career risks I could have taken," Maryam says. "I was already a leader; I paved my way. I built two small teams, and CHG was willing to help me manage this remote career. I loved this job so much. It was a big risk to leave and go to REI."
Maryam spent one year at REI before realizing that she had taken a risk and failed. But taking the risk led her to embark on a new path in her personal expedition, one that prompted her to search job listings for the Bill and Melinda Gates Foundation. She had always envisioned herself working in programs for the foundation, but her vast experience at CHG and her communication degrees made her the perfect candidate to apply for a communication specialist position at the foundation.
"I am an associate communications officer for the Bill and Melinda Gates Foundation, the world's largest private family foundation," Maryam says. "I work in the capacity that I studied at Westminster. I had been gone from Westminster for two years, but the first people I thought to email when I got the job at the foundation were my Westminster faculty."
Maryam recently celebrated her two-year anniversary with the foundation. She describes her experience working for the foundation as both amazing and heartbreaking. "It's amazing because of the scale: an average of $4 billion a year is given to global causes. It's heartbreaking because it exposes you every day to the world's most complex problems and how we as a foundation are not going to be able to solve all of them," Maryam says. "We call ourselves impatient optimists. I always tell people it's like working with 1,500 valedictorians: everyone is smarter than you and more accomplished than you, so it teaches you humility. I have loved it very much."
Maryam reflects on the big risks that she has taken throughout her life, beginning with immigrating to the United States. Her expedition is one that, like many others, has had its ups and downs. She has had moments of feeling alone and times when she failed. But each twist and turn have given her new perspective, prompted more courage, deepened her ambition, and fueled unrelenting resolve.
Her expedition has only just begun. Maryam says that she plans to continue working for the Bill and Melinda Gates Foundation for as long as they will have her. Looking toward the future, she hopes to one day start an NGO of her own, one that supports access to education for young girls around the world. She says that Westminster speaks to the theme of her personal expedition: a passion for advocacy work.
"Westminster gave me perspective. It allowed me to bring my whole self to a place I cherished and liked. I could weigh in and learn on a one-on-one level. I learned self-reflection from my peers. To be able to learn like that taught me so much about myself as a human being, about empathy and understanding—all of those things that make your personal journey more meaningful."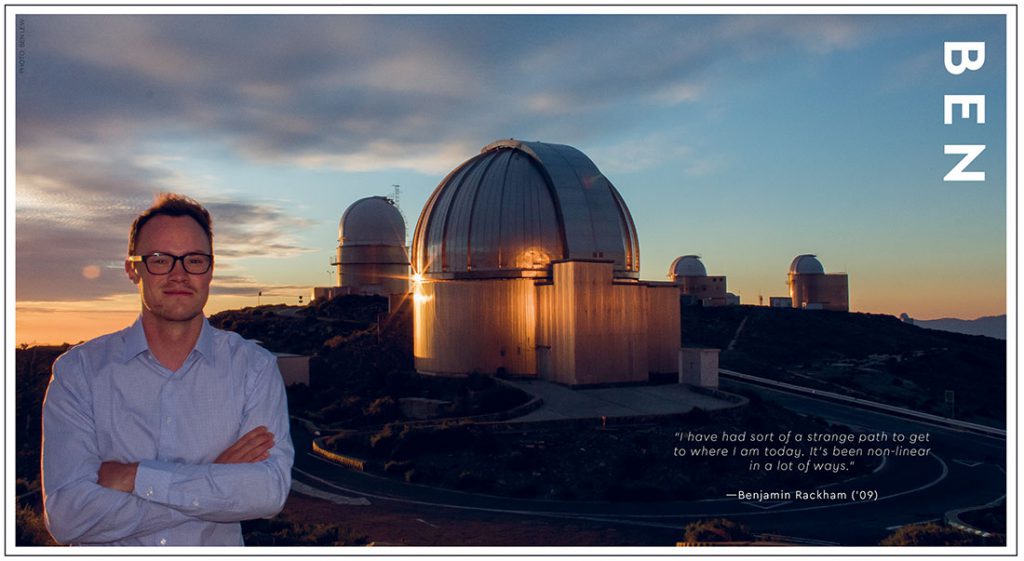 Honors alum Benjamin Rackham ('09) says that, like many, his personal expedition has changed courses throughout his life. Ben is completing his PhD in astronomy and astrophysics (with an emphasis on astrobiology) at the University of Arizona, where he is working on refining techniques for observations of the atmospheres of extrasolar planets. These types of observations will provide an opportunity in the coming decades to answer one of life's biggest questions: is there life out there? Ben became fascinated by this question after graduating from Westminster.
"I was really focused on my independent study. I was free for the first time to read whatever I wanted with my spare time. I realized that all I wanted to learn about were physics and astronomy. The thing that really interested me was this question of 'Are we alone in the universe?'" Ben says. "The tools at Westminster that fostered my curiosity led me to reading about this and deciding that the most interesting thing I could be doing is somehow working toward answering that question."
Ben will complete his doctorate this summer—an unexpected accomplishment when he thinks about his own expedition during his years at Hunter High School in West Valley City, Utah. "I never really applied myself," Ben says. "Then, somewhere around the end of junior year, I decided I was going to take some AP classes and see if I could do it."
He could, in fact, do it. Ben began applying himself in his AP classes in high school, and then, when he learned about Westminster's Honors College through a recruiting event at his school, he determined that would be the next bend in his path.
"I have had sort of a strange path to get to where I am today. It's been non-linear in a lot of ways," Ben explains. "It's not a direct shot from where I was to where I am now, and to where I think I am going to go. But Westminster has played a role in that and is a stepping stone."
Ben was accepted into the Honors College at Westminster, where he began his academic career as a psychology major.
As he navigated his way through Honors, Ben's exposure to combining different subjects in faculty team-taught environments not only introduced him to new subject matter such as neuroscience, but it also enabled him to take his interests in one field and cross over into another, both at Westminster and beyond.
"I knew science was what I was interested in, so I thought neuroscience was a great way to try out a little of all of it. By the end of my senior year, I was really excited by science and— through all the other experiences at Westminster—I knew that I wanted to do something to help people," Ben says.
He adds that the logical next step after Westminster was medical school, but Ben realized that medicine wasn't quite what he was looking for. He took a few years to think about his next steps and continued to explore subjects such as astronomy and physics, interests that were piqued by a lecture he had attended on campus.
"At Westminster, I attended one evening lecture by Bonnie Baxter, who talked about this idea of astrobiology, a collection of different fields that all inform our understanding of the origin and extent of life in the universe. She was studying halophiles in the Great Salt Lake in the extreme environment that they inhabit as potential analogs for other extreme environments in our solar system or beyond where we might find life similar to halophiles," Ben says.
Ben worked with the Utah Department of Wildlife after graduating, leveraging his experience conducting neuroscience research with professor Brian Avery, using brine shrimp as a model organism, to a position conducting brine-shrimp surveys at Great Salt Lake. When he wasn't working, he was reading. He reflected back on Bonnie's lecture and realized that the work she had been doing related to his question of life beyond the planet Earth. He reached out to contacts that Bonnie had given him to find out how he could go about finding answers to this question using the education and experience he had gained at Westminster. The answer was more physics and astronomy classes.
"My real interest in this diverse field was working on the detection of life elsewhere. That, primarily, is the realm of astronomers. I ended up taking additional undergraduate classes from Pima Community College down here in Tucson while working full-time as a biologist and made my moon shot: sent out applications to astronomy departments that had some focus on astrobiology. I don't think anybody had ever seen somebody with a neuroscience undergraduate degree trying to get into an astronomy PhD program. I got a lot of weird looks," Ben laughs.
As he was applying to PhD programs, Ben used the collaborative environments in which he had thrived at Westminster as his selling argument in interviews for doctorate programs— and it worked. "I focused my applications on how astrobiology at its heart is an interdisciplinary practice. To answer questions that we haven't been able to answer before, we have to combine different disciplines and draw on strengths from different approaches. That was something that I had drilled into me at Westminster," he says. "I told them interviews that 'What you folks need is somebody who knows how to combine disciplines, and that is what my training is in.' The argument worked for at least two of those applications."
After completing his doctorate, Ben plans to do two or three short stints as a post-doc using existing ground- and space-based telescopes to characterize the atmospheres of known exoplanets. Ultimately, he wants to find a job where he can work with students and participate on the science team for the next generation of NASA space missions, such as the proposed LUVOIR or HabEx space telescopes, which will be able to probe the atmospheres of temperate, rocky planets around other stars for molecular indicators of whether these planets are inhabited by some other life.
Ben says that seeking to answer big questions related to life requires remembering that life is one big open question. He often has to take a step back and look at the bigger picture—something that, like his personal journey, is subject to change.
"I have always struggled with explaining how I got to where I am today," Ben says. "It's hard to weave a very coherent thread because I have had such different experiences. What's been important to me is expanding my horizons. Westminster was a time when I greatly expanded my horizons. I learned a lot about the world and different ways to be in the world. We were encouraged to be bold and ask big questions. That's the basis of a lot of different things that I did at Westminster, and that gave me the confidence to be bold after Westminster."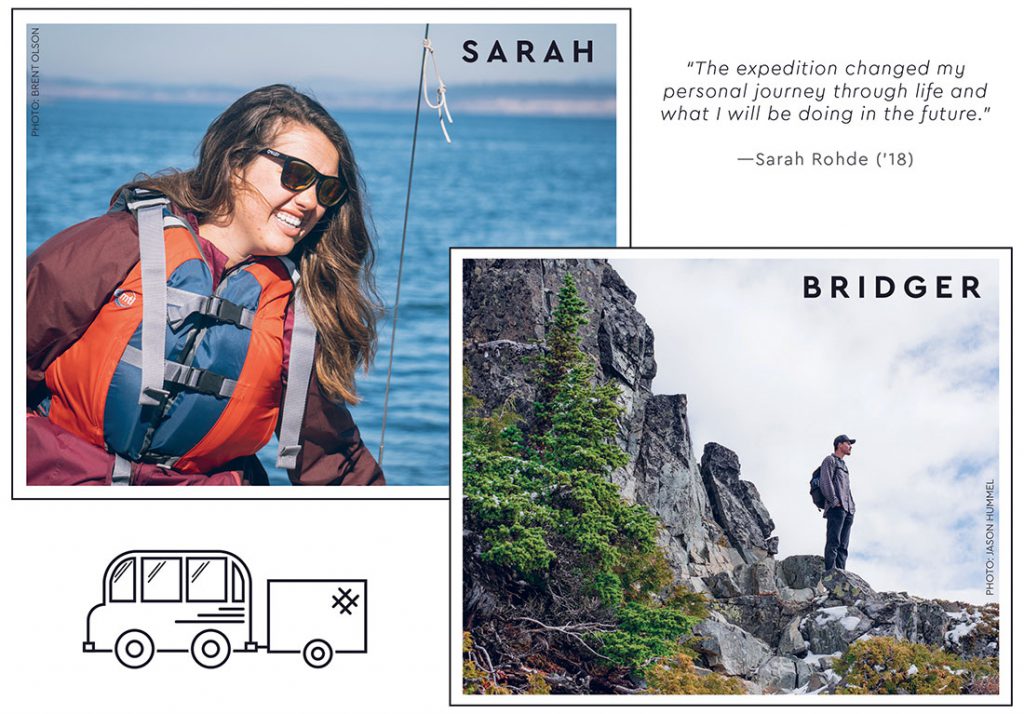 Concluding their own exploration, on November 21, 2017, the Expedition group returned to Westminster College. The students pulled up in the same vans they had eagerly loaded three months prior. Upon their return, the students were changed. It was not just from living out of a backpack and a tent on the road: it was that in their effort to learn from other communities, these students became a community of their own. They forged a meaningful relationship built upon experiences that only they share. They learned to open their minds and truly listen. It was more than they had imagined.
"I think everyone on the expedition would say this: the actual expedition blew all of our expectations out of the water," remarks environmental studies major Sarah Rohde ('18). "The expedition changed my personal journey through life and what I will be doing in the future. It opened my eyes up to the importance of community and working in community with people. It changed the way in which I live and view the world."
Environmental civics major Bridger Layton ('18) agrees.
"We talked to numerous people who had really meaningful connections to their home landscapes and their local community," he says. "To see people who had planted roots in a place and jumped head-first into fighting the good fight to protect their home ground was really inspiring."
For Bridger and Sarah, both of whom graduate from Westminster this spring, the Expedition Semester inspired a new path in their individual journeys: Sarah plans to pursue law school to help protect land belonging to Native tribes. Bridger will search for meaningful work in the environmental education field—and is interested in shaping the future through teaching.
"My time at Westminster opened my eyes to the fact that there are nearly eight billion people in the world, and every single one of them has a different lived experience," Bridger says. "To attempt to understand the perspectives of each and every one of those people is unrealistic, but making an effort to understand the world through the eyes of other people is valuable and important."
The Expedition Semester encouraged students to be curious, to ask questions, to engage in discussion with one another. It's an approach that speaks to the heart of a Westminster education, paving the way toward futures led by passionate alums.
"The core of any good expedition or exploration is curiosity about what's already there," Brent says. "If you don't know where the limit is, why not keep walking toward it? One of the guest speakers we talked to on the expedition spoke about living a life of curiosity in the natural world. He talked over and over about not walking to something, but walking toward it. This expedition was a process of walking towards fully and deeply engaged learning. If the process works, trust the process. Move toward something you believe in."
---
About the Westminster Review
The Westminster Review is Westminster University's bi-annual alumni magazine that is distributed to alumni and community members. Each issue aims to keep alumni updated on campus current events and highlights the accomplishments of current students, professors, and Westminster alum.
GET THE REVIEW IN PRINT STAY IN TOUCH SUBMIT YOUR STORY IDEA READ MORE WESTMINSTER STORIES