---
The Legacy Lives On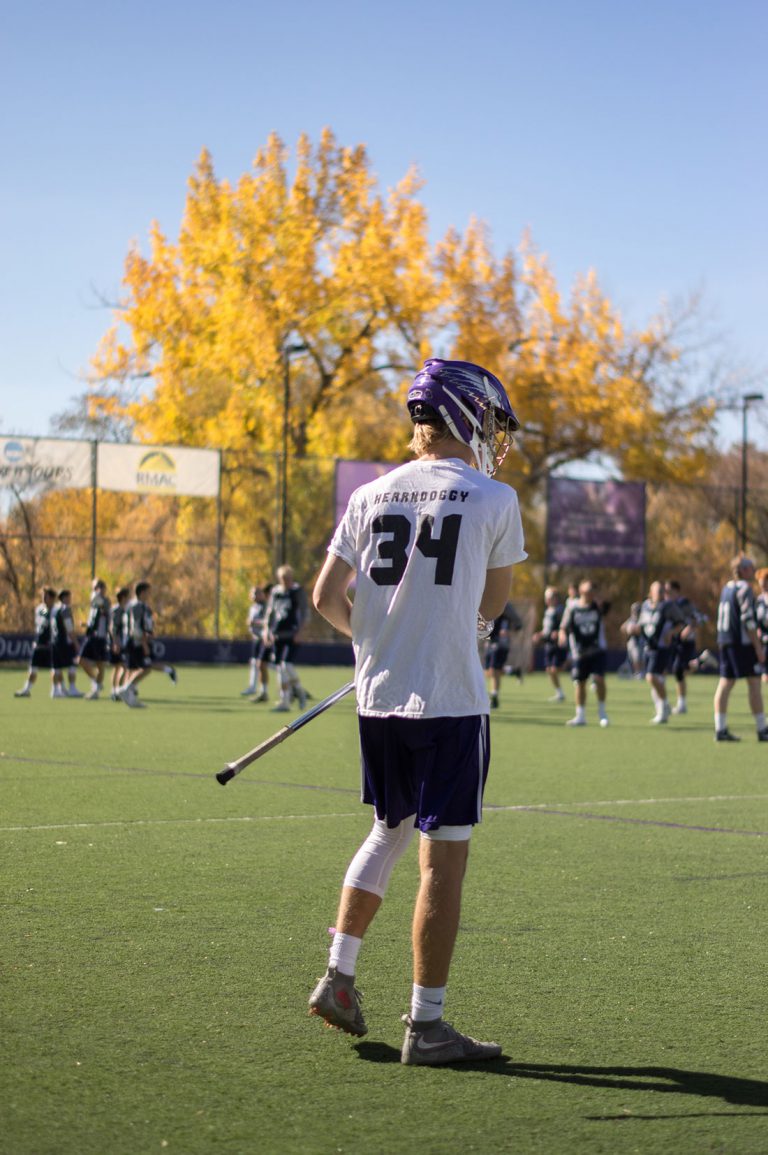 Members of the men's lacrosse team made Hearndoggy shirts honoring Matt, which they wear during warm-ups
by Lexie Banks ('12, MACL '15)
For those who have lost a child, a relative, or a friend, the grief can feel insurmountable. The families and friends of Westminster alums Chad Tohinaka ('10) and Matt Hearn ('14) channeled their grief into ensuring that Chad's and Matt's legacies lived on at Westminster College.
2008 on their May Term trip to Europe.Chad passed away alongside his best friend, Logan Hartman, in November 2012 after their duck-hunting boat overturned in the Great Salt Lake. During his years at Westminster, Chad was an ever-present figure in the Center for Financial Analysis (CFA), where he helped other students grasp and apply financial concepts.
"We had such great memories of him in the CFA," his friend and former classmate Skyler Bloxham ('09, MBA '11) says. "He was so kind, helpful, and funny. He was always around, available, and helpful. Those are the things I remember most about him."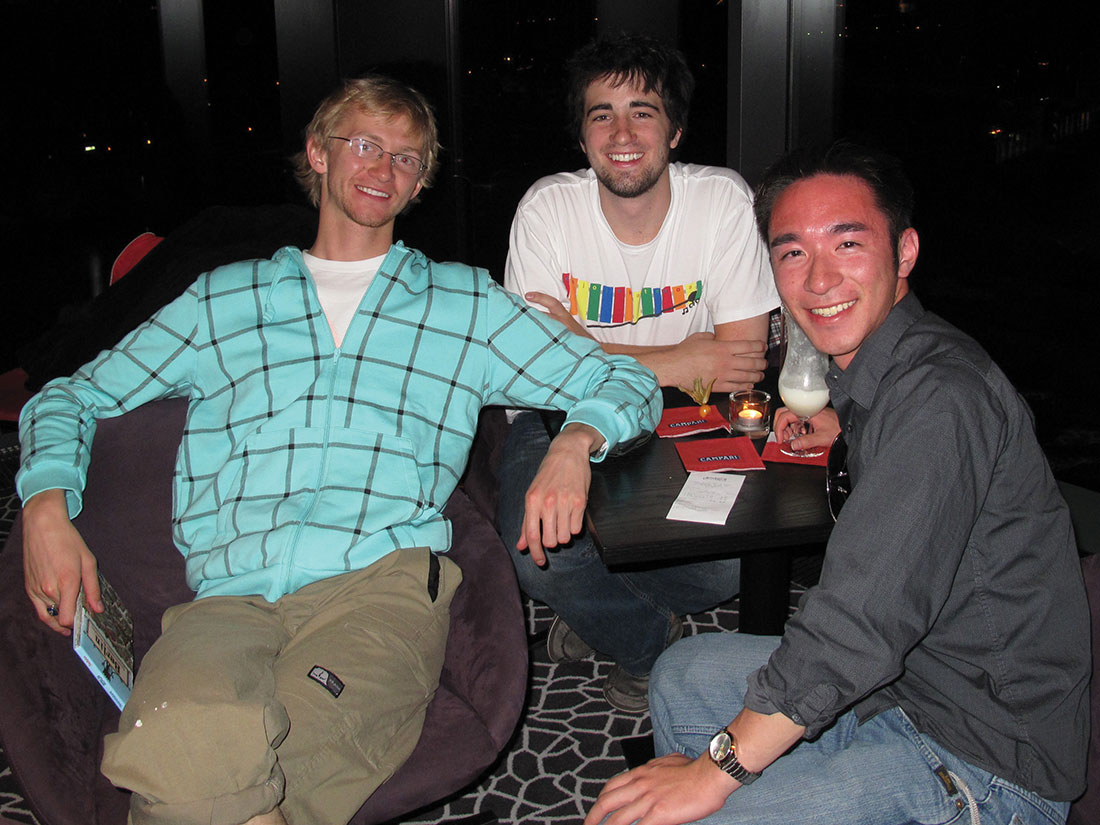 Mitch Dumke ('11) got to know Chad on a May Term trip with professors John Watkins and Dick Chapman. Their friendship was built on the streets of several European cities while talking about their lives and relationships.
After Chad's death, Mitch and Skyler were searching for a way to honor his legacy. Following a conversation with former staff member Marc Weyerstall and the Office of Advancement, the duo identified an opportunity to give back and honor Chad through an endowed memorial scholarship.
"This idea was a way to inspire a network of people who sometimes are motivated for different reasons to contribute," Mitch says. "What resonated for me was a combination between the ability to show my appreciation for what Westminster has done for me, but also share my support and appreciation for Chad and his family."
Chad's mother, Karen, gave $10,000 to kickstart the project, while Mitch and Skyler got to work engaging peers and former classmates to contribute to the fund. Three years later, the endowment had reached its requisite $25,000.
In addition to enabling financial support for Westminster students, Mitch explains that fundraising for the scholarship was a way for him to process through his own mourning.
"Grief is complicated and different for everyone," he says. "I was not only doing it for my own grieving, but I was also showing his parents and family that we care about and remember Chad's impact on Westminster."
Skyler says their hope for the scholarship—which will be awarded to a finance major—is that it will alleviate the pressure of a student having a job off campus and make a Westminster education more attainable.
Matt Hearn
Matt passed away in a climbing accident in Big Cottonwood Canyon in July 2017. He came to Westminster as a transfer student in his sophomore year, and although he had won a high school state championship in Maryland, he did not wear his lacrosse star power on his sleeve. He was all about team effort and honoring the game.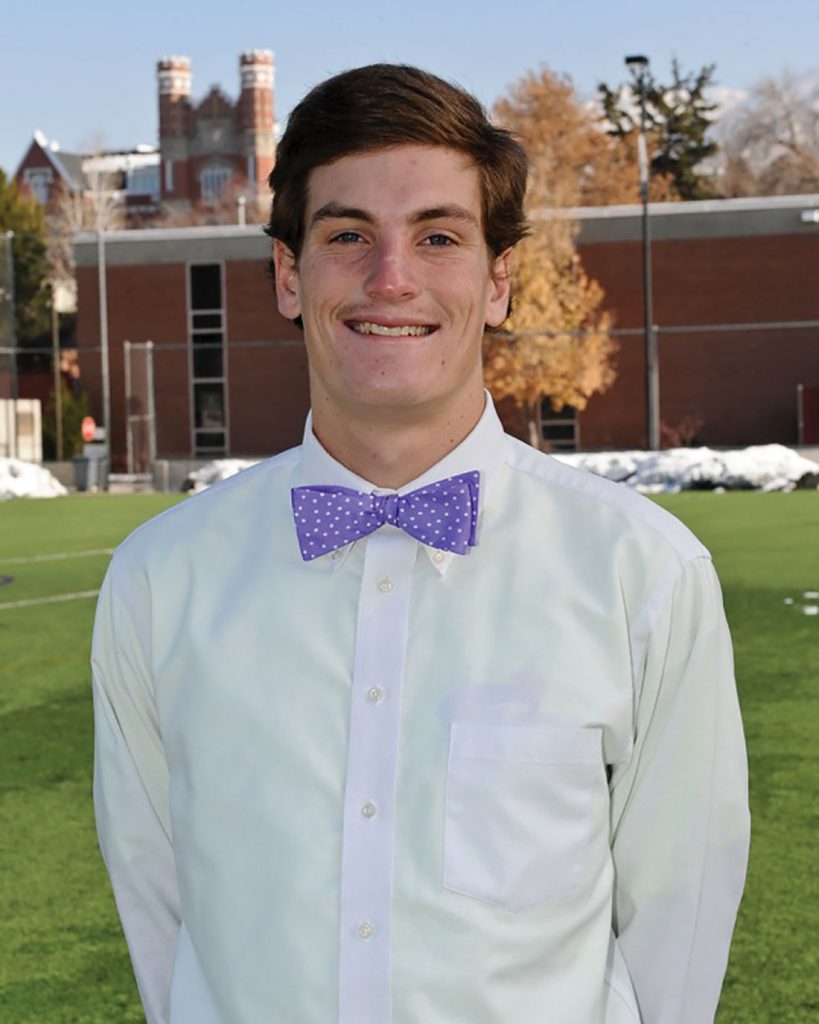 Lacrosse head coach, Mason Goodhand, describes Matt's playing style as "the eye of the tiger." His singular focus on the goal led his team to great successes but also led him to several concussions that sidelined him his junior year.
"We then had him join our staff as a coach," Mason says. "He had such a positive influence on the people around the game, whether it was a teammate, an opponent, or a kid he coached at East High School. He had an upbeat, positive approach to coaching that had a phenomenal effect on the people who worked with him."
To honor Matt, his former teammates, many of whom still play together in men's leagues, commemorated their love for "Hearndoggy" with t-shirts featuring the Grateful Dead dancing bear logo and their friend's nickname. Current players and alums now wear the shirt to remember Matt, his spirit of playing lacrosse, and his colorful style and friendship.
After his family established The Matt Hearn Memorial Scholarship, it quickly reached endowed status. The scholarship will be awarded to a lacrosse player in the spring of each year. The lacrosse team will vote on a student who is emblematic of Matt's playing style and personality. The student who is awarded the $1,000 scholarship will also wear Matt's "34" jersey for the season.
Mason says, "Lacrosse originated with Native Americans who referred to it as 'the medicine.' The outcome was only significant in that they felt the goal was to prove to their god that they could use their talents in a way that brought appreciation for those talents. It was more about playing before the gods, not the crowd or opponents. Matt exemplified that spirit. It was more about the journey than the destination."
Professor Nancy Panos Schmitt knew Matt as an aspiring marketing student. After he came to her office hoping to discuss a custom major in clothing design, she told him he could accomplish everything he wanted as a marketing major. They would develop a close relationship over the years, with Nancy describing herself as Matt's "Westminster mom."
"He was a delightful, smart, capable young man," she says. "I've never met anyone from anywhere who didn't like Matt Hearn. He was one of my biggest advocates, and I was one of his."
After graduating from Westminster, Matt went on to work with alum Mark Crowther (MBA '05) in sales at KUTV, the Salt Lake City CBS affiliate. He won rookie of the year in his first year and salesperson of the year in his third, transferring his enthusiasm for life to success in the business world.
As artist Banksy states, "They say you die twice: one time when you stop breathing and a second time, a bit later on, when somebody says your name for the last time." Thanks to the generosity of the hundreds of people who donated to these scholarships—and the tenacious fundraising by alums and family of the deceased—Chad Tohinaka's and Matt Hearn's names will be heard for generations to come.
---
About the Westminster Review
The Westminster Review is Westminster University's bi-annual alumni magazine that is distributed to alumni and community members. Each issue aims to keep alumni updated on campus current events and highlights the accomplishments of current students, professors, and Westminster alum.
GET THE REVIEW IN PRINT STAY IN TOUCH SUBMIT YOUR STORY IDEA READ MORE WESTMINSTER STORIES