---
A Dream Realized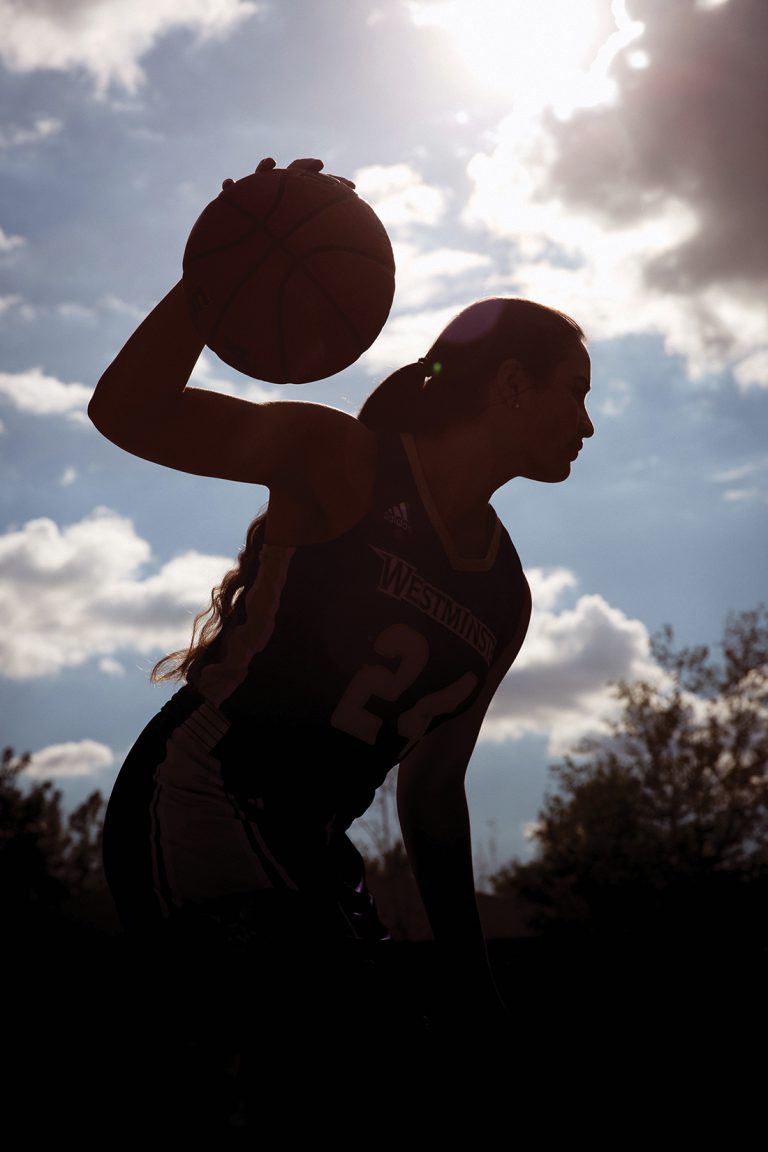 Women's basketball plays in NCAA tournament for the first time in college history
by Ashley Atwood ('07)
photograph by Todd Collins
When Westminster's women's basketball team entered the first round of the NCAA Division II Women's Basketball Championship in March 2019, it was the result of years of dedication and sacrifice.
"My whole career, I looked forward to being eligible," says Sicilee Williams ('19), who played with the Griffins for four years, the first three of which she describes as "building years." Those years were part of an improvement process that began in 2015, when Westminster joined the Rocky Mountain Athletic Conference (RMAC). At that time, the team needed to be rebuilt from scratch. "We knew it would take time—just to see what the competition level was like and how good we needed to be," says women's basketball head coach Shelley Jarrard.
As the team rebuilt itself, Westminster was also transitioning to the NCAA II division. This three-year process was finalized in July 2018, when the division's membership committee voted to advance the college to full membership. With that vote, the Griffins began enjoying full benefits, including eligibility to compete in conference and post-season championships.
The women's basketball team closed out the 2017–18 season tied for fourth place in the conference, and they used that placement to evaluate themselves as NCAA contenders in 2018–19, the first season following the membership vote. "There was a real, honest assessment by our group," Shelley says. "They could see this as doable."
Working toward their goal began in summer 2018, with players putting in daily gym time and scheduling additional coaching sessions outside of practices. "This pre-season felt different," says Sicilee, who noticed that the extra hours not only improved players' skills, but also helped build their trust in one another. Shelley believes the entire team's commitment made the difference. "They were driving this more than coaches were—that's what you want. They have to want this—as individuals and as a team—on their own," she says.
The commitment paid off. In March of this year, the team qualified for the NCAA II tournament after finishing as RMAC Championship finalists and, on March 15, they entered the first round of the tournament as the number-five seed against number-four Angelo State. Spectators were in for an exciting event, with players fighting for control, the lead going back and forth, and the score being tied again and again. The final score was 76–71, with Angelo State emerging victorious. But the Griffins walked away wiser—and with a plan to return.
"It was a great learning experience," remembers Hunter Krebs ('21), who is dreaming about winning the RMAC Championship and returning to the NCAA II court in 2020. "We totally have a chance to come back," she says.
Shelley agrees. "I would love to see us winning RMAC," she says. "It's a goal now."
---
About the Westminster Review
The Westminster Review is Westminster University's bi-annual alumni magazine that is distributed to alumni and community members. Each issue aims to keep alumni updated on campus current events and highlights the accomplishments of current students, professors, and Westminster alum.
GET THE REVIEW IN PRINT STAY IN TOUCH SUBMIT YOUR STORY IDEA READ MORE WESTMINSTER STORIES