---
Living At Westminster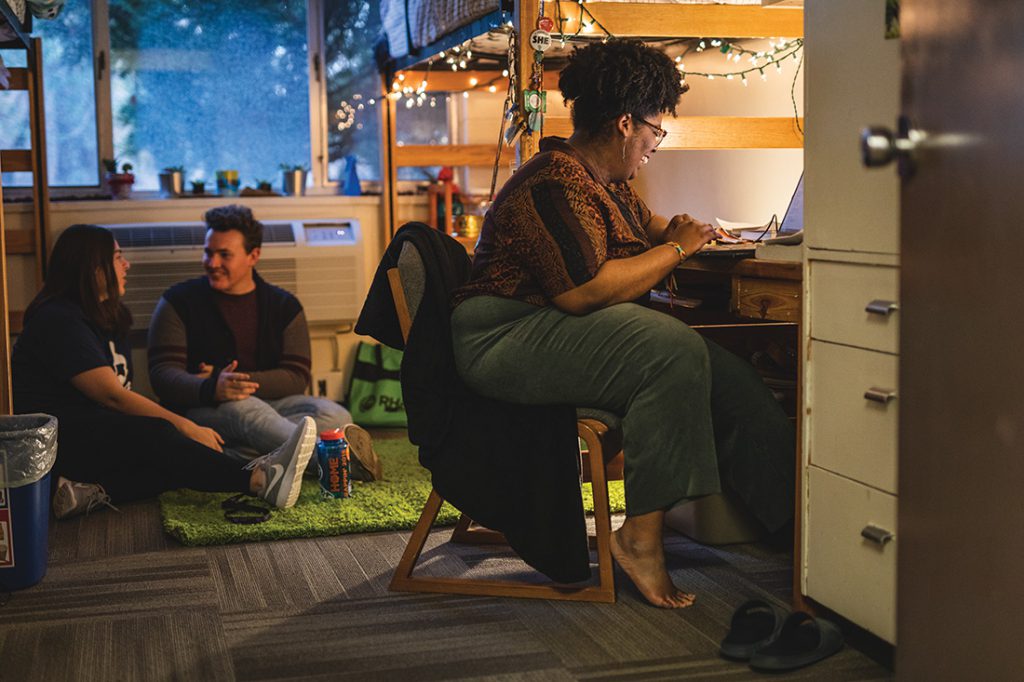 Students find themselves through Westminster's housing experience
by Nicole Rodriguez Cavero (Honors '20)
photography by Michael Kunde
I arrived at Westminster on a Thursday afternoon with two big suitcases containing everything I owned: a black, rectangular one with impractical clothes and a duffle bag carrying little bits and pieces of a past life in Peru that I did not want to forget. As I unpacked my things that night, I asked myself very important, life-defining questions like, "Did I not pack socks?" "What time do I need to wake up for student orientation tomorrow?" and "Why is the AC on degrees Fahrenheit?" My heart was racing and the walls were empty; for a moment it felt like two suitcases were not enough to fill the room. I continued unpacking, comforted by the idea that it was summer and socks were not a necessity.
A couple of months later, I woke up and went to the Hogle kitchen with my roommate to make some pancakes. We came back to our room to watch Netflix, and I was surprised by how messy it was. I wondered when I became so comfortable with leaving my unfolded laundry on the floor. I paid attention to the space around me: stacks of books and papers on my desk, photographs on my walls, an unmade bed, and the smell of food waiting for me. I counted imaginary suitcases of the memories I'd made in the last few months. I suddenly realized that I was home.
My experience is not unique. For decades, Westminster students have found that living on campus not only encourages independence and personal growth but, also, often results in a better academic experience.
"Interactions with people you wouldn't otherwise meet, opportunities for social life, support services, and people who can help you to constructively engage with conflict give you a higher likelihood of success in college," Westminster College President Beth Dobkin says.
For those who have fully immersed themselves into the college experience, the residence halls have become a place to transition into adulthood. "I think the biggest advantage of living on campus is that you get the whole college experience. You are away from your family, too, so you are forced to figure out how to do your own laundry and take care of yourself," says Steve Prasad ('88). For Steve, living on campus meant devoting more of his time to classes, getting involved in campus activities, and meeting new people.
With the help of the support system that housing at Westminster offers, students learn to find themselves. "My resident advisor was really good at mentoring and getting us through the process of living with people. He kept us accountable, checked in on us, and made sure our classes were going okay," Steve says. Steve was inspired to become a resident advisor himself the following years. He met his wife, Colline Prasad ('87), on campus, and their two daughters also live in the residence halls—even though their house is a 10-minute walk from school. "We wanted them to get that real college experience. Not only are they learning whatever their coursework is, but they are also learning how to coexist with others—and that is just as important," Steve says.
Westminster housing was created with the goal of improving student academic performance and easing students' transition to college life. "It was harder to be connected to home back then. The telephone booth—that's what we had to use," recalls Stacie Whitford ('92). "The phone would ring in the hall, and somebody would answer it and knock on your door. Everyone kept notepads on their corkboards for messages in case someone called."
And while the phone booths now serve as cool photo opportunities, the sense of community remains unchanged. "I don't think I expected the full impact that living on campus would have in making me independent. I didn't fully realize how meeting people that I wouldn't have met otherwise would shape the person I became," Stacie says. During her time on campus, Stacie was involved in the Honors program and served as both ASWC vice president and student senator. Her son Blaine also lives on campus and is part of the Honors College. "It is really cool for me as a parent to now see my son on campus, to see how the residence halls have changed but living on campus hasn't," Stacie says. "Students get to find their own way that campus works for them."
Through the years, living at Westminster has been all about taking advantage of proximity. "Having counseling and career services; the Health, Wellness, and Athletic Center; and faculty right on hand if you need them is the kind of support that makes our students succeed," President Dobkin says. All campus resources are within walking distance from the residence halls, exposing students to events and opportunities crucial to their learning. "Stepping out of my comfort zone allowed me to stay connected with the college, growing closer relationships with professors, mentors, and friends," says Dallas DeGan ('19). Dallas decided to move from Loomis, California, to Salt Lake City because Westminster offered him scholarships and the chance to play soccer: it felt like a good fit. Once on campus, he was able to expand his interests. "I got to attend exciting lectures and conduct research because these opportunities were waiting for me as soon as I stepped out of my door," Dallas says.
Westminster housing now consists of six buildings and several college-owned houses, each with its own personality and memories of the people who lived there before. I lived in Hogle Hall my first year, and I still carry the smell of popcorn and endless movie nights with me. I lived in Stock Hall my sophomore year, and I will always be grateful for leadership opportunities and faculty office hours. I now live in Olwell Hall as a resident advisor for amazing people who inspire me every day. I think I have lost track of how many suitcases, metaphorical or not, I own by now. When I came to Westminster three years ago, I wasn't expecting to make a home, but I found one in the way of self-discovery and independence.
"It is more than having a room and a meal card," President Dobkin says. "It really is a total community, and that's part of the power of being able to have a residential education."
A Tale of Two Roommates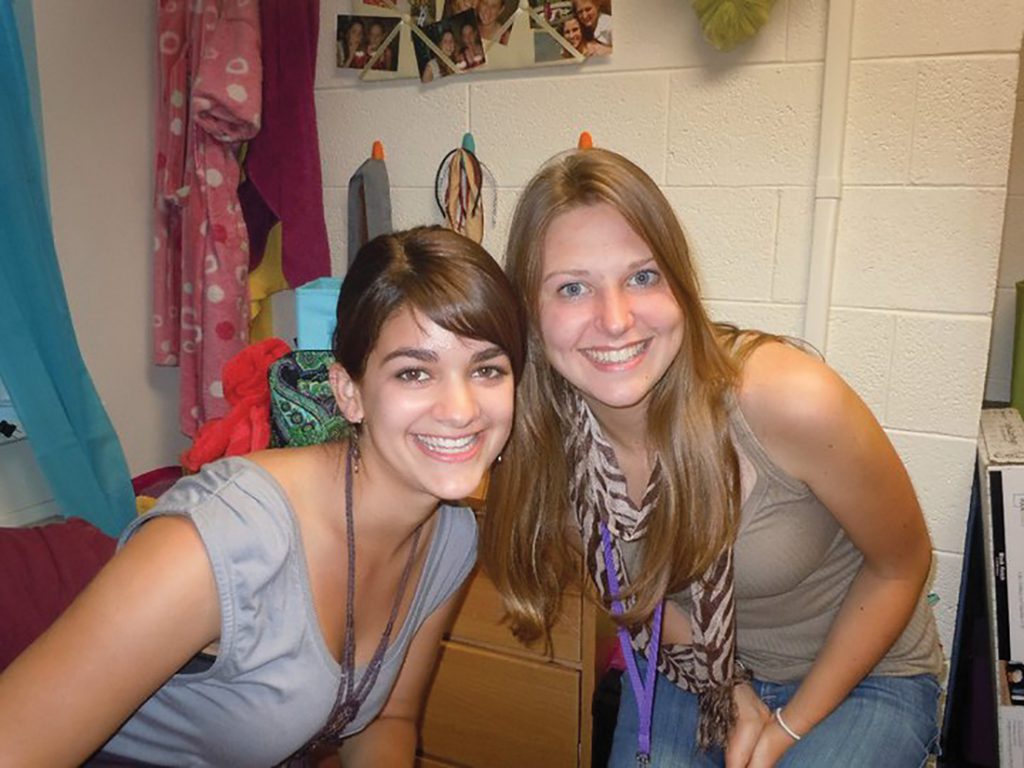 Sara McCaskey (Honors '14) and Katrina England (Honors '14) did not expect to meet a lifelong friend on move-in day their first year at Westminster. However, what began as an awkward introduction evolved into a strong foundation and community for their college careers.
Sara: "Where should we start?"
Katrina: "I feel like we should start with the night we first met."
Sara: "I remember pulling up outside of Hogle Hall and seeing you and your parents from the backseat window. You were already there unpacking. My first thought was that you beat me there so you got to pick the best side of the room. My second thought was that I should probably think of something interesting to say. I couldn't come up with anything, so I just awkwardly stood there and said nothing. Not a single word. The entire night."
Katrina: "We had unpacked our things, and our parents drove away, and we had nothing to do but go to sleep, which somehow was the hardest part of the ordeal because I had no idea how to say goodnight."
Sara: "Me too! I was so worried it would be weird to ask you if I could turn the light off. So I just didn't."
Katrina: "In the morning, you asked if I wanted to grab breakfast before Orientation."
Sara: "You said, 'No,' and I was shocked."
Katrina: "I wasn't thinking about making friends. I was going to school to study, get good grades, and set myself up for a successful life. I was scared I wouldn't be able to juggle classes, sports, work-study, and family commitments…and, if I'm honest, I was scared you'd find cooler people to hang out with and I'd be right back where I started."
Sara: "I felt so in over my head. I was terrified I would fail and was desperate for an ally. So I persisted and asked you to eat dinner with me every night for months. And every night, you rejected me—until one day you didn't."
Katrina: "And…it was great! I remember dinners extending longer and longer into the evening, going back for seconds, thirds, and dessert—no meal was complete without a giant chocolate chip cookie."
Sara: "Or one of Shaw's irresponsibly sized brownies (that we somehow justified eating every night)."
Katrina: "Right! We basically had a permanent second residence in Shaw. And we accidentally started a movement."
Sara: "It seems obvious now, but I think we were both surprised to realize that we weren't the only ones who didn't have anyone to eat dinner with. Slowly people started to join, and before we knew it, we were pushing three or four tables together to make room for everyone."
Katrina: "What's crazy to me was how this became a nightly ritual. Literally every night, without fail, there was always a small tribe of people: student-athletes and nerds and people who didn't fit any 'high school lunch-group category' would just hang out."
Sara: "And we would spend hours every night talking and laughing and discussing everything from the papers we were writing and our professors' embarrassing attempts to relate to us in class, to our thoughts on BDSM and which one of us had encountered the Nunemaker ghost. No topic was off the table. What I love most about it in retrospect is that it was never planned. We didn't text each other to coordinate when we would eat dinner. We just knew that when we showed up, all of our friends would be there to meet us."
Katrina: "What I thought would have been my biggest distraction became what renewed and energized me most. I couldn't have finished my first year of college without it. I don't remember asking for help; we gave it to and received it freely from each other. And it's an experience I don't think I could replicate if I tried."
---
About the Westminster Review
The Westminster Review is Westminster University's bi-annual alumni magazine that is distributed to alumni and community members. Each issue aims to keep alumni updated on campus current events and highlights the accomplishments of current students, professors, and Westminster alum.
GET THE REVIEW IN PRINT STAY IN TOUCH SUBMIT YOUR STORY IDEA READ MORE WESTMINSTER STORIES