---
She Persists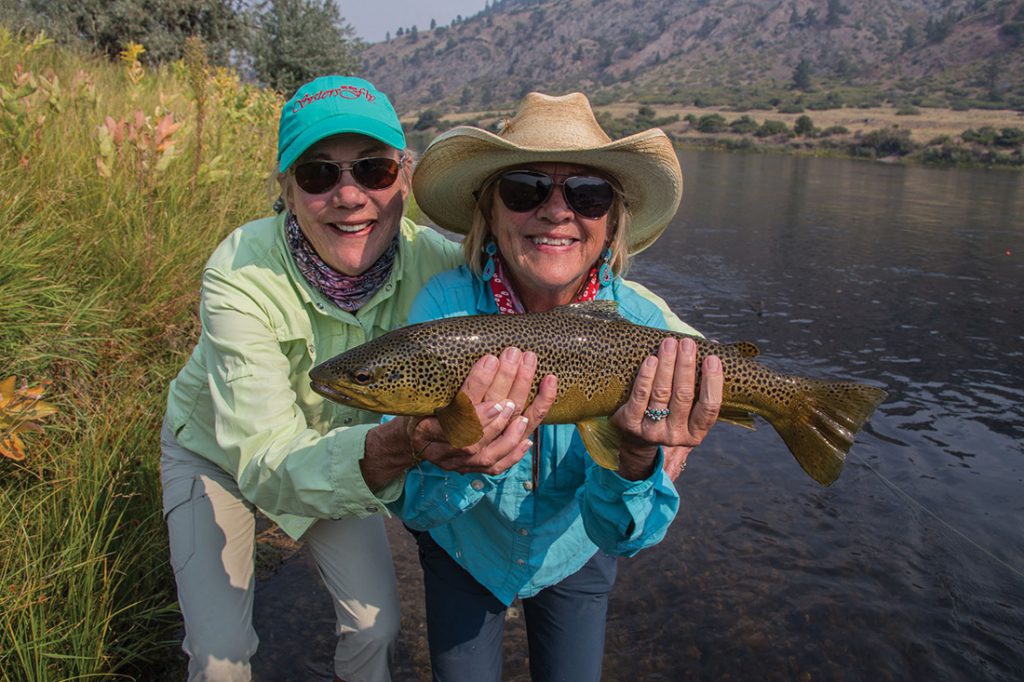 Sisters on the Fly empowers women to connect with themselves
by Autumn Thatcher (MSC '15)
The sun is shining in Oregon outside the windows of Maurrie Sussman's ('81) childhood home. Over the phone, Maurrie is cheerful yet reflective. "We're selling Mom's house," she says. "The house has been here for 60 years." She has to stage the home for potential buyers who will step in and imagine her home as their own. Maurrie sighs. "I refuse to be any older than 12 years old, but I was a little stressed, so I went up to 15. Life is complicated at 15." Her conflicting emotions are palpable over the phone when she is asked how she is doing through this process. "I am going through it fine. The sun comes out and then it rains," she says simply.
The sun comes out and then it rains. There is wisdom and life experience in Maurrie's words. It does not take long to understand why over 14,000 women look up to Maurrie Sussman: she sees past the clouds of doubt and fear and finds the sun.
Maurrie grew up in the Intermountain West. The daughter of a Marine Corps colonel, she spent a lot of time in the outdoors. Her father was a fighter pilot, and Maurrie planned to be a bush pilot in Alaska. "I love the thrill of the outdoors," she says.
But when Maurrie was growing up, she did not have many career options—at least none that were deemed suitable for a woman. Her dad encouraged her to go to college, but her choices were limited: dental tech, nurse, or teacher. "At that time, you listened to your dad. I could not be a teacher. I could not have my hands in somebody's mouth all of the time. I became disinterested in school because I couldn't find something that I wanted to study," Maurrie explains.
So Maurrie got married and found success working in Texas for the Hilton company. She eventually relocated to Salt Lake City with her two kids after divorcing. She thought often about college, but it wasn't until a patron approached her at work and asked whether she was interested in attending that Maurrie began to see herself in the classroom.
"This fellow worked for the state and helped me get a grant to come to Westminster," Maurrie says. "The day that I walked into that school, I loved it. It's a small, perfectly fabulous, intimate, wonderful college. The students took me on like nothing. It was a wonderful experience."
After graduating in business, Maurrie moved to Montana and started an all-women irrigation company that worked within her dad's company. As she moved along in her career, Maurrie couldn't shake the feeling that she wanted more. Her interests expanded to anthropology, and at one point she returned to college to pursue a master's degree in the subject. "Anthropology opened up my whole world. It means everything about people," Maurrie says. She began thinking about her experiences growing up. She attended an all-girls school and knew firsthand how women could thrive and empower one another when given the chance to step out of the roles assigned to them and into themselves. She thought about her passion for the outdoors and the things that she didn't like about the women she knew: they didn't know how to pull a trailer; they didn't know how to sleep in the outback or be alone. She wanted to teach that: to give women permission to step into themselves.
Maurrie and her sister, Becky, started Sisters on the Fly with the intent of inviting women to learn how to fly fish, camp, and be alone in the outdoors. The rules were simple: no men, no kids, no pets. And be nice. Sisters on the Fly officially launched in 1999. Twenty years later, there are over 14,000 members from all over the world. The club has been featured on The Travel Channel and the Oprah Network. Maurrie has inspired more women than she takes credit for, and, somewhere along the way, she realized what had really been created.
"I realized that Sisters on the Fly isn't just for fun. It is to get the women to know they are big and important and can do whatever they want—like our mom, the most perfect person," Maurrie says.
Currently, Sisters on the Fly has over 1,500 events scheduled for the 2019 year. The group has grown across the United States, and Maurrie isn't stopping—even when some days are rainy, and she has to be 15 again.
"Sisters on the Fly gives you permission to want to do something and get the people behind you to give you the okay," Maurrie says. "It gives you a whole family of women to run with. It gives you the encouragement to become who you are."
---
About the Westminster Review
The Westminster Review is Westminster University's bi-annual alumni magazine that is distributed to alumni and community members. Each issue aims to keep alumni updated on campus current events and highlights the accomplishments of current students, professors, and Westminster alum.
GET THE REVIEW IN PRINT STAY IN TOUCH SUBMIT YOUR STORY IDEA READ MORE WESTMINSTER STORIES