---
Selling Salt Lake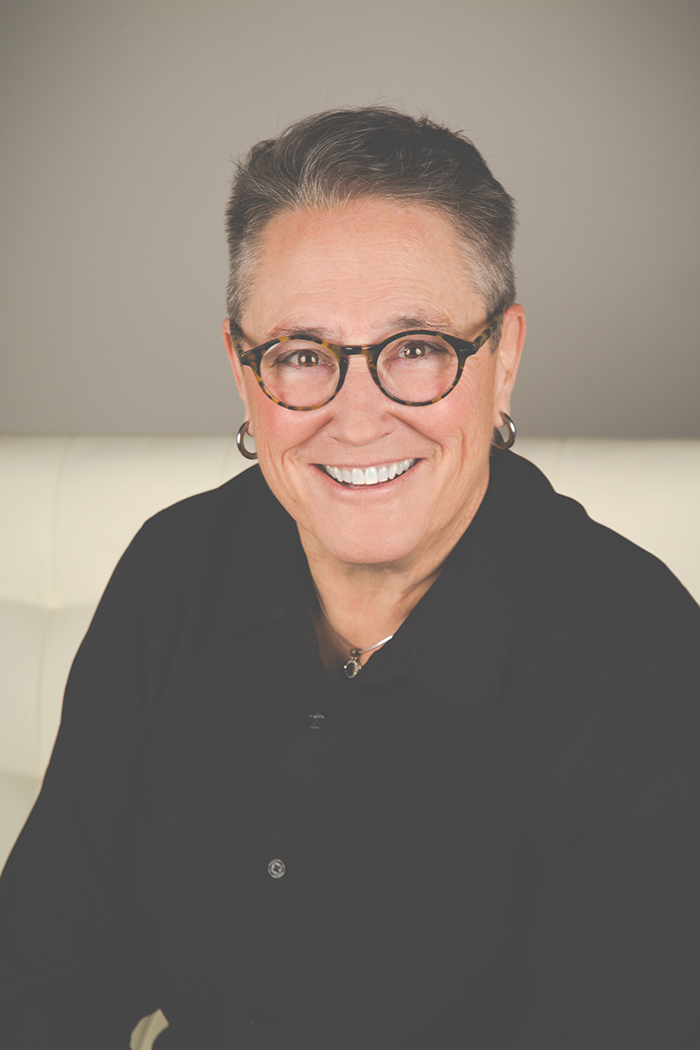 Behind the scenes with SLC's celebrity realtor, Babs DeLay
by Maggie Regier ('20)
Many of us have seen them, even if it's just during our secret, guilty-pleasure binge sessions when we go to the gym: Love it or List It, House Hunters, and the recently popular Selling Sunset. Reality shows about home buying are in the spotlight, and the realtors on these shows make selling homes look both glamorous and dramatic. But, what is it really like to be both a celebrity and a realtor without the prompted scripts of a reality TV writer and a camera lens following your every move?
Babs De Lay ('76) is Salt Lake City's own celebrity realtor—and a force to be reckoned with. They have taken Utah by storm since starting a real estate career in 1984—after having been fired for being gay at a different job—and built an empire at Urban Utah, a real estate brokerage they founded in 2001.
If you don't know Babs from real estate, then you may know them from their days as a radio DJ, Westminster College Parsons mascot, Distinguished Alumni Award recipient, or performer in The Vagina Monologues. You may also know them from their work with various nonprofit boards across Utah.
Babs's larger-than-life personality is an impeccable balance between intimidating and inspiring. An active and out member of the LGBTQIA community, they have never been one to back down in the face of adversity. Babs's infectious personality, monumental drive, brassy attitude, and love of community have made them quite the celebrity—and they know it. "I like being a big fish in a very small pond," Babs says. But when people ask if they are the Babs De Lay, they reply, "Yes, I am. Now shut up and move on."
Being a real-estate celebrity in Utah doesn't look exactly like what we watch on TV, however. Babs says these shows do not reflect the average person looking to buy a home: the Boomers looking to downsize or the Millennials looking to garden. These shows miss the hours of negotiating, the follow-up, and the relationships with the clients. "I work with artists and burners," Babs says. "Our clients reflect who we are. I'm not into glitz and glam—I'm into bettering the world. My clients reflect that."
In fact, Babs is so successful because they started by connecting with the people they knew best and catering to an untapped audience. After volunteering for years at the Urban Arts Festival, they made connections that led them to selling their first home. "I'm going to find homes for the people I know and love," they decided. After that initial success, they started putting out ads in alternative publications like Q Magazine and on air through KRCL.
Success isn't just in marketing, however. If you are lucky enough to have bought a home from Babs De Lay, you'll know just how fantastic they are. They boil it down to "the longer you've been in business, the better you're going to be in it."
Despite perceptions of being a real-estate celebrity, Babs watches real-estate reality shows as if they were Saturday morning cartoons—only because their clients routinely bring them up. These shows may be far faster and more emotional than what happens in real life, but no one would be opposed to seeing the Babs De Lay guest star in a favorite guilty-pleasure television show. They may not be in real estate to sell million-dollar homes to celebrities, but perhaps that is exactly what makes them so fantastic. "I get the most enjoyment with the clients I have," Babs says. "They end up being friends for life."
---
About the Westminster Review
The Westminster Review is Westminster University's bi-annual alumni magazine that is distributed to alumni and community members. Each issue aims to keep alumni updated on campus current events and highlights the accomplishments of current students, professors, and Westminster alum.
GET THE REVIEW IN PRINT STAY IN TOUCH SUBMIT YOUR STORY IDEA READ MORE WESTMINSTER STORIES