---
Griffins Take DC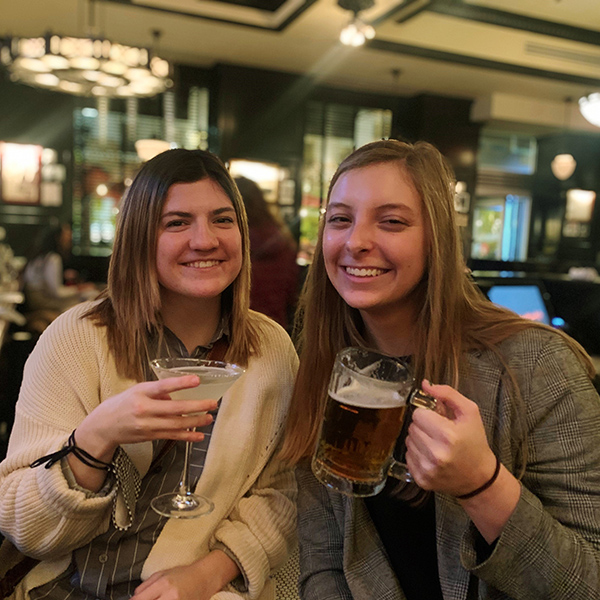 Two alums seek a slice of Westminster in the nation's capital
by Lauren Hofstra ('21) and Cami Mondeaux ('21)
Graduating in 2021, a year into the COVID-19 pandemic, was strange, to say the least. We had spent the majority of our senior year online, and all the advice on "how to get a job" and "best practices to network in a new city" that our professors and academic advisers had bestowed on students for years was no longer applicable. We were heading out into a new world with little sense of direction. We had never dealt with something like this before, but neither had anyone before us.
The two of us moved to Washington, DC, shortly after graduating; Cami moved at the end of May 2021 and Lauren at the beginning of September that same year. Aside from a few networking contacts given to us when we left, we didn't know anyone upon coming to this city. As one could expect, it was daunting and overwhelming.
Coming from Westminster College, a venue for overachievers and world leaders, the move to DC seemed like a natural next step. But when we got here, it was different. Everyone seemed to have their lives together, knew how to network, and was climbing the ladder of success all around us.
How could we do this? How were we supposed to connect with the community around us when we didn't even know where to start?
That's when it hit us: let's organize a group of Westminster alums who share a foundation and can support each other on their separate paths, a group where older alums can guide the younger ones in how they navigated the big city while offering advice and friendship.
If we learned one thing after moving to DC, it was that the city thrived on two things: networking and happy hours. In that sense, the formation of an alumni chapter felt quite natural. We had our first informal "presidents and co-founders" meeting at Talay Thai—a favorite spot, thanks to the cheap cocktails. There, we began to dream up the future DC alumni chapter.
Sipping our cocktails, we reminisced about our days at Westminster and chatted about how special it would be to bring a slice of Sugar House to this new home away from home—and share it with other alums as well.
With help from the Westminster Alumni Relations team, we were shocked to learn there are more than 300 alums scattered across the DC area. Three hundred former students who had walked Westminster's campus and eaten at the same tables in Shaw now live and work in the same 68-square-mile district burrowed in between Maryland and Virginia.
Connecting with alumni would give us a chance to build new relationships, learn more about each other, and explore the city we'd all grown to call home.
We cannot wait to continue to bring memories from some of the best years of our lives to an alumni chapter in DC. Navigating post-grad life—specifically, post-grad COVID life—in a new city and being able to learn and bond with alumni are things we cherish and are eager to continue.
Visit westminsteru.edu/alumni to learn more about regional chapters and expanding your network through Connect Westminster.
---
About the Westminster Review
The Westminster Review is Westminster University's bi-annual alumni magazine that is distributed to alumni and community members. Each issue aims to keep alumni updated on campus current events and highlights the accomplishments of current students, professors, and Westminster alum.
GET THE REVIEW IN PRINT STAY IN TOUCH SUBMIT YOUR STORY IDEA READ MORE WESTMINSTER STORIES