---
Feature Story: Westminster in Film
Feature Story: Westminster in Film

Lights. Camera. Action.
Griffins take their dreams to the silver screen and beyond
By Autumn Thatcher, MSC ('15)
Westminster College is brimming with ambitious students who have good ideas on a regular basis. They are constantly outdoing themselves. They impress their professors, their peers, and their community members; the pulse of Westminster resides in these students. At the beginning of 2015, the Westminster community was once again beaming with pride over the success of an alumnus and a separate group of students, all of whom were thrown into the spotlight for taking their ideas—their dreams—and turning them into reality. In the case of these particular individuals, the reality of their dreams was displayed on silver screens at film festivals around the globe. Though Westminster is not known for being a film school, it is teeming with students who create all types of art, and the support and encouragement from their campus mentors see no limit. We introduce you to a few Griffins in film—from different walks of life—who believed in their dreams enough to do everything it took to make them come true.
Tony Vainuku ('08)
Director, In Football We Trust
A first-generation student, Tony Vainuku ('08) grew up in Salt Lake City. His parents were both immigrants: his mother from Holland, and his father from the islands of Tonga. Tony grew up in a community that was no stranger to hardship. His friendships comprised peers who played football, and football became a way to feel good about something.
"We all played football, but we didn't really have much to look up to. All of our families were kind of broken. It was just a rougher neighborhood. When we started seeing players like our cousins do well in football, whether little league or high school, that ended up being something that totally motivated us," Tony says.
For the Polynesian culture that Tony was raised in, football is more than a sport to watch and cheer about: it is perceived as the only way out of bad conditions into a chance at life.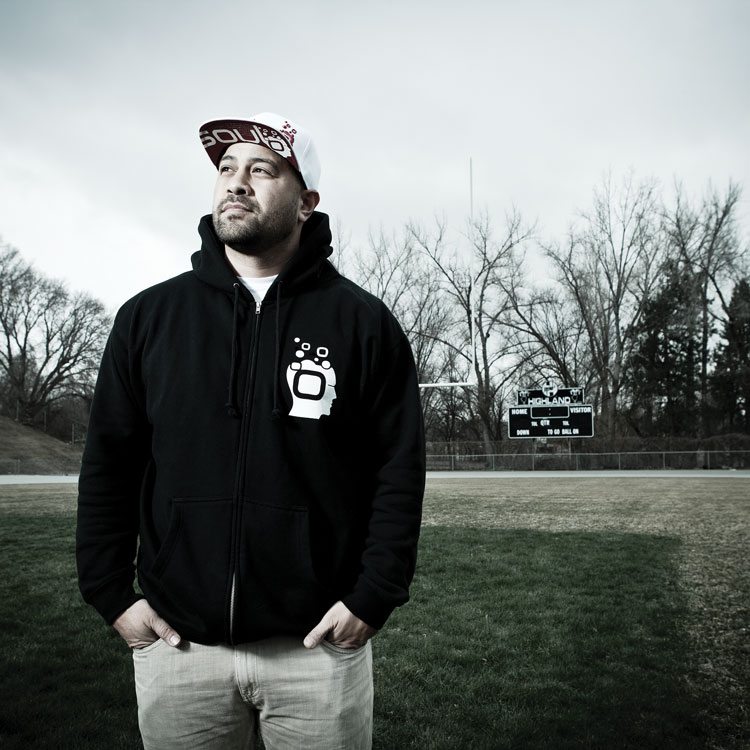 "Because we have been successful in football, we are 28 times more likely to make it into the NFL than any other ethnic group," Tony says.

Tony recalls the days of his youth when he began playing football. A child who was more interested in art and film than in sports, he was quick to notice the way in which his Polynesian peers excelled at the sport.

"We were more than good at it: we were better than most of the kids at the time because we were bigger and faster. It was natural for us to find the sport fun because we succeeded at it. We all dreamed of being in the NFL," Tony says.
Though playing football was not a priority for him, Tony experienced first-hand the pressure that exceling in the sport places on young Polynesians. He watched as his younger uncle was catapulted into the local spotlight: a rising star who was often referred to as the next Junior Seau (former NFL player.) He was recruited by big football schools such as Michigan State and Nebraska as the All-State leading linebacker. But his uncle's dreams for the NFL crumbled around him as he embarked down a drug-ridden path that eventually landed him in prison.
Tony experienced the grief that overcomes a family when one of their own succumbs to a vice. But for Tony's family, the incarceration of his uncle meant more than the fear of a loved one being locked up: it meant their hope of success was lost to iron bars that drowned the talent of a once-rising star.
It was the tragedy of his uncle's experience that led Tony to want to educate the world on the Polynesian culture. He wanted to showcase their strength, tenacity, and relentless love for one another. He knew he had a story to tell, and he wanted to do it through film.
Thought to Action
Tony transferred to Westminster College in his mid-twenties. He was a business marketing major with a sales background and a flair for the arts. Returning to college as an older student, Tony says that he was more of a loner on campus: he came to class and usually left right after. Though he was not super-involved with campus life while a student at Westminster, Tony reflects on his time at the college with fondness, saying that he loved the college and loved learning.
He notes that he had great professors, and some names stick out in his mind as having influenced his business decisions when he eventually started his own multimedia company after graduating. "Georgia White was my advisor and was always really great. Professor Tong in economics was awesome. Of course Nancy Panos Schmitt was awesome," Tony says.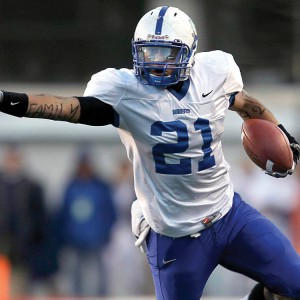 It was the experience he had with Georgia White that really sticks out to him. "She's the only one I had a conversation with about life that had nothing to do with what she was teaching—it was just us talking. I think that's what a real mentor is: one who can talk to you about applying real things to your life," Tony says.

One of the core values of Westminster College, real-life application, is especially relevant to someone like Tony, who would eventually go on to make a documentary based on very real issues.
In 2007, Tony met Jared Hess of Napoleon Dynamite in his Salt Lake City neighborhood. Their friendship began after a chance encounter while Hess was riding his bike in the neighborhood and ended with the two hanging out and watching movies together. Hess and Tony formed a friendship over being the only two people in their neighborhood involved and interested in film. It was Hess who later introduced Tony to a friend who would eventually film the first interview for his documentary.
A couple of years after meeting Hess, Tony, through his multimedia company Soul Profile Production, incorporated various ways of filming for clients. Soul Profile Production eventually extended to Soulpro clothing company, and it was through renting film equipment to Alice Elliott of New York University that Tony began talking openly about his idea to shoot a documentary.
Elliott introduced Tony to Geralyn Dreyfous, a Utah-based producer who founded the Salt Lake City Film Center, co-founded Impact Partners, and has been involved in several films, some of which have won Academy Awards. Dreyfous loved Tony's idea so much that she introduced him to Erika Cohn, who would come on as a producer. The road to making a film was a long one, but despite challenges along the way, there was always one constant: people believed in the story Tony wanted to tell.
From the Camera to the Silver Screen
Many Kickstarter campaigns, connections, interviews, footage, and emotional ups and downs later, Tony and his team had a documentary: In Football We Trust. It was a five-year process that had Tony working with different Polynesian families while telling the stories of four Utah-based youth (two of them brothers) who exceled in football. The documentary followed them through their everyday life experience, allowing viewers to get a glimpse into their personal lives. Their relationships with their families, religious views, and struggles to be good students, athletes, and sons are juxtaposed with their more rebellious sides. The film also features interviews with four Polynesian NFL athletes who help set up the story, giving context to what the young athletes are up against. By the end of the long journey, Tony and his team had a film that needed to be made, and a story about a culture that needed to be told.
"The message of the story is that there is so much to our culture. Football should be an option as long as it is not the only option," Tony says.
Tony's concerns hark back to the pressure that many young Polynesian boys feel from their families and community to excel in football. If they do well, they have the chance of getting a scholarship to college. Beyond that, they have the possibility of making it to the NFL, which means that they will be able to help bring their families out of poverty. While Tony agrees that football is an option for these boys, he believes in the importance of education and notes that many of these young athletes do not value their education as much as their sport. Not taking their schooling seriously in high school can lead to a smaller chance of success if football does not work out.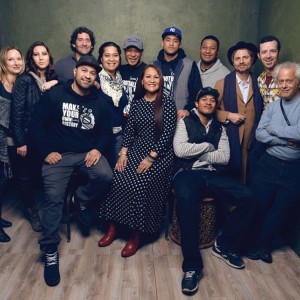 "In high school, you're supposed to take seven classes. Of my uncle's seven classes, about four to six of them were with his coaches. His father died at a young age, and he didn't have anybody to really push him anymore. He had a choice on whether he wanted to play football, and he just tailspinned. When I looked for answers in that, I started looking at his coaches. Nobody cared about his education. All they cared about was keeping him eligible to play football," Tony explains.

While Tony and his crew completed In Football We Trust in 2012, it premiered at the 2015 Sundance Film Festival. It had generated such a huge buzz before the premiere that Dwayne "The Rock" Johnson called Tony before the festival began to tell him he wanted to come on as an executive producer.
When Tony talks about his experience at Sundance, he is humble—and perhaps still in a bit of disbelief. Tony became the first Tongan director to premiere a film at Sundance.
"It was good that I was validated at Sundance, which was right up the street from where I grew up. Sundance was always so untouchable. To become a voice of the Polynesian culture there was awesome," Tony says.
Being a director at Sundance meant attending many events, raising money for high school scholarships, bowling with celebrities, and being the first film to sell out at Sundance. The memories light up Tony's face, and he admits to not really knowing how to handle all of the good news that was thrown his way after five years of trying to make his dream a reality.
"All of this good news at one time, you almost hit a natural high, and you can't get any drunker. It's like drinking cocktails on the beach. You don't get drunk; you're just happy the whole time," Tony laughs.
Looking Back and Moving Forward
Since the 2015 Sundance experience, Tony has enjoyed local screenings of his film and, with the help of The Rock, is currently pursuing an international release for viewers to enjoy at home. Tony still maintains a very close relationship with the boys in the film, all of whom Tony watched grow from teenagers to men throughout the filming process.
"I play a mentor role with them. They're just like little brothers who I have tremendous respect for. I have all the gratitude in the world for them for laying their lives out there for our culture, the story, and for me. It's a lot to ask to stick a camera in somebody's face for four years," Tony says.
As he looks toward the future, Tony hopes that In Football We Trust will continue to generate interest and, inevitably, awareness of the Tongan and Samoan cultures. He hopes to inspire young men of his culture by helping them understand that there are options for them outside of football, and if they apply themselves, education is a choice they will never regret.
Follow Tony's journey at: infootballwetrustmovie.com and mysoulpro.com

Watch the official trailer for In Football We Trust
---
Far From Home
Phil Hessler ('16), Galen Knowles, and Brolin Mawejje ('16)

Galen Knowles and Phil Hessler ('16) vividly recall the afternoon in 2012 when Galen was walking up the stairs outside of Converse Hall. He heard Phil yelling at him as he passed by to go to class. "I told him that he needed to make film edits of Brolin snowboarding, and he just yelled back, 'Okay,'" Phil laughs.

For Galen, Phil, and Brolin Mawajje ('16), the story of Far From Home begins with a chance encounter at an elementary school in Lincoln, Massachusetts, when a quiet, 12-year-old Ugandan transplant found a friend through skateboarding. Skateboarding evolved into snowboarding, and friendship grew into brotherhood. In 2009, through a series of complicated events, Brolin left Massachusetts and was unofficially adopted into the Hessler family when they moved to Jackson Hole, Wyoming.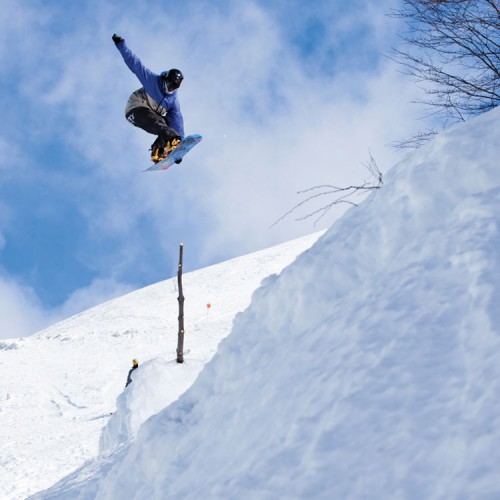 To simplify Brolin's story into a limited number of words is a daunting and nearly impossible task. To meet him, you would not guess that Brolin's childhood in Africa consisted of being abandoned by his mother and experiencing varying levels of abuse from his father. Ten years after his mother left, he was taken to the airport in Uganda wearing a t-shirt and shorts, and placed on a plane heading for Boston, Massachusetts. The 12-year-old boy did not speak English very well, he had never been to America, and he had not seen his mother since he was a toddler. He arrived to freezing cold weather and experienced snow for the first time in his life.
When meeting the adult Brolin today, a pre-med student with an emphasis in chemistry and public health, it is hard to imagine that the somewhat reserved and polite student endured the pains of bouncing from home to home, facing threats from his mother of deportation back to Africa, and bullying in school. His demeanor is not hard—a bit rough around the edges perhaps, at first—but more than anything, he is ambitious. When he talks about his career goals and dreams, Brolin's chocolate eyes are filled with a fierce determination, and you do not doubt for one second that he will accomplish his goals.
That is part of what makes Brolin's story so fascinating and how neurologist Fred Hochberg, who would become Brolin's mentor, knew to suggest that he needed to write a book. Phil took that idea one step further, and with the help of Galen, a slew of students at Westminster, and outside investors, the trio set out to tell Brolin's story—from beginning to present day.
Becoming Brolin
The journey for Far From Home lasted two years, taking Brolin around the world as he attempted to become the first snowboarder to represent the nation of Uganda in the 2018 Olympics. It was one that reunited Brolin with his father in Uganda and enabled all those who have influenced him to tell pieces of his story. It took strength as it allows viewers to see the vulnerability that resides behind Brolin's determined exterior.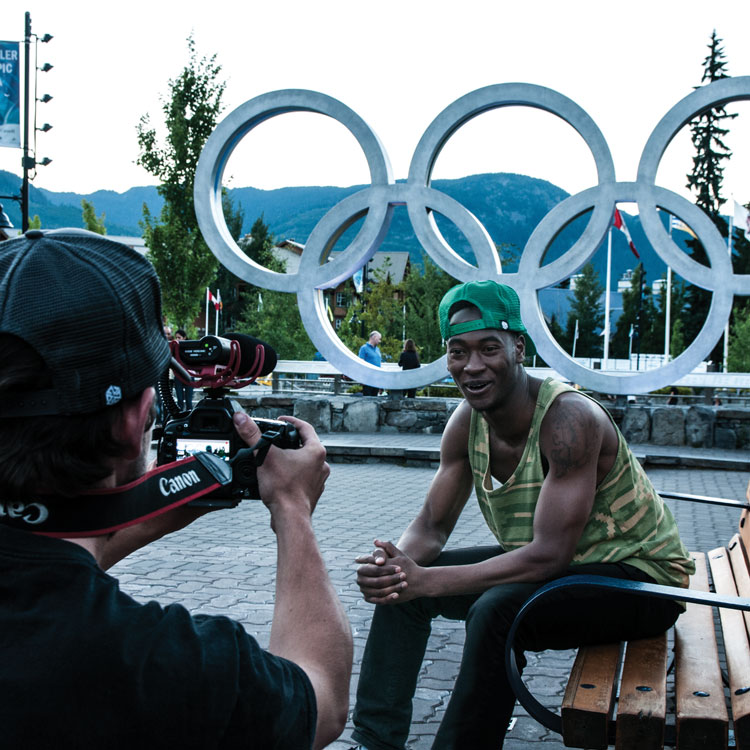 "The process has been very emotional. You're trying to relive your past and share these critical moments in your life that had effects and turning points that changed the outcomes of what was happening," Brolin says.

Though at times tough to experience, Brolin says that sharing his story with the world has only given him more ambition.

"We have highlighted my own strengths and weaknesses out of this path and journey. New dreams have grown, and existing dreams have settled in even stronger," Brolin says.

Brolin's passion for snowboarding began in Massachusetts, when he and Phil would hit the slopes together. A competitor on the Jackson Hole snowboarding team, Phil has been instrumental in practicing with Brolin, joining him at training camps around the globe.

"We are working with Michael Bell, who runs the Park City snowboarding team. He is responsible for setting up New Zealand and Australian teams," Phil says.
Bell has given Brolin a schedule that maps out his journey to the winter Olympics in 2018. To get there, he has to successfully compete in a series of revolution tours and world cups. It will be a long training process, but Brolin is determined to succeed.
"Brolin wanted to snowboard in the Olympics to show people you can reach your dreams," Galen says, adding that Hochberg told Brolin that going to the Olympics would give him unprecedented access to Uganda's health care system.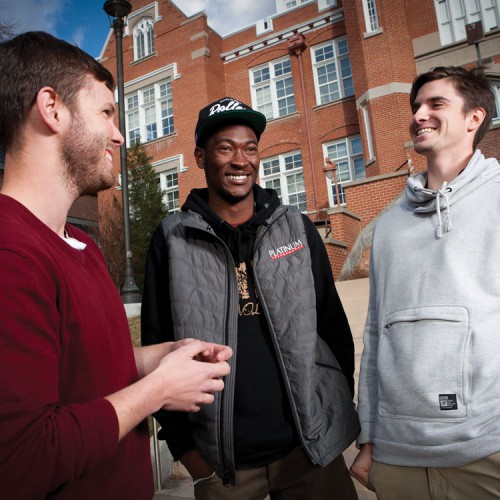 Though his dream to become an Olympian is a rather new one, Brolin sees it as one more important thing he must do on his way to becoming a doctor. In his mind, the forging of these two dreams will better enable him to make a difference in Uganda. To achieve his goals, Brolin works incredibly hard on the mountain and in the classroom, where he has consistently been on the Dean's list for academic achievement.

His desire to compete in the Olympics is just as strong as the one he has to become a doctor. Even more than that, Brolin seeks to change the face of medicine in Uganda. As he looks into Ivy League schools for his medical degree, Brolin says that his time at Westminster has helped him in pursuing his dreams.
"Westminster has been a vital aspect in not only creating Far From Home, but also in creating the present and future success that I have," Brolin says.
He points to campus members like biology professor Bonnie Baxter, who Brolin has gone to not only for academic help, but also in times of stress. Kaye Stackpole in the advancement office has become his champion, and professor Han Kim has pushed him to explore new possibilities in regard to public health.
"Growing up, I had a fear of adults and people in a position of authority. Knowing how to talk to a lady like Kaye, to hold a conversation and bring up things that are sensitive, has really helped me in navigating how to talk to people about the movie," Brolin says.
"Han Kim pushed me into pursuing my public health degree. He is willing to assist and direct me in this new challenge. He is probably one of the best professors at Westminster—helping you grow and navigate the next chapter in your life.
"I entered Westminster's public health program because of its great track record and the opportunity it opens up for me. It allows me to bridge the gap between these two careers, bridge the world of Africa, and work in the African health industry," Brolin says.
He takes school very seriously, and though he may have to delay going to medical school to compete in the Olympics, Brolin is utilizing his time at Westminster to help him get as close to med school as possible before making snowboarding his focus. He values the education he has received in the United States and does not take it for granted.
"I got the opportunity to come to America and attend college. At the end of the day, if I am done here, I need to be a doctor. I can't half-ass school," Brolin says.
From Converse Hall to Film Festivals around the World
For Galen, Phil, and Brolin, making Far From Home meant including every aspect of Brolin's life story, to enable viewers to understand why he wants to make it to the Olympics. This meant a lot of travel, significant support, and of course, funding.
Galen points to the small community that Westminster boasts as a large contributing factor to the success of Far From Home. He met Phil and Brolin during their first year at Westminster on Hogle Third. A film student with a passion for skiing and snowboarding, Galen spent a good chunk of time editing ski and snowboarding clips in his dorm. Two years later, with tremendous support from their Westminster community, the guys were all working together on what would become their first feature-length documentary.
The idea for Far From Home started when Phil told Galen that he should edit snowboarding clips of Brolin. It was after meeting with a friend of Phil's father in Los Angeles that Phil and Galen became inspired to do something bigger.
"The idea was planted for something much larger than we anticipated. We put together a proposal, and the budget went from $10,000 for a smaller project to $34,000, because we had to go back to Uganda," Galen explains.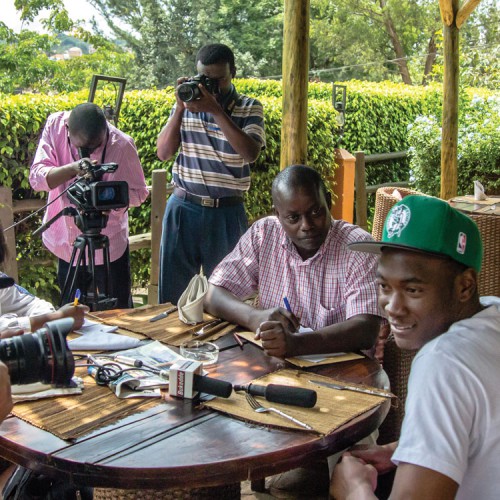 They started by interviewing Brolin and taking some snowboarding shots. They edited them and then worked with Linda Muir from Westminster's Center for Entrepreneurship to host a launch party in the Gore auditorium to garner support.

"Westminster, being a small school and community, has the ability to accommodate students with big ambitions. We approached professors to get them on board with the project—to work with them around fulfilling the requirements of school while making a movie and training for the Olympics. I don't think that's possible at other schools, especially bigger schools," Galen says.
The Westminster community was definitely excited about the project, which featured several students who volunteered to be a part of it.
"We publicly released our first teaser that night and launched our website, as well. The auditorium was completely packed," Phil says.
The support from Westminster gave them the confidence they needed to keep going. When they released their trailer online, sports publications around the nation came calling for interviews with Brolin. They raised $23,000 of their $34,000 budget on Kickstarter in 15 days, and the next month, Brolin was on a plane to Uganda for the first time in 10 years.
"The Africa trip and everything on the plane hit us emotionally. It became very real at that point," Galen says.
"Brolin had a panic attack about how he hadn't talked to his dad in 10 years. All of these emotions were hitting him at once. There are a lot of cultural differences in how parenting works in Uganda and how it works in the US. He had a lot of resentment toward his father, and there are cameras around all of this, and it amplifies everything," Phil says.
But there was more to the trip to Uganda than revisiting Brolin's past: it was a chance for the team to meet with the appropriate civic leaders to begin the conversations surrounding whether they would permit Brolin to represent a country that had never seen snow in the winter Olympics.
The Ugandans Brolin encountered saw him as something more than a possible future Olympian; they saw him as a reason to feel hopeful.
"There was all of this very real pressure and expectations placed on Brolin. The press asking if he was going to build a hospital…they see him as a beacon of hope and inspiration," Phil says.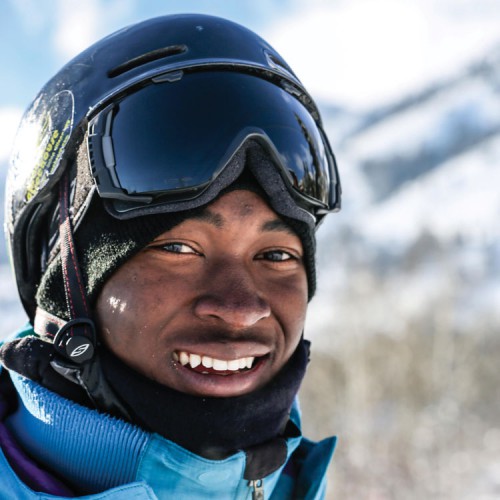 After traveling to Uganda, the team continued to conduct interviews and work on filming and raising funds. At the end of two years, they had over 400 hours of footage and a team of Westminster students to help them take that footage and create a documentary that told a very poignant story in under two hours.

The result was Far From Home, a film that has made it into more than 22 film festivals around the world—catapulting Brolin into unwanted fame and establishing him as a spokesperson for making dreams come true and as an idol for children wishing to be like him.
The trio has experienced a crazy year of red-carpet premieres, autograph signings, presentations, and more. In between it all, Brolin continues to focus on school and train for the Olympics. While Galen and Phil look to expand into the world of feature-length movies, Brolin works to honor the dream of that small, scared little boy who came to America on a winter night in shorts and a t-shirt.
"I don't look at the goals selfishly; they are bigger than me. I am a vessel to bring needed help to various groups of people. Hopefully, the movie shows that my whole life is a community process."
Follow Brolin's, Galen's, and Phil's journey at farfromhomemovie.com
Watch the official trailer for Far From Home
---
The Other Side of Film: The Critic
Jimmy Martin (MPC '06)
Jimmy Martin is a Utah-based film critic who has been immersing himself in the art of film since he was a young kid. Although Jimmy was featured in the Alumni section of the Spring 2015 Review, we decided to reconnect with him and find out a bit more about what it's like to be the one critiquing the film rather than creating it.

On how he got involved with film: I've always been fascinated with the art form. My brother, Larry, and I would make homemade movies all the time as kids.
How Westminster helped him master the art of writing reviews
I don't believe there were any official film-related classes during my studies at Westminster, but I brought my passion for the art into everything I did. Many writing classes allowed me to discuss the topic. My final project for my Master of Professional Communication (MPC) degree was actually an introduction video for individuals considering the MPC program.
Advice for those interested in a similar career path
Network. Network. Network. That was the best advice someone gave me years ago; and, as you can see, I took it to heart.
The best thing about being a film critic
For those of us who still enjoy sitting down and watching a movie, it's the greatest gig, obviously. With that said, I do take my job seriously. In today's world, going to a movie with the wife and kids isn't a cheap experience. People work hard for their money, so it's my job to let the public know whether or not they should attend a particular screening.
On what makes one a film critic
Some will say anyone can be a critic with social media and whatnot, but I still believe a well-versed critic knows the art form inside and out. Most film critics have sat through a plethora of terrible films as well as masterpieces, so we have a stronger foundation for what works and what doesn't. I think you become an expert in anything by immersing yourself completely in the subject matter. In my case, I watched as much as I could as often as I could. I would sit in movie theaters all day growing up, just watching anything and everything. As far as technical aspects, I feel making my own films helped me appreciate and critique. Learning the craft of cinematography, mise en scene, lighting, directing actors…it all helps with understanding the craft.
The worst thing about being a film critic
Adam Sandler movies.
How Westminster prepared him
Westminster definitely helped hone my craft. I found my voice in several writing classes, and the MPC faculty truly cared to ensure I was receiving an education. I took several writing classes during my time at Westminster, and every course had something unique to offer. Along with writing film reviews, I've been paid professionally to author grant proposals and other technical writing assignments.
Must-see movie
It all depends on the mood I'm in or what I've recently watched. For the '80s nostalgia, I always recommend Back to the Future. If you're looking for something more recent, I suggest Birdman, because every element of the filmmaking process—from the acting and set design to the screenplay and cinematography—was top-notch!
Follow Jimmy Martin at facebook.com/bigmoviemouthoff
---
Film Studies at Westminster College
Westminster is not known for being a film school, but it does have an excellent film studies program that has enabled many students not only to learn more about the art of film, but also to generate lively discussion and create new theories through studying the history and culture of film. The Westminster film studies program was created seven years ago and currently offers a minor. Sean Desilets, Nohemy Solórzana, and Doug Cunningham are the core faculty members of the program, and each boasts an impressive history in the art of film studies and criticism. To learn more about the faculty members, visit the Westminster website's film studies page.
Professor Sean Desilets, who says that those interested in "bolstering their major with a deep understanding of film and culture" should consider participating in the program, provides some detail on film studies at Westminster.
The Westminster film studies program
The film studies program at Westminster focuses on the history, criticism, and culture of cinema. It includes significant attention to non-western film traditions as well as pursues the more typical Europe/America/Asia emphasis. The program stresses film as an element of culture as a whole—not as artworks isolated from their context.
For students who want to make a film
The program is not a production program, but anyone interested in making a film needs to know film history and aesthetics. In addition, we have had several students build custom majors, taking their production courses at SLCC.
New film courses added to the program
The following courses are recent additions:
Film 110 Making Sense of Movies
Film 210 (Un)American Cinema (on the Hollywood Blacklist)
Film 212 Film Genres
Film 220 Transnational Cinema
Film 310 Humans, Monsters, and Things In-Between
Film 320 Seeing Time: Understanding Moving Images
---
Westminster in Film: The Student Perspective
Tony Rivas ('13)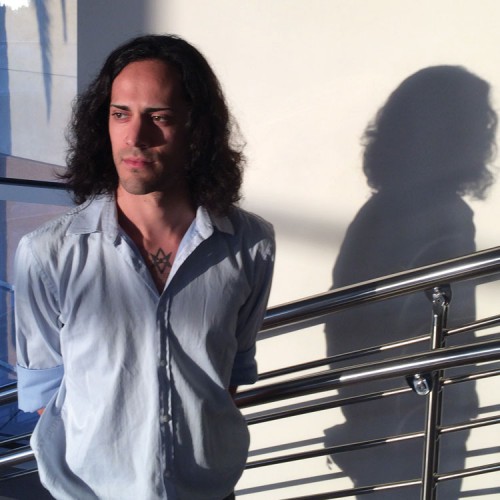 Westminster alumnus Tony Rivas is a graduate student at Chapman College pursuing film studies. Tony was an active participant in the film studies program during his time at Westminster. He sheds some light on what it was like to involved with the program, how it prepared him for graduate school, and some o f the opportunities he has had in film.

Westminster's film studies program is invaluable

The courses provide opportunities to engage in an education that, up to that point, was a mere idealization. In addition to learning about visual representation, one has the opportunity to develop a solid background in gender studies, history, philosophy, and theory.
How Westminster inspire a future in film
It was a combination of personal interest and effective mentorship. Sean Desilets's film studies classes deepened my appreciation for film. I began to understand it as a nexus of experience, an expression of socioeconomic reality, a mobilization of fantasy, and an interrogator of psychical repression…I caught the bug, as they say.
How the film studies program prepared him for grad school
The program's goals and means of achieving them are expertly thought out and executed in a manner conducive to critical engagement with the subject matter. This program made graduate school considerably less stressful.
Opportunities
Since opting to pursue a path in film studies at Westminster and beyond, Tony has had some incredible opportunities:
Attened the 2013 Busan International Film Festival, where he was granted access to screenings, dined with directors, and attended Q&A panels
Served as a production assistant to director Randal Kleiser (Grease) for his stage debut, The Penis Chronicles
Scored four different films and worked as an assistant camera and production designer on tow other films
Served as production sound designer on Far From Home
Produced student films while at Westminster, namely, Solace
Wrote two feature-length screenplays—with more on the way
Tony is also in a band called Pillow Dragon. Check out his music at pillowdragon.com
---
---
About the Westminster Review
The Westminster Review is Westminster University's bi-annual alumni magazine that is distributed to alumni and community members. Each issue aims to keep alumni updated on campus current events and highlights the accomplishments of current students, professors, and Westminster alum.
GET THE REVIEW IN PRINT STAY IN TOUCH SUBMIT YOUR STORY IDEA READ MORE WESTMINSTER STORIES