---
Good Works: Changing Hearts
Good Works: Changing Hearts
An MSC alumna reflects on the program's first service-learning trip to Peru
By Johanna Snow (MSC '14)
I remember the magical experience of seeing Machu Picchu in person. No words or photos can do justice to the mystifying and dazzling sight that is Machu Picchu—or to the extreme beauty of the natural environment in which it's situated. It is amazing and baffling to imagine how the Incas managed to construct such a large and elaborate city so close to the clouds. Professor Rulon Wood jokingly insisted the Inca site must have been built by extraterrestrials, and our guide playfully provided photographic "evidence" of intergalactic involvement.
I am fortunate to be an alumna of Westminster's Master of Strategic Communication (MSC) program, which I completed last August. As a student in that program, I benefited from close relationships, real-world learning, and amazing life experiences. One of those experiences was a trip to Peru. Throughout my voyage through the MSC program I was able to complete projects for real clients. In the fifth and final semester, my classmates and I embarked on a project that would ultimately reshape our worldviews and life goals. My entire cohort—there were seven us—worked together to develop new communications materials and redesign the website for the charity organization: Peruvian Hearts.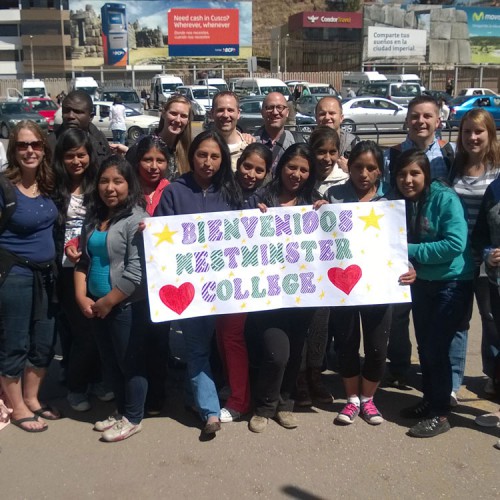 Peruvian Hearts, which operates out of Golden, Colorado, is a charity that empowers young, impoverished women of Peru through education, nutrition, and mentorship. The charity was founded by a young woman named Ana, who was born in Peru but adopted by a family in Colorado. As a young girl, she visited a Peruvian orphanage and quickly realized how blessed she was: her life was full of open doors, and her future was infinitely brighter than that of the girls in the orphanage. This realization inspired Ana to do something to help those girls dream bigger and give them the opportunities they needed to rise above poverty—and Peruvian Hearts was born.
When you're sitting around a conference table in Foster Hall hashing out the details of a new website—color palette, font type, organization, etc.—with your classmates, it's difficult to imagine the impact the decision you're making will have on people half a world away. Intellectually you get it: this client needs a stellar website to generate donations and media attention, but it wasn't until we traveled to Peru that the reality of what we were doing really sunk in.
In Peru, my classmates and I met some of the young women who are the beneficiaries of Peruvian Hearts' scholarship and mentorship programs. Over several shared meals, we got to know them. We discussed their hopes and dreams, and discovered just how important Peruvian Hearts has been in their lives. We also met their families and visited the homes and orphanages where they grew up—a demonstration of what their futures would have been if Peruvian Hearts had not intervened. Visiting the childhood homes of these bright, beautiful young women was the most eye-opening experience of my life.
In our country many of us take for granted things like heat, running water, kitchen appliances, and even flooring. The Peruvian homes we visited had none of those things. For the most part, they were shacks made of plywood and corrugated metal with dirt floors. Cold and dark, they smelled of dirt, damp, and rot. The only light that came in was from the door and the hole in the roof used to vent the smoke from the wood-burning stove. Upon entering these homes, I was filled with an overwhelming mixture of conflicting emotions: discomfort, pity, guilt, shame, and gratitude for the blessings in my life that I was previously blind to.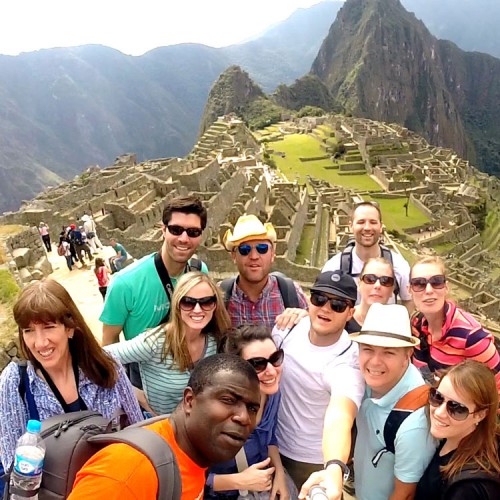 My classmate Danielle Caldwell had this to say about her experience: "I think I had an idea of what extreme poverty looked like before the trip, but visiting the girls' homes—with no running water, a dirt floor, and no chimney to keep them from constantly breathing in smoke—opened my eyes to the day-to-day realities of poverty."
All of us walked away from the trip with happy memories and new friends in the Peruvian Hearts girls. But we are also different people than when we embarked on our journey—more grateful for our blessings and proud that, in our small way, we did something that will help a new generation of girls rise up out of astounding poverty to become doctors, archeologists, chefs, businesswomen, teachers, or whatever it is their hearts desire. The journey taught us that there is so much more we can do, and we will move forward with new life philosophies.
Classmate Trevor Crump said, "The trip transformed me: it helped me understand what else is out there. It helped me realize that this life isn't about us; it is about what you can do to help everyone else."
---

About Peruvian Hearts:
Peruvian Hearts was founded by 11-year-old Ana Dodson, who had been adopted as a baby from Cusco, Peru, in 1992. When she went back to visit Peru for the first time in 2003, Ana was moved by the extreme poverty she saw. She decided to start Peruvian Hearts to help the local children.
Changing the world, one heart at a time, Peruvian Hearts empowers young women in Peru—through mentorship and education—and enables them to follow their dreams. The young women of Peruvian Hearts come from families who are extremely poor and cannot afford to send their daughters to any sort of post-secondary school. Peruvian Hearts offer these young women three tools to break the cycle of poverty and to become leaders in their communities: educational scholarships, mentorship, and empowerment.
To support the Peruvian Hearts mission, you can volunteer your time (e.g., host a fundraiser or deliver donated goods to Peru); sponsor a girl; contribute to scholarship funds; or donate clothes, books, and school supplies. www.peruvianhearts.org
---
About MSC:
The Master of Strategic Communication (MSC) program is for professionals working in public relations, marketing, and advertising within the communications industry. The program is uniquely designed to build the expertise and leaderships skills most relevant in the communication industry. It's been nicknamed the MBA for communication professionals. The curriculum is both project-based and competency-based. Instead of lectures and classes, students complete a series of projects (working both individually and in teams) that give them practical, real-world experience and build their professional portfolio. With the guidance of Westminster faculty mentors, students work through each project until they achieve an expert-level result and then move on to the next project. Once they have completed the program, the students can demonstrate mastery of a set of competencies (skills) that are the hallmarks of successful leaders in the field of communication.
---
About the Westminster Review
The Westminster Review is Westminster University's bi-annual alumni magazine that is distributed to alumni and community members. Each issue aims to keep alumni updated on campus current events and highlights the accomplishments of current students, professors, and Westminster alum.
GET THE REVIEW IN PRINT STAY IN TOUCH SUBMIT YOUR STORY IDEA READ MORE WESTMINSTER STORIES