---
Innovators: Gaming for the Greater Good
Innovators: Gaming for the Greater Good
Gamification makes its way into the classroom and beyond
by Autumn Thatcher ('MSC 15)
Picture yourself in the jungle. Your helicopter has crash landed, and you've survived with a few of your friends. But you are trapped, and the only way out is to work together to rebuild the helicopter and fly out. A monsoon is coming; you can feel sporadic raindrops on your neck. Your heart rate is accelerating: it's you, your team, and the sounds of the jungle screaming in your ear—you've got to get that helicopter operational in time.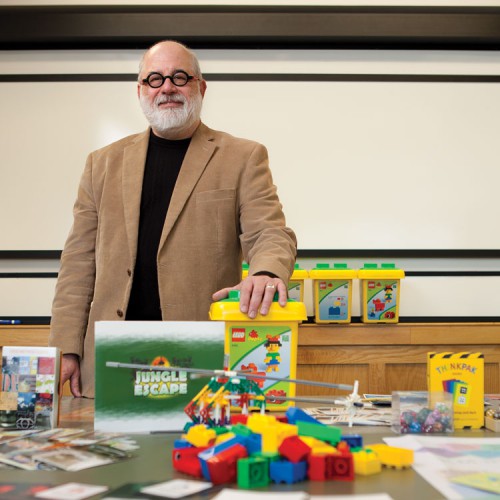 The jungle scenario is a familiar one for students who have taken a class taught by business professor Michael Sutton. The raindrops on their necks are sprayed from a bottle that Michael carries around the classroom as his students work in groups to rebuild a helicopter that, if constructed correctly, promises safety. The name of the game is Jungle Escape, and the purpose is to encourage team building and teach project management.
Michael has been playing games since he was a child, beginning with GO, a game played by Japanese Shinto monks as a way of meditating. As he progressed through school, Michael found himself in the library, memorizing words he did not know how to pronounce and familiarizing himself with all kinds of games. Fast forward to present day, and that shy Canadian kid is one of Utah's leading experts in the emerging field known as "gamification."
A concept eagerly embraced within the corporate world, gamification is working its way into the classroom because of its proven ability to enable students to retain what they have learned.
"Gamification is a process by which learning takes place by playing games," Michael explains matter-of-factly. "Serious games, which are for adults, could be anything from military simulations to the types of projects I do with Legos in the classroom."
Prior to earning a PhD, Sutton spent 35 years in business and management, establishing himself as an entrepreneur, a manager, an executive, and a thought leader. He incorporated games into training modules that mimicked the jobs of his staff members and clients. As he evolved in his career, Sutton began building educational programs into the corporate world as a consultant. It was when he was working on his dissertation that he was brought to Kent State University to design and teach classes that educated knowledge-management students in an interdisciplinary Master of Science program through gamification. He was recruited from Kent State to Westminster College eight years ago to help build the project-based BBA and MBA programs.
Michael is a fervent evangelist for gamification techniques because he knows they work: he has seen the results of the learning outcomes through the career advancement of former students.
"Research has shown that in a 2- to 3-hour lecture, if that information has not been applied within the next day, over 80 percent of it is lost, even if people were taking notes. If it's not applied in the next month, 95 percent of it is lost," says Michael.
By engaging students through the use of strategy-based games in the classroom, Michael increases retention: it comes as a result of students applying the information through interaction with each another in the gaming process.
"There are probably about 42 different learning strategies, of which games are only one," Michael says. "What I have found is that gamification gives a better return on learning in the learners than any other tool."
Sutton knows that not every professor is excited by the idea of gamification, but he hopes that opinions will change as educators work towards engaging generations of students who have grown up using the internet and playing video games.
"We have to capitalize on tools they can relate to," Sutton says. "Gamification has to be founded on a scenario that they can observe themselves in, and then they're totally engaged. That's what you want in a classroom: presence."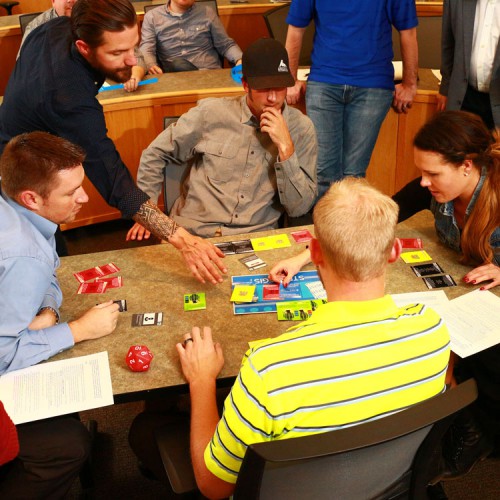 In between keeping up with the ever-changing world of business and learning strategic games to prepare his students for leadership in the field, Michael is being invited to visit college ca
mpuses around the nation to work with faculty on understanding and utilizing gamification in the classroom.
Michael looks forward to what gamification means for his students.
"I teach them about leadership, teamship, and communityship, so that they realize the model of an organization is a very organic community based on teamship and followship—and leaders will emerge," he says.
---

Pull out box Games for the Classroom
PlanetJockey
This multi-level, reality-based leadership-training game is a gamified emotional-intelligence training platform for developing better decision makers. It puts players in the CEO hot seat, where they must lead a troubled organization by applying emotionally intelligent techniques to build a high-performing team, give it purpose, deal with setbacks, and rally the company to success. Players are guided along their journey by video mentorship and management insights from real executives, in their own words.
Jungle Escape
Fully immersed in a survival scenario, teams are challenged to work together to build a makeshift helicopter with only limited parts—and each other. Jungle Escape's hands-on design enables players to discover and practice critical group-process skills such as team planning, problem solving, decision-making, and conflict resolution. Before they know it, they've experienced first-hand the differences between a cohesive team and one that's fragmented or divergent.
The Leadership Challenge Values Cards Exercise
The Leadership Challenge Values Cards can help any experienced or aspiring leaders clarify their personal values, as well as build consensus on shared values that will guide them and their teams in making decisions and taking action in an organization. Each of the Values Cards is pre-printed with key words such as creativity, loyalty, and teamwork so that participants can more easily identify and record the values that are most meaningful to them.
---
About the Westminster Review
The Westminster Review is Westminster University's bi-annual alumni magazine that is distributed to alumni and community members. Each issue aims to keep alumni updated on campus current events and highlights the accomplishments of current students, professors, and Westminster alum.
GET THE REVIEW IN PRINT STAY IN TOUCH SUBMIT YOUR STORY IDEA READ MORE WESTMINSTER STORIES