---
Class Notes: Hans Romo ('10) and Russell Holder ('09)
Class Notes: Hans Romo ('10) and Russell Holder ('09)
A Tale of Two Roommates
by Kayla Bernard ('07)
Hans Romo ('10) and Russell Holder ('09) were roommates only during the summer of 2008, but they remain close friends today, even though they are more than 2,000 miles apart. "Before meeting Hans, I only knew of him as the kid who maxed out his yearly meal plan in one semester," says Russell.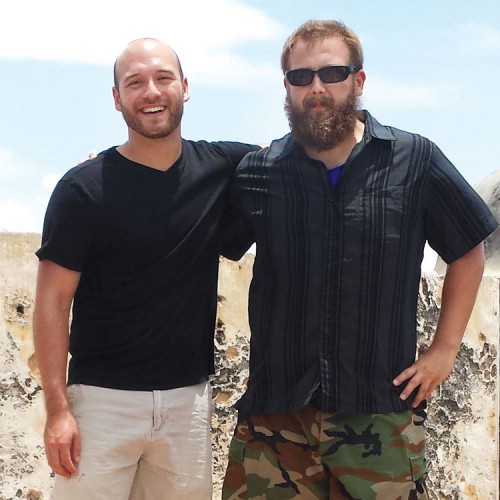 Hans and Russell lived together in Stock Hall. Hans was the RA, and Russell was randomly assigned to the apartment. Their summer living together was fairly uneventful, but it is the foundation of their friendship today.
"My most vivid memory of Hans is that he would host 'Uncle Hans' Dinner,' where he would cook and serve dinner to his friends in a goofy farmer's hat," Russell says.
"My favorite memories are the everyday activities that blend together," says Hans: listening to mariachi music on our way to get free horchata from Molca Salsa, or going to Foster so Russell could talk to Doc Cottler and I could bother Popich. The most important memory is the conversations we used to have that are now how we can maintain a friendship across such a distance," Hans says.
Today, Russell lives in California, and Hans lives in New York City, where he works as a public defender. When he isn't in the courtroom, Hans is heading up the Westminster Metropolitan Club, a group for Westminster alumni who are living—or interested in living—in the New York City area.
---
About the Westminster Review
The Westminster Review is Westminster University's bi-annual alumni magazine that is distributed to alumni and community members. Each issue aims to keep alumni updated on campus current events and highlights the accomplishments of current students, professors, and Westminster alum.
GET THE REVIEW IN PRINT STAY IN TOUCH SUBMIT YOUR STORY IDEA READ MORE WESTMINSTER STORIES