---
Class Notes: Kate Bradshaw ('03) and Trey Hansen ('16)
Class Notes: Kate Bradshaw ('03) and Trey Hansen ('16)
Lobbying for Position
A victory for Westminster students on Capitol Hill
by Kayla Barnard ('07) and Caressa Pratt ('16)
At Westminster, experiential learning is a priority. The college frequently partners with a variety of businesses and organizations to give students access to hands-on learning experiences, but until recently, the Utah State Capitol was not on that list. Thanks to the passionate dedication of alumna Kate Bradshaw ('03) and current student Trey Hansen ('16), that has changed.
Kate was paired with Trey last year through the Alumni Mentoring Program (AMP) because of her extensive experience and expertise in government relations and Trey's interest in politics. Impressed by Trey's passion and enthusiasm, Kate invited him to shadow her during the legislative session.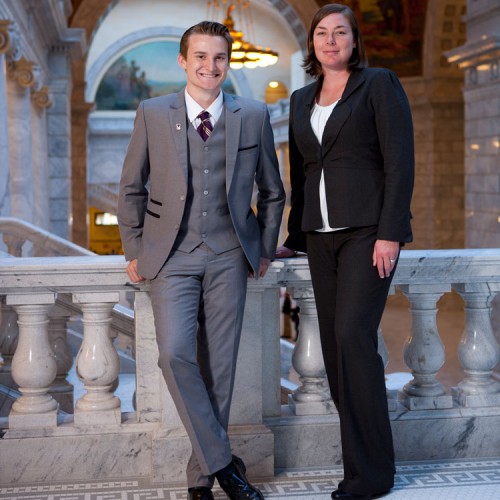 "He jumped at the opportunity and identified several bills he was interested in following through the process," says Kate. "Other AMP students have visited me at the state capitol, but none have ever self-identified bills or issues they wanted to learn about. It was refreshing to see someone so interested and engaged in the political process."
Trey learned of the Utah Legislative Internship Program, where interns have the unique experience of working closely with legislators during the entire 45-day general session. Unfortunately, Trey discovered he was not eligible to apply for the program because Westminster was not on the list of approved institutions. This did not stop Trey. Together with Kate, he took on the task of getting Westminster on the list of approved colleges. They pushed through paperwork and red tape. Trey met with school administrators, faculty, and staff to gain their support and draft application requirements, while Kate used her expertise and connections on the hill to create a pre-session training seminar and convince legislators to vote to add Westminster to the list. Last fall, Westminster College was officially accepted to the internship program.
"I believe that Westminster students are equipped to be some of the best interns the Utah Legislature will ever see. I hope this relationship will not simply exist, but continue to grow," says Trey.
---
About the Westminster Review
The Westminster Review is Westminster University's bi-annual alumni magazine that is distributed to alumni and community members. Each issue aims to keep alumni updated on campus current events and highlights the accomplishments of current students, professors, and Westminster alum.
GET THE REVIEW IN PRINT STAY IN TOUCH SUBMIT YOUR STORY IDEA READ MORE WESTMINSTER STORIES